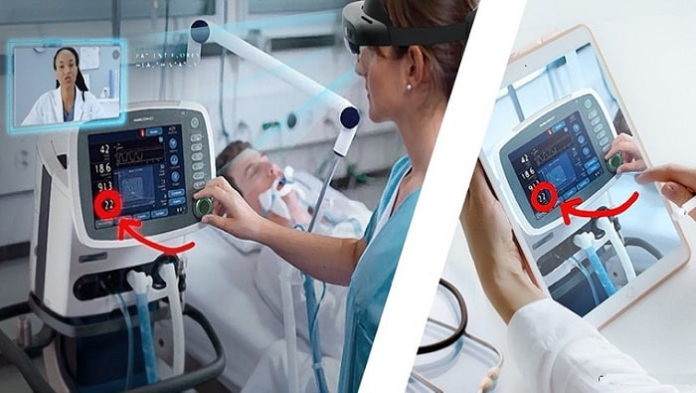 Between talent shortages and widening gaps in healthcare equity, the healthcare industry will be unrecognizable in ten years' time. Today's telehealth solutions cannot provide the regional and global collaboration necessary to keep pace with these rapid changes and the economic and clinical challenges they present to providers, patients and the next generation of healthcare professionals.
At the forefront of this new paradigm, Vision Beyond, a new software technology from OpticSurg, Inc., allows onsite providers and consulting clinicians to collaborate in real time from anywhere in the world, saving time and driving better patient outcomes.
Leveraging augmented reality smart glasses technology, the Vision Beyond telecollaboration solution gives consulting clinicians a real-time first-person view of an onsite provider's field of vision through web-enabled devices like computers and tablets. The unique annotation function of Vision Beyond allows consulting clinicians to provide real-time visual direction from their devices. The Vision Beyond solution superimposes a digital interface and visuals into the onsite user's real-world space enabling hands-free, instantaneous collaboration. This unprecedented virtual collaboration can improve diagnosis, workflow efficiency and outcomes of consultations, treatment and surgery.
A study by the Association of American Medical Colleges (AAMC) projects a deficit of 139,000 physicians by 2033. This imminent shortage threatens the healthcare workforce, medical sciences and most importantly, patient outcomes. Solutions to address this crisis must be long-term, not stopgap. The groundbreaking Vision Beyond solution empowers frontline professionals and providers to maximize efficiency, multiply resources, and address the growing care gap across hospital, ICU, ER, elder care, training, urgent care, and rural environments.
"Collaboration isn't 'nice to have' anymore," said Dr. Tran Tu Huynh, Founder & President of OpticSurg, Inc. "It's an essential piece of the care puzzle. With Vision Beyond, we place remote medical experts in front of patients and allow surgeons, physicians, nurses and other providers to deliver the best clinical care, whether in the operating room or at a patient's bedside. Vision Beyond represents a vast improvement for inpatient, outpatient, home health and assisted living scenarios."
"In healthcare, we often expect the same outcomes from clinicians with 20 years of experience as those with 20 days of experience," Huynh added. "The OpticSurg Vision Beyond solution was created by providers, for providers, to help bridge that gap. It allows on-demand access to experts who can potentially provide informed and clear support during a consultation."
About OpticSurg, Inc.
OpticSurg is a medtech and software startup that's committed to giving frontline healthcare workers and providers the tools they need to enhance efficiency, improve patient care and save lives. They are powered by the diverse knowledge of their team members, including surgeons, clinicians, regulatory experts, business development powerhouses, augmented reality and artificial intelligence experts, data scientists, engineers, and healthcare administrators.