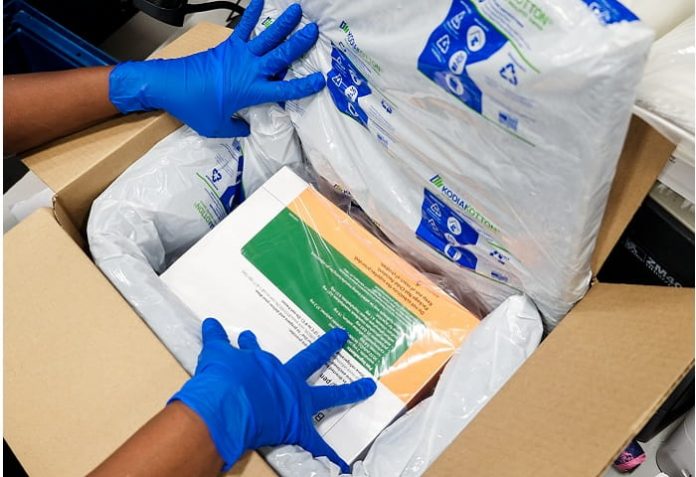 OptumRx is becoming the first major pharmacy care services company to introduce fully sustainable medication packaging that replaces polystyrene, or foam. The new packaging delivers temperature-sensitive specialty and maintenance prescriptions to consumers' homes while ensuring the safety and quality of the medication remains intact.
Eliminating foam commonly used in medication home delivery is part of the company's effort to ensure all packaging used in OptumRx home delivery facilities is recyclable. The new packaging is made from 100-percent renewable cotton and is biodegradable, compostable, reusable and recyclable. By using the new packaging to deliver approximately 4 million prescriptions each year, OptumRx projects annual savings of:
Nearly 2 million pounds of carbon dioxide;
17 million gallons of water; and
4 million kilowatt hours of energy.
Safeguarding medications during home delivery is vital. Many medications, including specialty prescriptions, must be kept within strict temperature ranges to arrive safely and undamaged at their destinations.
"At OptumRx, our priority is ensuring people get the high-quality medications they need, when they need them," said Jon Mahrt, chief of operations at OptumRx. "Our new packaging ensures each shipment maintains the highest standard of quality and effectiveness, while reducing the environmental footprint of our medication home delivery services."
OptumRx provides convenient medication home delivery, in addition to specialty pharmacy and infusion services through BriovaRx, to consumers and clients in 53 facilities across the United States. By simplifying prescription fills and providing a long-term supply of maintenance medications, OptumRx home delivery is a convenient, safe and cost-effective option. Through fast and efficient fulfillment, along with 24/7 pharmacist availability, home delivery makes it easier for consumers to adhere to their treatment regimen, a critical step in medication management that is linked to better health outcomes.