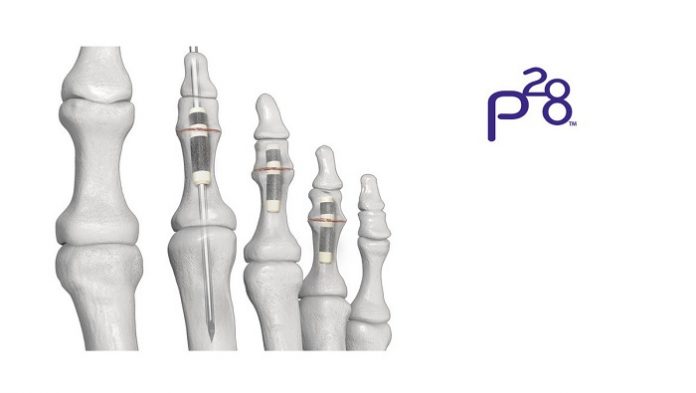 Since its inception, Paragon 28® has obsessed over every aspect of foot and ankle surgery. Committed to creating tailored solutions to improve surgical outcomes, Paragon 28® has launched innovative products and instrumentation that help streamline procedures, allow surgeons flexibility in technique and approach and facilitate reproducible results benefitting both the surgeon and patient.
Today Paragon 28® adds to its solutions for proximal interphalangeal (PIP) joint fusions with its launch of the HammerTube™ implant system.
Paragon 28 HammerTube
The HammerTube™ is a single piece titanium sprayed PEEK (Polyetheretherketone) implant intended for use in proximal interphalangeal (PIP) joint fusions. The implant is constructed from PEEK, a non-reactive biomaterial, which closely matches the mechanical properties of the bone. The HammerTube™ implant is coated both proximally and distally with a porous titanium spray to increase mechanical fixation and bone ingrowth when compared to uncoated implants.
The HammerTube™ implant system provides four unique implants in 2.75 mm and 3.50 mm straight and angled options. The tapered design facilitates insertion and a press fit. The titanium plasma spray thickness is optimized to be coarse creating a greater friction coefficient than uncoated PEEK allowing the implant to resist rotational forces and implant pull out.
Titanium plasma spray is absent from the implant at the joint to allow for a streamlined removal and limit any chance of titanium being left behind in the patient following implantation.
Internal testing was completed demonstrating the adherence strength of the titanium plasma spray to the surface of the PEEK implant exceeds that of the titanium plasma spray to bone. This helps to ensure that in the case of removal the spray will remain fixed to the implant not the patient.
The instrumentation is available in a non-sterile configuration to eliminate waste associated with disposable kits. All instrumentation in the system is cannulated to accommodate either a trocar or guidewire. The trocar is used in the standard technique with direct drilling and placement of the implant.
The guide wire may also be used in a retrograde technique to allow for initial toe positioning and controlled drilling of the proximal and distal sides of the joint.
Paragon 28® is grateful for the significant contributions Dr. Michael Houghton, MD, Dr. Mark Myerson, MD, and Dr. Thomas San Giovanni, MD made as surgeon designers of this system.