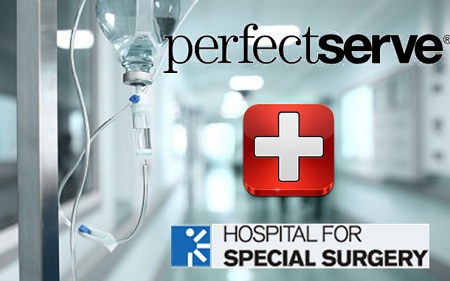 PerfectServe™ announced its newest client is Hospital for Special Surgery (HSS), the world's largest academic medical center focused on musculoskeletal health. HSS has been top-ranked for both orthopedics and rheumatology in the U.S. for 25 consecutive years.
Based in New York City with locations in Long Island, New Jersey and Connecticut, Hospital for Special Surgery is the latest healthcare organization to sign a multi-year contract with PerfectServe. HSS performs more than 30,000 surgical procedures annually, and has over 15,000 total inpatient admissions annually. HSS was the first hospital in New York City to receive the Magnet Award for Nursing Excellence and the first Hospital in the State of New York to be re-designated with nursing's highest honor four consecutive times.
HSS leaders are looking to PerfectServe to improve its large volume of nurse-to-provider and care team communications, in addition to developing an integrated, enterprise-wide communication platform that securely connects all care team members across in-patient and outpatient settings easily and quickly.
"Our clinicians are often in and out of surgery. Naturally, complexities arise in getting hold of the correct care team member in the fastest way – especially in the context of schedules," explained Jamie Nelson, HSS Senior Vice President and CIO. "PerfectServe can pull in those highly complex workflows and schedules beyond basic call schedules, so physicians can be reached effectively and efficiently based on severity of case and urgency level."
"We're honored and proud to partner with Hospital for Special Surgery," said Terry Edwards, President and CEO of PerfectServe. "Surgeons, nurses and other care team members involved in transmitting information will be empowered as PerfectServe eliminates the communication barriers that hinder clinical workflows, speeding the delivery of care."
More than 400,000 clinicians use the PerfectServe Synchrony™ solution. They include 70,000-plus physicians employed by approximately 165 hospitals and 25,000 practices and post-acute provider organizations in the U.S.
Edwards concluded, "The healthcare industry is looking for strategic, interoperable solutions to coordinate patient-centered care. PerfectServe Synchrony can help build and support systematic, patient-centered team collaboration to drive transformative care across settings, better outcomes and cost efficiencies. With our next-generation technology and financial strength, we are well positioned to accelerate growth and revenue in 2017 and beyond."
About Hospital for Special Surgery
Hospital for Special Surgery (HSS) is the world's largest academic medical center focused on musculoskeletal health. HSS is nationally ranked No. 1 in orthopedics and No. 2 in rheumatology by U.S. News & World Report (2016-2017), and is the first hospital in New York State to receive Magnet Recognition for Excellence in Nursing Service from the American Nurses Credentialing Center four consecutive times. HSS has one of the lowest infection rates in the country. HSS is an affiliate of Weill Cornell Medical College and as such all Hospital for Special Surgery medical staff are faculty of Weill Cornell. The hospital's research division is internationally recognized as a leader in the investigation of musculoskeletal and autoimmune diseases. Hospital for Special Surgery is located in New York City and online at 
www.hss.edu
.
About PerfectServe
PerfectServe Synchrony™ is healthcare's most comprehensive and secure care team collaboration platform. The platform is unique in its ability to improve communication process accuracy and reliability via its proprietary Dynamic Intelligent Routing™ capability, which automatically identifies and provides immediate connection to the right care team member for any given clinical situation at every moment in time. More than 100,000 clinicians in forward-looking organizations across the U.S. rely on PerfectServe to help them speed time to treatment, expedite care transitions, enhance the patient experience and reduce HIPAA compliance risk. Headquartered in Knoxville, TN, with offices in Alpharetta, GA and Chicago, IL, PerfectServe has helped clinicians provide better care since 2000.