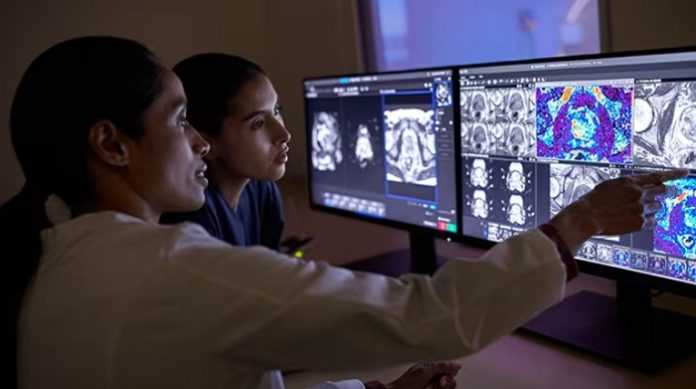 Philips and Quibim have formed a collaboration to introduce AI-driven solutions for MR imaging and image analysis in prostate cancer care. This partnership is aimed at addressing healthcare staff shortages and reducing the overall cost of treatment.
Prostate cancer has a significant global impact, with approximately one in eight men in the U.S. receiving a prostate cancer diagnosis at some point in their lives. Currently, early detection primarily relies on the prostate-specific antigen (PSA) blood test, which can detect slow-growing localized cancers within the prostate. However, PSA tests often lack specificity for clinically significant cancer, leading to numerous false positives and overdiagnoses. This results in unnecessary, uncomfortable biopsies, prolonged anxiety while awaiting results, and an avoidable burden on pathology services.
While MR exams are typically more expensive and time-consuming than PSA tests, recent research suggests that MR can offer value as a triage tool for guiding biopsy decisions and as a valuable diagnostic tool for treatment planning and personalized therapy, independent of PSA testing. By reducing the number of unnecessary biopsies and enabling more precisely targeted therapy for prostate cancer cases requiring treatment, MR exams have the potential to yield cost savings and expedite more accurate diagnoses.
This collaboration exemplifies Philips' commitment to integrating an AI ecosystem into its Diagnostic Imaging portfolio, with the aim of enabling earlier detection of conditions like cancer, improving first-time-right diagnoses, and streamlining hospital operations to deliver superior care at reduced costs. The partnership leverages Philips' high-speed MR imaging capabilities and Quibim's QP-Prostate software to provide the speed and diagnostic confidence necessary to support every stage of an integrated diagnosis, treatment, and therapy evaluation workflow. Additionally, an upcoming version of their lesion detection algorithm is set to expand the potential of MRI as a transformative tool in prostate cancer screening.