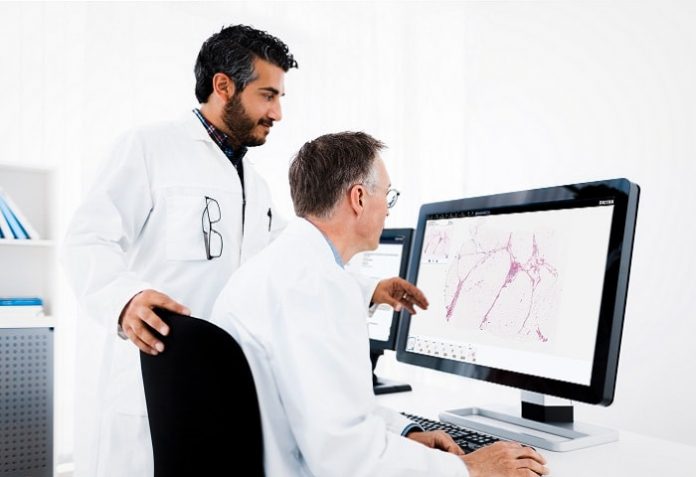 International medical imaging IT and cybersecurity company Sectra has signed a digital pathology contract with Instituto Português de Oncologia de Lisboa (IPO Lisboa). IPO Lisboa is renowned for its cancer care and is the first hospital in Portugal to seamlessly include digital pathology in its existing VNA. The solution allows pathologists to access images from any workstation within the hospital as well as remotely, and enables integrated diagnostic workflows—especially important for improving cancer care.
"Sectra's digital pathology solution gives us access to already-proven calculation algorithms that will translate into greater reproducibility of results and have an impact on clinical decisions," says Dr. José Cabeçadas, Pathology Manager, Instituto Português de Oncologia de Lisboa.
IPO Lisboa is expanding its medical imaging IT solution for radiology to also include pathology. The solution will provide pathologists with instant access to images and related data, digital tools for reviewing the images and the ability to collaborate across both departments and locations.
"The use of a single system for the entire hospital guarantees a universal availability of resources and the possibility to work remotely," continues Dr. Cabeçadas. "An immediate additional benefit is that the solution will provide increased efficiency in the preparations for multidisciplinary meetings."
Sectra's digital pathology solution
Sectra's digital pathology solution includes digital tools which enable the pathologists to make their diagnoses and carry out reporting with higher precision and less time spent per case. It is a complete, vendor-neutral solution for primary diagnostics that includes storage solutions and an advanced review workstation.
Sectra's pathology solution is part of Sectra's Enterprise Image Management (EIM) solution. Sectra's enterprise imaging portfolio provides a unified strategy for all imaging needs, and improves patient outcomes while lowering operational costs. The scalable and modular solution supports the most image-intense departments—radiology, breast imaging, pathology, cardiology and orthopaedics. Being built on the same technical platform, customers can easily extend a departmental solution to create a comprehensive VNA. Read more about Sectra Enterprise Image Management and why Sectra PACS is "Best in KLAS" at https://www.sectra.com/medical/.