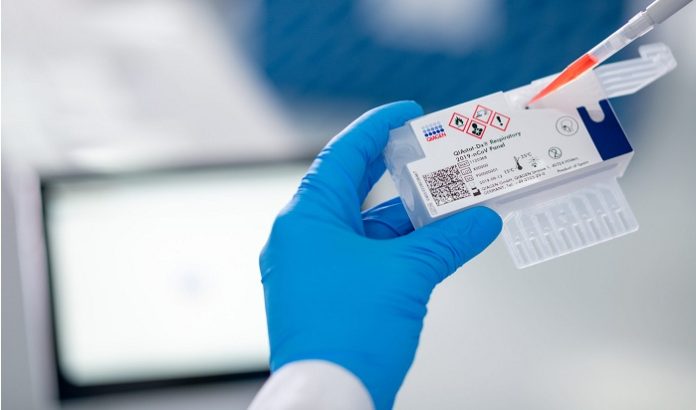 QIAGEN N.V. announced the launch of its QuantiFERON SARS-CoV-2 RUO solution that can detect T-cell responses of the human immune system to the pathogen that causes COVID-19, which could help researchers find out more about immunity levels and disease progression.

Studies suggest that T-cell response to SARS-CoV-2 declines much more slowly than antibody response, which presents several benefits to researchers who want to push beyond the existing detection of active infections to screen for potential courses of the illness and long-term immune responses to it. QIAGEN's QuantiFERON SARS-CoV-2 Research Use Only (RUO) solution could be a valuable tool in this research.
There is also growing evidence that T-cell response gives a reliable indication of how severe the course of an illness triggered by SARS-CoV-2 will be in infected patients, and how immune those who have recovered remain months – possibly even years – after having been infected.
QuantiFERON SARS-CoV-2 RUO is a flexible, modular system designed to meet a wide range of research demands. It is based on QIAGEN's easy-to-use QuantiFERON technology, pioneered in the QuantiFERON-TB Gold Plus test for latent tuberculosis and recognized worldwide for its ability to detect interferon gamma that T-cells release upon contact with certain pathogens.
QuantiFERON SARS-CoV-2 RUO is a crucial addition to QIAGEN's growing COVID-19 portfolio that already provides sample-preparation technology, infection testing with polymerase chain reaction (PCR) technology, antibody and antigen tests, enzymes and automation solutions.
"Research suggests that testing T-cell response could provide valuable insights into the novel coronavirus and how our immune system responds to it," said Thierry Bernard, CEO of QIAGEN. "The more we know about the novel coronavirus, the better equipped the world will be to stop the pandemic," he said. "We are excited about our QuantiFERON technology potentially helping researchers understand illness pathways and also immune responses that are crucial for vaccine development and deployment."
QuantiFERON SARS-CoV-2 RUO will initially comprise a Starter Set and a Monitor Direct package for separate or combined research use. Both are made up of the QuantiFERON blood collection tubes with their proprietary stimulation principle and the QuantiFERON detection system to measure the resulting interferon-gamma. They use a tried-and-tested combination of flexible blood collection workflow with innovative CD4/CD8 T-cell technology. An additional component of the QuantiFERON SARS-CoV-2 RUO solution is also being developed in partnership with TScan Therapeutics, a US-based biopharmaceutical company, target specific so-called immunodominant SARS-CoV-2 epitopes they have identified.
About QIAGEN
QIAGEN N.V., a Netherlands-based holding company, is the leading global provider of Sample to Insight solutions that enable customers to gain valuable molecular insights from samples containing the building blocks of life. Our sample technologies isolate and process DNA, RNA and proteins from blood, tissue and other materials. Assay technologies make these biomolecules visible and ready for analysis. Bioinformatics software and knowledge bases interpret data to report relevant, actionable insights. Automation solutions tie these together in seamless and cost-effective workflows. QIAGEN provides solutions to more than 500,000 customers around the world in Molecular Diagnostics (human healthcare) and Life Sciences (academia, pharma R&D and industrial applications, primarily forensics). As of September 30, 2020, QIAGEN employed more than 5,300 people in over 35 locations worldwide.