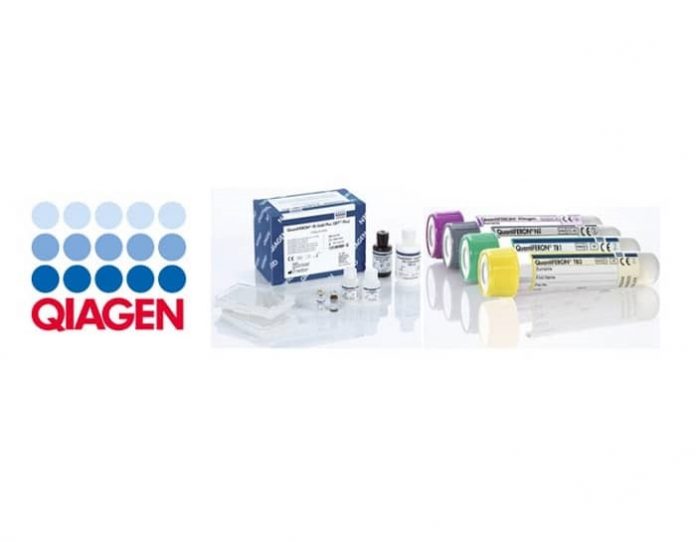 International Panel Physicians Association selects QFT-Plus for its proven value in diagnosing latent TB infection
QIAGEN N.V. announced that its QuantiFERON-TB® Gold Plus (QFT-Plus), the gold standard in accurate, cost-effective testing for latent tuberculosis (TB) infection, has been endorsed for immigration medical screening by the International Panel Physicians Association (IPPA). IPPA is a not-for-profit physician education group that works with countries that receive immigrants and refugees, including Australia, Canada, New Zealand, the United Kingdom and the United States. IPPA will hold its 2018 Intergovernmental Physician Training Summit from March 12-16 in Kuala Lumpur, Malaysia.
In a statement the IPPA called the modern class of TB tests known as interferon gamma release assays (IGRAs) "essential to the safety and efficacy of screening programs designed for early detection of TB infection." Panel physicians, who are medically trained, licensed and experienced doctors practicing overseas and appointed by receiving country governments to handle the mandatory pre-departure medical examinations of migrants, will now be required to use IGRAs for TB screening. For the United States, more than 760 overseas panel physicians worldwide are responsible for examinations of more than one-half million migrants a year receiving permanent lawful residence in the U.S.
IPPA said it "endorses the use of QFT-Plus, which is an FDA-approved IGRA that has been rigorously studied and validated by independent peer reviewed journals." QuantiFERON-TB Gold Plus, the fourth generation of QIAGEN's market-leading IGRA technology, is the only IGRA endorsed by the panel physicians group. The physician group also noted that"IGRAs have notable advantages over the TST, including higher accuracy especially in BCG-vaccinated persons, a single visit to obtain a result, and quantitative electronic laboratory-reported results that are confidential and with little to no subjectivity." Many non-U.S.-born persons have been BCG-vaccinated, particularly individuals from countries with a high prevalence of TB.
The endorsement follows the recent announcement of expanded TB testing requirements from the U.S. Centers for Disease Control (CDC) Division of Global Migration and Quarantine, which go into effect October 1, 2018. The new requirements for screening immigrants applying for legal status in the U.S. include performing an FDA-approved IGRA test, such as QFT-Plus, in all adults and children*, including children less than 5 years of age. Prior guidelines for TB testing were limited to children between the ages of 2 to 14 with an option to use either the tuberculin skin test (TST) or IGRA. With the new requirements, testing with the century-old TST method will no longer be accepted for immigration screening, and IGRA testing will be required of adults, who account for more than 85% of migrants undergoing exams.
"Because tuberculosis is a global epidemic, migration from one region to another poses challenges to public health – but we have an opportunity to aid in TB control if authorities implement accurate screening for latent TB infection and follow through with preventive treatment. QIAGEN is honored by IPPA's confidence in selecting QFT-Plus as the only IGRA for use by panel physicians in immigration screening," said Thierry Bernard, Senior Vice President, Molecular Diagnostics Business Area, for QIAGEN. "The use of tuberculin skin tests, an outdated and subjective method that often produces false positives in countries with widespread TB vaccination, has caused problems both for migrants and for the U.S. TB control community. The IPPA endorsement, together with the CDC's guideline change from TSTs to IGRAs, will help protect immigrants, families and communities while also advancing TB elimination."
Migrants suffer from a disproportionate number of cases of latent and active tuberculosis. The active TB case rate among non-native born persons in the U.S. (14.7 cases per 100,000 persons) was approximately 14 times higher than among U.S.-born persons (1.1 cases per 100,000 persons), according to the CDC. In 2016, a total of 68.5% of reported TB cases in the U.S. occurred among non-native born persons. Better detection of latent TB infection prior to departure for the United States will enable identification of new immigrants who would benefit from preventive treatment. The prevention of TB among migrants is an important part of the U.S. national strategy to eliminate the disease domestically by 2050.
QuantiFERON-TB Gold Plus, launched in the U.S. in 2017 as the fourth-generation assay ofQIAGEN's market-leading series of IGRAs, sets a new benchmark in TB testing. QFT-Plus adds innovative CD8+ T-cell stimulating antigens to CD4+ antigens, providing a broader immune assessment of TB infection than previous IGRA tests. CD8+ T-cells have been shown to play an important role in the development of TB.
QFT-Plus is also registered in more than 75 countries across Europe, the Middle East, Africa, Asia and Latin America, where nearly two million of the new tests have already been used. QFT-Plus has more than 15 peer-reviewed publications to date, and studies underway in 22 countries involve more than 30,000 patients. QFT-Plus is endorsed by the World Health Organization (WHO) as one of two IGRAs for its campaign to eradicate TB.
Tuberculosis is a contagious bacterial infection spread primarily by coughing of patients with the active pulmonary form of the disease. In 2016, WHO estimates, there were 10.4 million new cases of active TB worldwide and 1.7 million deaths from TB. In latent tuberculosis infection (LTBI), the bacterium infects a person but produces no symptomsunless it progresses to the active disease. On a global basis, approximately one out of four people are estimated to have latent TB infection, and about 5-10% of those individuals, if untreated, will progress to active tuberculosis at some point. Screening of high-risk individuals and treatment for LTBI play an important role in tuberculosis control efforts in the U.S. and many European countries, as well as in other developed and emerging markets around the world.
About QIAGEN
QIAGEN N.V., a Netherlands-based holding company, is the leading global provider of Sample to Insight solutions that enable customers to gain valuable molecular insights from samples containing the building blocks of life. Our sample technologies isolate and process DNA, RNA and proteins from blood, tissue and other materials. Assay technologies make these biomolecules visible and ready for analysis. Bioinformatics software and knowledge bases interpret data to report relevant, actionable insights. Automation solutions tie these together in seamless and cost-effective workflows. QIAGEN provides solutions to more than 500,000 customers around the world in Molecular Diagnostics (human healthcare), Applied Testing (primarily forensics), Pharma (pharma and biotech companies) and Academia (life sciences research). As of December 31, 2017, QIAGEN employed approximately 4,700 people in over 35 locations worldwide. Further information can be found at http://www.qiagen.com.