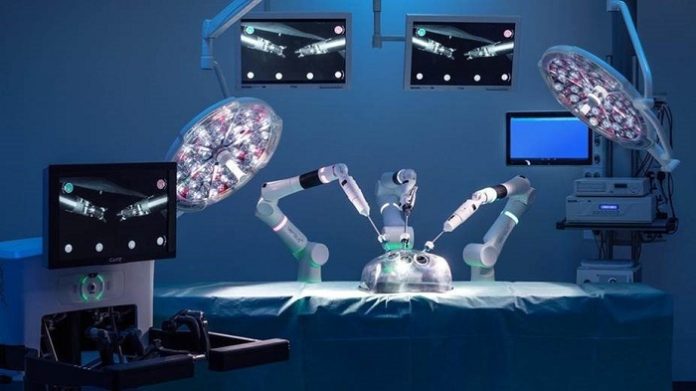 CMR Surgical (CMR) today announced the launch of its Versius® Surgical Robotic System at Argenteuil Hospital, a leading public health centre based near Paris, France. The announcement follows a competitive tender win for Versius, which has now been selected as a preferred surgical robotic system for minimal access surgery (MAS) by Resah – one of the largest public purchasing centres in the health sector, which collaborates with more than 700 public and private non-profit hospital, medico-social and social centres. The news today highlights Versius' value to leading healthcare systems across the world and reinforces its role in driving forward a new era of accessible and adaptable surgical robotics.
Per Vegard Nerseth, Chief Executive Officer of CMR Surgical commented: "It is great to be able to introduce Versius to a reputable, public centre such as Argenteuil Hospital. Argenteuil Hospital has acquired the system after we were selected by Resah, as part of one of the largest tenders in the country, following a competitive process. This means hundreds more hospitals in France now have the option of benefitting from Versius."
Argenteuil Hospital has acquired its Versius system to support a range of surgical procedures that may benefit significantly from being performed via robotic MAS. These include urological and gynaecological surgery.
Dr Hubert Oro, Urologist at Argenteuil Hospital commented: "We are delighted to announce the introduction of Versius at Argenteuil Hospital. This is ground-breaking technology that offers the precision, versatility and freedom that surgeons need during minimal access procedures. In just one single system we have all the options we need – we can use a single robotic arm, for an emergency case, or have three arms working together to complete a range of complex, lengthy procedures. In short, Versius adapts completely to our needs and will strengthen our surgical capabilities, enabling us to significantly improve patient care."
Versius brings next-generation technology to MAS. It can be moved easily and used in virtually any operating room. It also offers a route to making surgical robotics more routinely available, addressing inequity in access to surgical robotics technology. Across France, over 1,500 hospitals currently perform MAS, yet only 6% of medium-sized public hospitals have a robotic surgery department.i Versius aims to offer an innovative solution to this challenge, making MAS far more accessible.
About The Resah Group Tender
The Resah public interest grouping (GIP) has one of the largest public purchasing groups in France, with 10 purchasing channels covering most of the needs of establishments. It has pooled €1.2 billion in purchases in 2019. It works with more than 700 establishments throughout France in the health, medico-social and social sector in the field of pooling and professionalising purchasing.
About Versius at Argenteuil Hospital
Versius aims to ensure that surgeons and hospitals are able to provide patients with the highest quality of surgical care. At Argenteuil Hospital it has been used to perform a range of procedures across numerous disciplines. These include urological surgery and gynaecological surgery. Such procedures are often complex and may last for many hours. Using robotic MAS in these cases can significantly lower physical strain for the surgeon, may reduce recovery time for a patient from weeks to days and can lower the risk of surgical site infections – an issue that is estimated to cost health services across Europe up to €19 billion per annum.ii