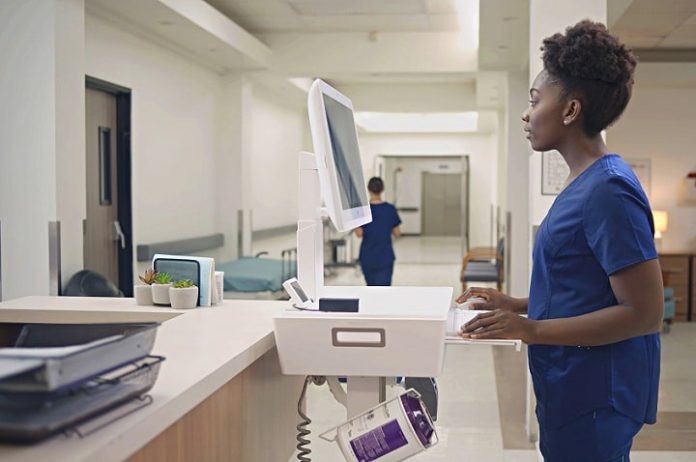 With the Great Resignation in full swing, healthcare institution managers must look for ways to address the physical and mental wellbeing of nurses and carers to keep them in their roles. A 2021 Royal College of Nursing (RCN) survey reported that 60% of nursing staff working in NHS hospital settings were considering or planning to leave their jobs. Healthcare leaders can't afford to overlook caregivers' needs when building strategies to retain existing staff and create environments that new recruits want to work in.
To compound the issue, the industry faces a recruitment crisis, as 2021 NHS figures revealed there are about 39,000 vacancies for registered nurses in England, with one in 10 nursing posts unfilled on acute wards in London. Leeds Teaching Hospitals NHS Trust reported almost 700 vacancies for care practitioners, postponing 287 operations in July / August 2021 due to chronic staff shortages. This is just a snapshot of one of many UK hospitals facing similar challenges.
Providing ideal conditions that support caregiver wellbeing can do much more than increase staff retention. More comfortable workspaces with improved access to technology can boost workflow efficiencies, reduce staff injury rates, reduce inaccuracies in care and reduce patients' hospital stays. The National Database of Nursing Quality Indicators discovered that when nurses feel satisfied with their working environment, the quality of care increases 5-20%. When nurses are better provided for, they in turn are more satisfied and provide better care for patients.
Ways healthcare bosses can boost the wellbeing of workers
Hiring managers and HR teams can only move the needle of recruitment and retention by assessing and improving workspace environments, to make a core difference to the way workers feel about carrying out their roles. These are just some of the ways to deliver for healthcare practitioners' needs which can boost wellbeing and productivity:
1. A full worker assessment to investigate ergonomic needs
Not all caregivers have the same ergonomic needs when it comes to their workspace requirements. Nurses who have been in their career for 10 to 15 years tend to be familiar with musculo-skeletal disorder (MSD) discomfort and repetitive-stress injuries. They recognise wrist, shoulder, and neck pain, and will want an adjustable keyboard and an easily adjustable monitor for themselves and to collaborate with co-workers. Younger caregivers – millennials and Gen Z – may not feel body aches yet, but they expect a seamless interaction between the physical environment and technology.
Before purchasing any equipment, such as wall-mounted or mobile workstations, organisations should conduct a full worker assessment to investigate ergonomic needs of the staff. This audit should include sit to stand heights for workstations, ease of adjustment, and other key factors such as storage, security, weight, and mobility. Working with an ergonomics partner can help choose the best system for each environment.
2. Access to suitably designed equipment
Current working environments have forced caregivers into bad working habits, such as not taking breaks, and doing repetitive tasks with poor posture. Nurses spend about 35% of their time on documentation, including up to three hours of computer time in an EHR system during a 12-hour shift. As a result, cumulative trauma disorders (CTDs) such as carpal tunnel syndrome, low back pain, and other MSDs are rife.
An ergonomic workstation that's easy to use and adjustable for each caregiver supports comfortable and efficient documentation. Being truly ergonomic means positioning workstation desks to the right height for each worker, and the monitor at an ideal viewing height and distance. A sit-to-stand desk, where the desk height can be positioned to suit each worker, is an ideal solution to benefit busy clinicians.
Providing the right equipment can elevate the documentation experience and empower caregivers with the tools and technology they need to be successful and efficient in their roles. They can more easily share information with patients or colleagues, as they work – sitting or standing – with everything a caregiver needs at their fingertips.
3. The right rest to cope effectively with job pressures
Walking miles each day during long shifts, nurses are often too tired or busy to raise concerns with employers until healthcare issues surface. Nurses need the right amount of rest to cope effectively with job pressures, to avoid making errors in patient care and to manage their self-care.
It's not just being off duty that gives nurses and other healthcare workers the right amount of rest. An appropriate balance within the workday of work and breaks, with appropriate locations and spacing between workstations, can ensure that nurses aren't clocking up miles unnecessarily. A satisfactory amount of mobile and wall-mounted workstations, which are easy to move and position, situates nurses closer to their patients. The Joint Commission found that inaccurate information entered into Electronic Health Records (EHRs) contributed to 120 adverse events and recommends that workstations are located every 50 feet to alleviate pressure on staff.
4. Relieving workers of 'tech manager' role
Workstations practitioners typically use are prone to technical issues, such as long EHR reboot times or issues with portable device outages due to batteries only lasting for just over half a shift. Managing the cordless battery life of vital technology devices, such as mobile devices, clinical communication devices, and wireless printers is an added 'tech manager' responsibility that there just isn't time for.
It's key to alleviate this "power anxiety" and provide logical, intuitive power solutions that match workflows. This means understanding the physical workflow of the floor or department, before matching that workflow to the best-suited battery-power solution. The key basis for selection includes how long a battery-powered cart is typically unplugged and why and where the battery-powered mobile carts are charged, in case this dictates where a nurse works.
An important feature to choose in a mobile medical cart is remote monitoring of cart fleets by IT managers in real-time. Swiftly handling critical device outages or EHR reboot times reduces downtime and offers nurses a charging workflow they can count on.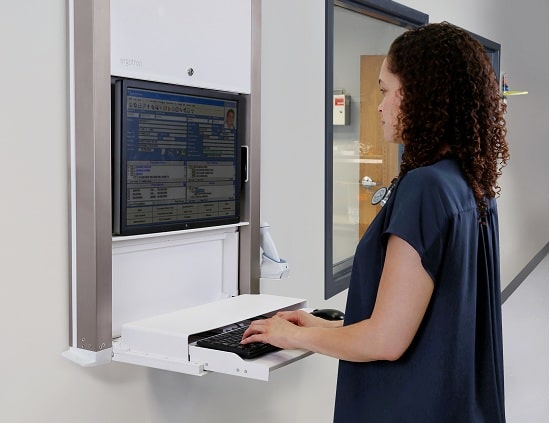 5. Provide more efficient medication administration processes
Medication administration errors are a classic indicator of a highly pressurised working environment. It's often due to extreme fatigue and research shows that nurses who work more than 12 hours could commit more errors. Reducing error rate can relieve anxiety and support caregiver wellbeing.
Mobile carts with integrated medication delivery can offer a total point-of-care solution, reducing time spent on documentation and distribution and minimising medication inaccuracies. Fitted with an auto locking drawer system, they enable safe medication delivery and sample collection at the bedside. Ensuring an efficient workflow with powered and safely stored devices helps clinicians smoothly administer and track procedures.
They can also be mounted with barcode scanners and printers to support bedside patient identification, further enhancing patient safety and quality of care. Bringing technology to the point of need facilitates access to digital records and maximises productivity while providing access to medical treatment supplies.
6. Reduce long-distance walking
Selecting ideal workstation locations and offering mobile equipment enables more efficient working at patients' bedsides and reduces unnecessary caregiver walking time. Having free-standing or wall-mounted terminals located throughout the unit can reduce nurses' daily footprint and frees up time for face-to-face patient care. Wall-mounted workstations are generally compact and best located in the patient room or in the unit hallway as touchdown points for briefly accessing the digital system.
Mobile medical carts offer easy access to patient records at the point of care which allows caregivers to focus on patients. Clinical staff can log in to a patient's medical record at the bedside via the mounted PC and display. This promotes better clinician-to-patient communication, as patients can view their own medical records and feel involved in their care journeys. Working at a patient's bedside dramatically reduces the stress of moving between stations.
7. Offer regular wellbeing check-ins with staff
Direct engagement with care practitioners themselves is vital for healthcare leaders to understand where processes can be streamlined. Establishing regular wellbeing check-ins with staff will not only provide information about how to provide better care for patients, They're also an opportunity to connect with staff on a physical and mental wellbeing level, to offset any issues before they become insurmountable – resignation could be only a few days or weeks away.
Taking the time to re-evaluate and note the extra walking distances or process steps raises awareness of pain points and helps stakeholders understand the business case for providing mobile equipment which can create more flexible workspaces. Space planners, IT and clinical staff must collaborate to discuss centralised, decentralised, or blended solutions using various tools.
Boosting productivity, collaboration, and better care
Building safe, comfortable, and productive working environments for nurses can have an indisputable positive effect on the safety, health, and recovery time of patients. Providing mobile workstations and mobile carts that directly address care workers needs, such as ergonomics, distance between patient rooms and the nursing station, worker collaboration with other caregivers, point-of-care access to patient health records, and effective medication administration – can help healthcare organisations improve the working environment and the patient experience – and ultimately retain and motivate caregivers to a career in care.