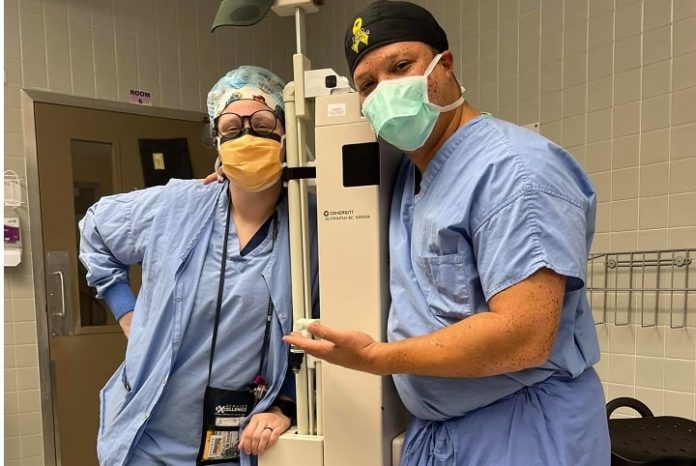 As an endometriosis specialist, it is frustrating to see the lack of awareness of this very common, debilitating disease, as well as how treatments have lagged behind other areas of gynecology. Endometriosis affects 1 in 10 women.1 It causes cells similar to those that line the uterus grow outside the uterus in the abdomen, causing severe pain and impairing fertility. Unfortunately, women can wait 7-8 years after their first symptoms to get an accurate diagnosis,2,3 while repeatedly getting dismissed as "complainers" and told their problem is psychological, not physical. Compounding the problem are the most common treatments: ineffective, surface-level ablation and birth control pills, which can reduce pain while the disease continues to progress.
In this landscape that has been so arduous for my patients, I'm seeing some promising advances and positive signs for the future. We now have advanced CO2 laser technology for excision of endometriosis and a consensus that this is the best approach to treatment—and patients are no longer willing to accept anything less.
Consensus on CO2 Laser Excision Surgery
Among endometriosis experts, a consensus has developed around the best treatment paradigm for the disease. I participated in a discussion published through The Endometriosis Summit in 2021 where physicians agreed that endometriosis surgery should be performed by a specialist, ablation merely burns superficial cells and is counterproductive, and hormone therapy can be an adjunct, but it is not a solution.4 We shared the conviction that the only effective surgery is excision of all endometriosis cells using a CO2 laser (Lumenis AcuPulse and UtraPulse DUO). Pelvic floor physical therapy aids patients after surgery, and other support from a colorectal specialist or dietician may be needed.
With endoscopic CO2 laser excision of endometriosis, we can see clearly and work very precisely, removing lesions while preserving the underlying tissue. This is critically important because endometriosis cells can adhere to the ovaries, the bowel, ureters, the peritoneum, sciatic nerves, and other delicate structures. Every millimeter counts. With the laser, we can excise the maximum endometriosis cells, working very close to the healthy tissue. The laser's efficiency is also welcome, particularly in cases of extensive disease that might take 5 hours. And I have many patients who are very happy with the major improvement in their quality of life after surgery.
Preserving or Restoring Fertility
With CO2 laser excision surgery, we're better positioned than ever to preserve or restore fertility. We get the best results when patients are treated early and excision is their first surgery, but we can help patients later as well. I see many young women who were diagnosed as teenagers and prescribed birth control pills, which reduced pain while the disease continued to progress. A decade later, they go off the pill and have trouble conceiving.
We've been very successful in helping patients get pregnant naturally, without IVF. Every week, I get messages from patients and their OB/GYNs telling me one of my patients is pregnant and very happy after being unable to conceive for years.
Patient-Driven Change
Although awareness of endometriosis has traditionally been low, patients searching for their symptoms online now find in-depth information and patient stories online. Many of them join discussion groups and support networks—members on Facebook alone number in the hundreds of thousands. Women read the stories and recognize that they are going through the same symptoms, misdiagnosis, or ineffective treatments. As a result, they are seeking second and third opinions and seeking gynecologists who specialize in endometriosis. This can lead to earlier diagnosis and CO2 laser excision, which improves patients' quality of life and chances for maintaining fertility. Even patients who have suffered for decades, undergoing hysterectomy and/or multiple ablation procedures, can get some pain relief benefit from CO2 laser excision of their endometriosis and scar tissue.
Although I support patients being their own advocates, I hope that medical schools and health systems will position physicians to understand endometriosis and change the environment that makes self-advocacy so essential today.
Early Treatment for Teenagers
In recent years, I have seen a significant improvement in teenagers getting an accurate diagnosis for endometriosis. Teenagers are quick to find their symptoms online and refuse to accept people telling them, "It's all in your head." Ultimately, we want to diagnose endometriosis early and perform CO2 laser excision to prevent the disease from advancing. If we can remove the lesions now, we can avoid infertility and complex involvement like bowel resection and diaphragmatic endometriosis later.
Like many endometriosis specialists, I have a long waiting list of consultations booked months in advance, but I move teenagers to the front of the line. I usually see them within 1 month and do CO2 laser excision within 2 weeks of the consultation. Not only do I want to get the disease early, but I also want to head off the depression, anxiety, self-harm, and other psychological problems that have accompanied coping with this disease. I think we'll continue to see heightened awareness that endometriosis pain is not normal for teenage girls, and they'll have a vastly improved outlook when endometriosis is treated early.
On the Horizon: Diagnostic Biomarkers
There is no lab test or definitive imaging of endometriosis; diagnosis can only be confirmed surgically. Specialists have gotten better at asking the right questions before surgery—my own rate of predicting endometriosis before surgery is now close to 90%, up from about 10-20% pre-fellowship. This in-depth conversation takes time, and my initial consult for a referral is 1-1.5 hours, not a standard 15-minute visit.
In the next 5-10 years, I think that after we confirm endometriosis surgically and perform CO2 laser excision, we will analyze the endometriosis tissue for estrogen and progesterone receptors, just as we do with tumor markers. This will allow us to target therapy for each patient. For example, for endometriosis that lacks progesterone receptors, birth control pills will not relieve pain. Cells with no estrogen or progesterone receptors will continue to grow after menopause. I continue to see women as young as their 20s whom have had hysterectomies for hormone control of endometriosis, despite the absence of hormone receptors and the existence of minimally invasive CO2 laser excision. In the future, I hope to see more patients getting CO2 laser excision and biomarker-driven postoperative care for better fertility, long-term pain relief, and a better quality of life.
References:
Eskenazi B, Warner ML. Epidemiology of endometriosis. Obstet Gynecol Clin North Am. 1997 Jun;24(2):235-58.
Armour M, Sinclair J, Ng CHM, et al. Endometriosis and chronic pelvic pain have similar impact on women, but time to diagnosis is decreasing: an Australian survey. Sci Rep. 2020 Oct 1;10(1):16253.
Nnoaham KE, Hummelshoj L, Webster P, et al. Impact of endometriosis on quality of life and work productivity: a multicenter study across ten countries. Fertil Steril. 2011 Aug; 96(2): 366-373.e8.
Sinervo KR, Caceres A, Dulemba JF, et al. Treating Endometriosis: A Consensus Document Based on Discussions with Leading Gynecologists at The Endometriosis Summit. March 2021. Accessed March 2, 2022: https://theendometriosissummit.com/endometriosis-consensus/