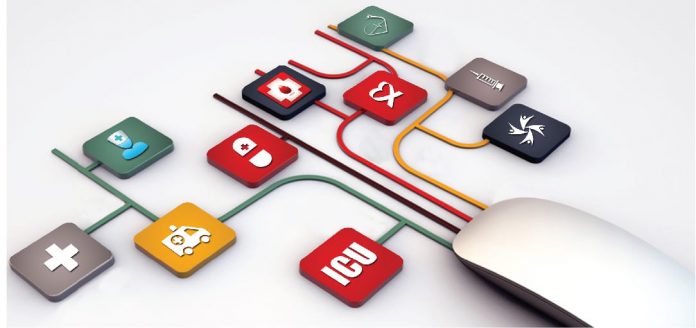 By fusing innovative digital solutions with existing healthcare knowledge, communications and high-tech companies and the health industry are developing cost-effective new ways to engage patients and deliver care, anywhere, anytime.
"Wait—are you playing my video game?!?"
Billy was shocked at the prospect of sharing his game console with his grandmother, Maria. In fact, Maria was monopolizing the gaming system—but not to shoot space aliens. Instead, she was using it to interact with her healthcare team from her living room couch.
The 71-year-old grandmother with chronic obstructive pulmonary disease was receiving real-time advice from her healthcare provider on how to use her new inhaler. Maria then slipped on her Bluetooth-enabled pulse oximeter to measure the saturation level of oxygen in her blood and instantly transmitted the results to her doctor, who communicated his satisfaction. The whole experience took only minutes, and Maria was back to her routine without the time and expense associated with a visit to the clinic.
By fusing innovative digital solutions with existing healthcare knowledge, communications and high-tech companies and the health industry could, in the not-too-distant future, make this kind of virtual healthcare interaction a reality in the United States by developing cost-effective ways to engage patients and deliver care virtually anytime, anywhere. For their part, leading communications and high-tech players are offering a growing range of potentially groundbreaking solutions that address some of the healthcare industry's greatest challenges. By targeting patients and providers with cloud-based application portfolios as well as with breakthroughs in using infrastructure in healthcare, the industry seeks to cut medical costs while improving delivery quality and patient outcomes.
While the terrain remains largely uncharted, the prospects for healthcare and high-tech companies to unlock massive amounts of clinical value are significant.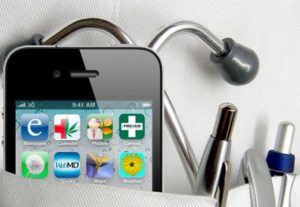 Contrasts
While the playing field is already large and rapidly growing larger, communications and high-tech firms in the United States are pursuing several different application groups that promise major payoffs when fully implemented.
Virtual health. Providers are already combining video technologies with virtual clinician services in a trend that continues to gain acceptance worldwide. Patients can connect with doctors via smart devices for a video chat or virtual visit, in the process entering information about their condition that special apps immediately transmit to the care provider.Clinical triage tools analyze the information to determine if the condition warrants an online visit. If it does, a physician can diagnose the problem, recommend treatment and prescribe medication, immediately sending the script to the patient's pharmacy. Virtual health technologies offer patients greater convenience by providing timely access to care at home, in the workplace or virtually anywhere else.
Healthcare in the cloud. Health organizations eager to stay current with the pace of digital change need access to the latest infrastructure, platform and software solutions. In many cases, this requires a "pay-as-you-go" approach involving IT delivery models where the hardware and software reside remotely on the cloud.
  As a result, healthcare providers can deploy their own solutions more rapidly or purchase third-party software or end-to-end capabilities on demand, realizing clinical value quickly and efficiently. Organizations can access these capabilities from their own private clouds or extend their existing infrastructure to the cloud in a modular approach.
Virtual health display. In a joint project, Philips Digital Accelerator Lab and Accenture Technology Labs are testing a Google Glass virtual display system, which is designed to improve the efficiency and effectiveness of surgical procedures. The system displays the patient's vital signs through a head-mounted unit, giving the surgeon hands-free access to critical clinical information without having to look away from the procedure.This technology could also be used when the patient and physician are not in close proximity, potentially providing the doctor with important patient information at the corner of his or her eye.
The major players
A number of leading communications and high-tech companies are already dedicating core assets and capabilities to solving some of healthcare's most pressing problems. For example, Microsoft's HealthVault gives consumers access to more than 140 health-related apps and connects to 226 different kinds of medical devices, from blood pressure monitors to glucose meters. It also enables users to upload their medical images, including X-rays, MRIs and ultrasounds.
HealthVault offers a wide array of solutions under one umbrella, including everything from wellness apps to chronic disease management plans. Meanwhile, technology company Verizon has repurposed its cloud and mobility capabilities to launch an FDA-approved remote patient-monitoring solution. Its Converged Health Management platform enables patients to use biometric devices to automatically transmit patient data through a wireless connection to a secure server that resides in Verizon's HIPAA-ready cloud.
AT&T has developed technology that gives medical professionals instant access to review patient diagnostic images, enabling radiologists to see more patients, reduce their long-term technology costs and thus boost profitability. The solution also allows hospital networks to manage medical images centrally and collaborate efficiently with other institutions, physicians and radiologists.
Communications hardware provider Qualcomm offers Qualcomm Life, based on its FDA-listed 2net hub and platform. With this solution, users can capture biometric data and deliver it to designated portals, sharing medical data across a wide spectrum of care situations. Likewise, Cisco HealthPresence software enables providers to deliver care to distant patients by integrating high-definition video, advanced audio, third-party medical devices and collaboration tools.
Similarly, a number of startups are maneuvering to upend healthcare business models by delivering physical solutions directly to patients. VGo Communications, for example, has developed a robotic telepresence solution with remote-controlled mobility capabilities. The robot acts as a physician's avatar, enabling doctors to make virtual patient rounds across multiple sites without really being there.
In other cases, a variety of smartphone apps and wearable recording devices powered by sophisticated communications and advanced health analytics work behind the scenes to assess whether users require medical intervention. For example, Ginger.io employs predictive models developed by the MIT Media Lab to catch subtle changes in an individual's behavior via apps on his or her mobile phone. The technology enables doctors to assess the patient's physical and mental well-being, predict potential future issues and, if necessary, reach out to him or her for treatment.
Barriers to innovation
Every industry has unique requirements and challenges, but healthcare's many regulations and multiple stakeholders can make it an uncommonly hard nut to crack. And that distinction can be challenging for communications and high-tech companies as they attempt to deploy their service delivery and network technologies in pursuit of healthcare innovation.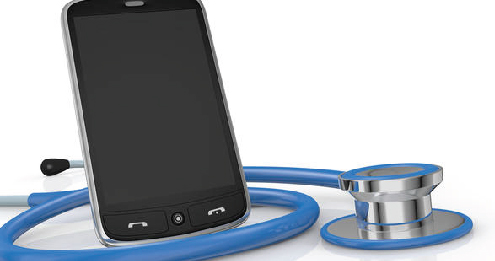 Developing effective health solutions will pose a variety of significant challenges. Here are three of the biggest.
Rapid integration. The list of digital healthcare solutions that require seamless and rapid integration is long and growing. It includes everything from connected electronic medical records to high-speed Internet devices to gaming-based gateways. Other essentials involve core IT infrastructure components like the cloud and security, along with mobile biometric devices and advanced analytics.Integration is the critical catalyst required to create a common virtual interaction space between patients and their providers. Achieving rapid integration requires organizations to work across many different systems, platforms, technologies, regulations and stakeholders. This is not an easy proposition, given a typical healthcare organization's IT environment and patient access points, and companies need to ensure that any changes or data generated are replicated through these various systems as intended and do not interrupt workflows and other processes.
Healthcare talent. To be successful in the healthcare space, companies must acquire an in-depth understanding of the industry's business side and the underlying processes that each solution will touch. That means bringing people on board with deep expertise in different industry domains, including care management, disease management, population health management, clinician productivity, patient throughput and provider networks.Beyond technical knowledge, understanding the industry's language, culture, concerns, intricacies and bottom-line imperatives will also help players position their solutions for success.
FDA regulation. Given healthcare's central role in promoting public well-being, the industry faces stringent regulatory oversight in the US market. In some cases, even wellness-focused technology solutions fall under both state and federal regulations. At the center of the oversight structure is the US Food and Drug Administration, which regulates the use of medical devices and connected data systems, and its approval or clearance processes can be daunting. Consequently, communications and high-tech players should not underestimate the amount of time and effort required to navigate these regulatory hurdles.
Go-to-market strategies
Beyond building health industry expertise and insights, communications and high-tech companies should also determine the most effective go-to-market strategies. Success will require balancing the goal of capturing the maximum value possible against the time required to extract that value. Companies have a spectrum of options to explore in this area, ranging from building a dedicated business to collaborating with other players in order to share both risks and rewards.
Build a greenfield healthcare business. In this case, a communications and high-tech player sets up a dedicated healthcare team and provides it with the required resources and funding. However, rather than simply fitting out a new, standard-issue business unit, firms should aspire to create a startup environment attuned to powering healthcare innovations rapidly through to commercialization. That means compensating employees in ways that encourage risk taking and building differentiated solutions.The parent company, meanwhile, provides the necessary administrative support, makes available specialists who intimately understand the core technologies in play and, most important, establishes the governance policies required to guide the healthcare team. One example of this approach is the above-mentioned Qualcomm Life, a subsidiary of Qualcomm.
Forge strategic partnerships with healthcare companies. Tech players can partner with healthcare organizations to accelerate the development and commercial rollout of innovative solutions. Such relationships clearly make sense for both sides, since healthcare leaders endeavoring to boost the efficiency and effectiveness of their organizations usually crave the potential leaps technical innovations promise.Teaming with communications and high-tech companies allows healthcare players to apply their clinical expertise and best practices to achieve true patient-centered healthcare. Zipnosis, an online diagnosis and treatment option for certain health conditions, could not have launched its business without partnering in 2009 with Minnesota-based heathcare system Park Nicollet to provide services to the provider's patients. Today, Zipnosis has a partnership with Fairview Health Services and other providers, whose patients pay $25 for each diagnosis.
Partner with other tech companies. Given the complexities involved, instances will arise when no single communications and high-tech company has the underlying assets and know-how it needs to develop and commercialize market-leading healthcare solutions. Partnering with other tech companies can be the answer.In forming a healthcare analytics company, one tech giant contributed software and platform expertise that complemented another leading tech manufacturer's knowledge of healthcare-related business and clinical processes. This melding of capabilities enabled the partners to achieve superior health management and care coordination. What's more, it freed resources from both organizations that they could focus exclusively on the healthcare industry, and allowed them to attract talent with the necessary healthcare experience.