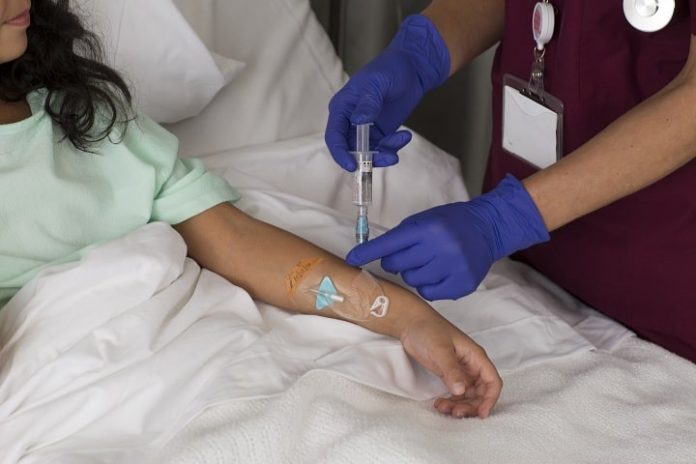 Intravenous route-related phlebitis is a growing problem all across the world. The use of the intravenous route in hospitalized patients brings with it adverse reactions and complications. It has been reported that in India, around 31% of hospitalized patients who have undergone peripheral intravenous catheterization (PIVC) experience phlebitis1.
Most patients need at least one peripheral vascular device for delivering intravenous fluids and medications during their hospital stay. A peripheral intravenous catheter (PIVC) is the most commonly used and the first life-saving device used in nearly 70% of hospitals worldwide.
Just as no human activity is free from risk, PIVC insertion isn't an exception either. Frequent use of PIVCs can result in complications such as redness, swelling, blockages, dislodgements, infections, etc., in almost half of the cases, phlebitis being the most common one. Such complications can not only cause pain and discomfort but also be quite distressing for the patients.
If phlebitis was included as an adverse healthcare event, it would rank first, followed by medication errors, infections arising from healthcare practices, and surgical techniques, reports the National Study of Adverse Events (ENEAS)2. It is no surprise that patients tend to be anxious about hospitalisation and avoid certain hospitals owing to a bad experience of phlebitis, tarnishing the hospital's and the doctor's reputation.
How do PIVC insertion practices impact healthcare?
Prevention and management of healthcare-associated problems owing to use of invasive devices have become the need of the hour. Hospitals must ensure to follow good clinical practices and provide quality care to patients to improve their overall hospital experience. This will help safeguard the reputation of the hospital, doctors and the hospital staff.
The use of irritating solutions, inadequate haemodilution, improper catheter size or stabilization techniques, not allowing skin antisepsis to dry, breaches in aseptic technique, and non-occlusive dressing could contribute to the development of phlebitis3.
How can better vascular access management help control and prevent phlebitis?
Good infection control techniques and effective management of vascular devices are vital to prevent phlebitis. Good practice during insertion will also extend the life of the cannula. It is critical to know the risks and incorporate good clinical practices to manage vascular access devices effectively.
Ensure thorough washing of the clinician's and nurse's hands; wearing gloves and adequate cleaning of the patient's skin to be followed
Careful and proper selection of IV sites of patients who are under recurrent IV therapy as consistent use of the site may increase the risk of bacterial phlebitis
Selection of appropriate vascular device for the vein and usage of right devices that are protected
Proper selection of the site of inserting the device to avoid any bony portions, joints, and valves that may lead to the device moving within the vein, thereby causing phlebitis
Appropriate dressing should be done after insertion of the vascular device into the vein to reduce the risk of phlebitis
The easiest way to prevent vascular device access complications is to invest in innovative vascular access devices and adopt globally recommended best practices.
When it comes to providing quality care to patients, Becton Dickinson (BD India) ensures patient safety and reliability with a wide range of products, including Q-Syte™ and SmartSite™ needle free connectors (NFCs), Chlorashield™ IV dressings with chlorhexidine gluconate (CHG), etc., which are INS and CDC recommended, and clinically proven to reduce Central line-associated bloodstream infections (CLABSIs)⁴,⁵,⁶.
Since it is a matter of patients' lives, satisfaction, and the hospital's reputation, one will always want to use the best devices for their patients.
References:
1. Raghu, K. and Mandal, A., 2019. Study on incidence of phlebitis following the use of peripheral intravenous catheter. Journal of Family Medicine and Primary Care, 8(9), p.2827.
2. Guanche-Sicilia, A., Sánchez-Gómez, M.,et al., 2021. Prevention and Treatment of Phlebitis Secondary to the Insertion of a Peripheral Venous Catheter: A Scoping Review from a Nursing Perspective. Healthcare, 9(5), p.611.
3. Infusion Therapy Standards of Practice. J InfusNurs. 2021; 8th Edition : S 211
4. Rupp ME, Sholtz LA, Jourdan DR, et al. Outbreak of bloodstream infection temporally associated with the use of an intravascular needleless valve. Clin Infect Dis. 2007;44(11):1408-1414. doi:10.1086/517538
5. Salgado CD, Chinnes L, Paczesny TH, Cantey JR. Increased rate of catheter-related bloodstream infection associated with use of a needleless mechanical valve device at a long-term acute care hospital. Infect Control Hosp Epidemiol. 2007;28(6):684-688. doi:10.1086/516800
6. Carty N, Wibaux A, Ward C, Paulson DS, Johnson P. Antimicrobial activity of a novel adhesive containing chlorhexidine gluconate (CHG) against the resident microflora in human volunteers. J Antimicrob Chemother. 2014;69(8):2224-2229. doi: 10.1093/jac/dku096.