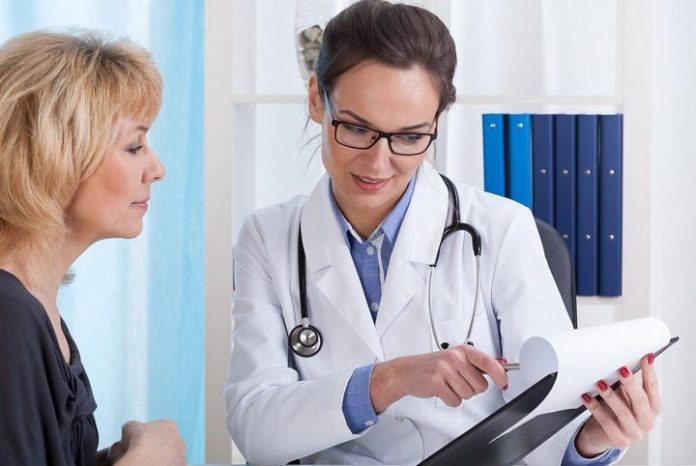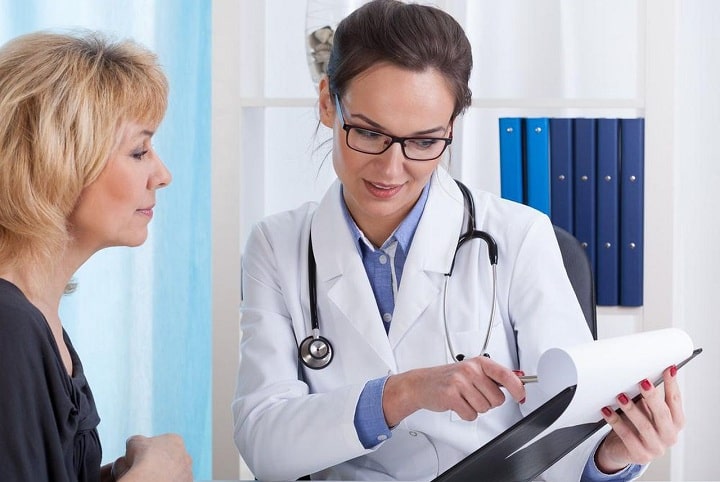 Generating insights about patients on specialty therapies through data aggregation and integration can improve patient outcomes
As the number of specialty drugs expands in complex disease areas, such as autoimmune, multiple sclerosis, oncology, and respiratory illnesses, pharmaceutical companies have shown an increased interest in tracking and understanding real world and clinical data throughout the patient journey to support more targeted decision-making. There are significant challenges in the journeys that patients with complex diseases experience, including gaps, lapses, or delays in therapy. This often includes the initial start of a treatment, as well as when switching to a next-line therapy. These delays or gaps can not only lead to negative impacts for the patients but can affect the manufacturers as well. When specialty product pharmaceutical companies enrich their understanding of the patient journey through aggregated and integrated data, they will be more apt in improving treatment outcomes and making smarter decisions.
Complexities with specialty products
Over the last several decades, the production and use of specialty drugs has increased as there has been a wider global share of spending in higher-income countries.In the 10 largest developed countries and other high- and upper-middle-income countries,the use of specialty therapies has reached 47% and 37% respectively in 2020, up from 24% and 21% 10 years earlier. Specialty therapies will represent nearly half of global spending in 2025 and almost 60% of total spending in developed markets.1
The growing number of specialty products in any given market has generated improved patient outcomes, but the stakes are high for manufacturers when it comes to new patient starts and adherence. Specialty products typically demand more complex distribution and more hands-on administration to patients. A wealth of data is available from limited network specialty providers, but to get a broader view of the patients' entire healthcare experience, integration with third-party claims data is necessary. With access to a greater depth and breadth of data, specialty product manufacturers have opportunities to advance their analytics capabilities and generate greater insights across vital patient touch points.
For patients with complex diseases who are being treated with specialty products, there are multiple challenges they may face throughout their journeys:
Fragmentation: Patients often need to interact with multiple sites of care, which results in fragmented data. A mix of pharmacy and medical claims can result in an incomplete view of the patient, prescriber, or payer, as well as create distorted views of administrations or doses across treatments which may need to be normalized for analysis.
Data gaps: There could also be differences in the various data elements reported by each source, which can vary significantly, whether these are prescription data, laboratory data, claims databases, electronic health records, health registries, or patient reported outcomes data. Furthermore, there can be data lags, varying frequencies across datasets. Finally, multiple pieces of patient data can result in elevated privacy risks.

These complexities directly affect manufacturers' ability to gain insights to support their commercial activities:
Finding and understanding potential patients, or tracking patients enrolled on a treatment, but subsequently dropped, can be a challenge as well as understanding comorbidities or concomitant therapies.
Source: IQVIA Webinar: Specialty Product Journey – Broadening the View. May 12, 2021
https://www.iqvia.com/locations/united-states/events/2021/05/broadening-specialty-product-patient-journey-with-iqvia-laad-data-integration
Targeting HCPs is difficult as prescriber volume across datasets can be unclear and can limit the ability to prioritize healthcare professionals by patient mix, practice, specialty, and treatment dynamics.
Aligning pricing, contracting and access, and determining incentives and return on investment (ROI)promotional metrics represent challenges. There is only a partial picture of market access and payer dynamics. Incentive compensation is complex due to duplicate or missing data which causes inequities in geographic or target-based plans. ROI metrics for promotional effectiveness may be over or understated due to inaccuracies in prescriber counts and inability to bridge to associated data.
Defining the patient journey
Specialty drugs are high-cost, high-touch products with complex manufacturing, dosing, and handling requirements. Often, the patient populations who utilize these drugs are small and dispersed, and may experience late diagnoses, misdiagnoses, lack of treatment options, and limited access to relevant specialists. This makes it difficult to find them and requires more customized market strategies to ensure their physicians have the right data they need at the point of treatment initiation.
To generate effective forecasting and commercial strategies, pharmaceutical companies need specialty data tactics which can define every step to help them answer key questions, including:
When in the patient journey is treatment prescribed?
Who is prescribing it?
Which tests, physician appointments, or medical events precede diagnosis?
How long are patients typically adherent and what typically complicates adherence or causes a stop?
Is the product being used as part of a combination therapy?
What triggers the transition to a new line of therapy?
What impact do copay assistance, nurse educator services, and other value-added programs have on the patient and physician experience?
When pharmaceutical companies can combine the answers to these questions, they gain clarity into the critical milestones that define the patient experience. This enables them to find patients and their physicians more quickly and to be more targeted in their engagement strategies which, ultimately, generates more successful marketing campaigns.
Difficulty accessing the data
Unfortunately, these datasets can be difficult to access. Many pharmaceutical manufacturers partner with individual specialty pharma service providers to try to meet their data needs. But these resources tend to be limited and often fail to provide the comprehensive view needed to make meaningful decisions.
Because most specialty products have such small and dispersed patient populations, patients are rarely served by a single pharmacy, healthcare professional, or healthcare organization. Each time a patient switches a product or line of therapy, it can result in disparate data collected through several channels, including physicians, clinics, hospitals, alternate sites of care, pharmacies, labs, payers, and digital health assets.
Additionally, much of the patient journey data never passes through the limited distribution specialty pharmacy network, nor is it collected in a consistent, accessible format, making it difficult to analyze. As more specialty pharmacy service providers launch, it will become more difficult for manufacturers to compile a global view of the product from any single source, or to capture patient data with any degree of granularity.
Expanding the view of the patient journey with data aggregation and integration
Data aggregation and integration can help specialty pharmaceutical companies obtain an expanded view of the patient journey.
The best data aggregation solutions provide pharmaceutical companies with broad sources
of data as well as integration services that deliver high-level perspectives across patient populations or geographies. The data can be linked back to an individual prescriber, healthcare organization, insurer's practice, or de-identified patient.
By leveraging data from a limited distribution network and integrating with third-party healthcare data assets, including digital patient data, sponsors can identify a greater majority of patients likely to be prescribed or considered for their treatment.
Oncology example: One manufacturer might choose three specialty pharmacies for their third-line oral oncology product, but the entire category, which includes first- and second-line therapies, may span well over 10 specialty pharmacies and a multitude of medical claims processors. An experienced data partner will be able to recommend and access data from most of these providers either directly and/or via use of syndicated data assets, to deliver a more complete picture of the patient journey and competitive landscape.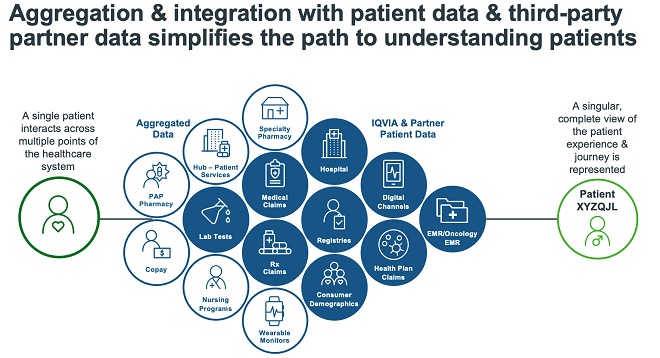 Source: IQVIA Webinar: Specialty Product Journey – Broadening the View. May 12, 2021.
https://www.iqvia.com/locations/united-states/events/2021/05/broadening-specialty-product-patient-journey-with-iqvia-laad-data-integration
The best partners offer more than data aggregation and integration; they provide deep analytics capabilities which empower commercial teams to deliver precise physician, organization, and patient engagements. The best partners will prioritize their efforts based on individual needs. Predictive analytics via artificial intelligence and machine learning capabilities are a must for a patient journey analysis and timely decision-making.
Ultimately, good data aggregation and integration will lead to enriched data and insights to generate personalized treatment plans for the right patient at the right time to enhance outcomes. Access to the right data, analytics, and insights drive tangible results for patients and physicians while also ensuring that pharmaceutical companies generate the best ROIs.
Reference
[1] IQVIA Institute for Human Data Science. Global Medicine Spending and Usage Trends. Outlook to 2025. April 28, 2021.
https://www.iqvia.com/insights/the-iqvia-institute/reports/global-medicine-spending-and-usage-trends-outlook-to-2025