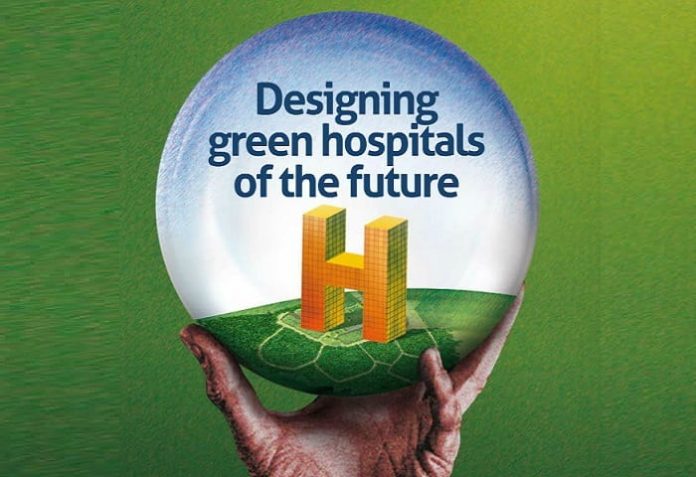 Green hospital concepts will play an important part in the curative process in time to come. Instead of being referred to as a place that houses healthcare amenities, hospitals of tomorrow will now focus on wellness and be transformed into welcoming spaces to get well.
Green hospital concepts will play an important part in the curative process in time to come. Instead of being referred to as a place that houses healthcare amenities, hospitals of tomorrow will now focus on wellness and be transformed into welcoming spaces to get well.
As hospital construction projects continue to grow and remain on a steady uptrend, health administrators are increasingly looking to introduce green initiatives and environment-friendly practices into the design, building and management of healthcare facilities. This shift to sustainable healthcare facilities is primarily centered around reducing the carbon footprint of hospitals and the incorporation of modern "Green Building" design elements into the healthcare environment to improve patient care and allow hospital occupants to feel more at ease.
Most architects today are already familiar with green building concepts, as both the public sector and private businesses are increasingly committed to an array of environment-friendly principles. "Green Hospital" concepts, which focus on sustainable designs specifically for hospitals, are also gaining an increased interest and awareness.
In fact, it was recently reported by market research firm SBI Energy, that green building renovations are set to increase significantly through 2015. A growing number of infrastructural projects will focus on energy efficiency and the use of green building materials to differentiate from standard construction techniques. As such, the hospital and healthcare industry is expected to be one of the leading sectors to witness a substantial growth in green construction.
Tomorrow's environmental solutions
As hospitals typically use significantly more resources and produce more waste than comparably sized commercial buildings, the effective deployment of environmentally driven strategies to improve resource management is of critical importance in the development of sustainable healthcare facilities. A World Health Organization (WHO) report published last year urged hospitals to proactively address the environmental footprint of the healthcare sector by reducing power consumption, utilizing alternative energy generation, and through the recycling and conservation of resources.
A range of energy efficiency measures, which rightly form the starting points for many global green hospital initiatives, are being adopted both in the renovation of existing facilities and the construction of new hospitals. Core measures include the use of energy efficient medical equipment and lighting systems for hospitals to reduce energy expenses, as well as the deployment of technologically advanced energy management systems that leverage onsite renewable energy sources.
These transformational energy solutions, coupled with the implementation of efficient water management and a focus on the reuse of resources, can greatly reduce the overall environmental impact of healthcare facilities, increase efficiency, and reduce cost of operations.
Besides the goal of reducing carbon footprint, hospitals are also looking at how to introduce the increased use of daylight lighting and natural ventilation into the healing environment. To raise the standards of patient care, a sustainable hospital design should also look at improving air quality by exploring ways to reduce the amount of harmful toxins and contaminants used across clinical departments.
A significant but perhaps less heralded development in new green hospital initiatives is the growing integration of advanced workflow optimization into the early stages of facility design and construction process. This form of strategic planning enables hospitals to put in place leaner processes to raise operational efficiency and increase overall patient satisfaction.
Major improvements are made possible today through lean simulation tools, from which workflow design can be optimized to drive multiple benefits such as the elimination of waste, increased staff productivity and decreased congestion. For instance, hospital owners can now make use of process simulation applications and sophisticated tools such as "workflow spaghetti charts" to analyze patient flow patterns in order to cut down on congestion and back tracking through the facility. It also allows iteration of the model and arrives at the optimum mix of workforce given the patient load and needs.
The integration of modern healthcare IT across the various clinical specialties of a hospital will also become increasingly critical to streamline workflow through digitization and to reduce error, waste and cost. The digitization of healthcare systems ranges from the use of advanced software for medical procedures to improve the quality of patient care, to the installation of integrated IT networks for patient records to become more easily accessible to healthcare providers.
Increased significance of strategic partnerships
The emerging focus on sustainability in hospital construction is clear evidence of the global healthcare industry's commitment to playing its part in addressing the challenges of climate change. And this is where the importance of long-term strategic partnerships in the design and construction of healthcare facilities becomes more pronounced, as hospitals worldwide strive to deliver on their sustainability goals.
The agenda of such strategic partnership between hospitals and technology providers is typically focused on the lifecycle management of a facility's medical equipment. This comes into play particularly when hospital administrators are faced with the challenge of balancing the need to update their technology deployment to meet evolving environmental standards, while having to manage the higher initial cost of cleaner technologies.
Indeed, the increasing demand for green hospitals has led to a growing number of global hospital partnership projects with a sustainability focus. A recent example of this is GE Healthcare's collaboration with Germany's Asklepios Hospital Group to reduce the environmental footprint of a pilot hospital facility located in the city of Hamburg.
Based on a multi-dimensional approach, this joint project aims to raise energy efficiency at the hospital by 30 percent, while at the same time reducing energy consumption by 30 percent and increasing the proportion of renewables in the energy mix by up to 30 percent.
This type of project requires a highly collaborative approach between a hospital and its vendors, and a strong level of commitment with a clear technology roadmap in order to successfully implement innovative, marketing-leading best practices across wide disciplines over the long term. The strength of the partnership often depends on whether the technology vendor is able to cater to the specific needs of its hospital clients through a range of innovative, pragmatic and sustainable system solutions, essentially allowing the hospitals to focus on clinical service delivery.
Ultimately, a well-preserved and ecologically sound environment is critical for good health, and there remains a tremendous opportunity for healthcare system suppliers and medical institutions around the world to work more closely together to optimize resource management, streamline workflow design and improve site sustainability in future hospital settings.