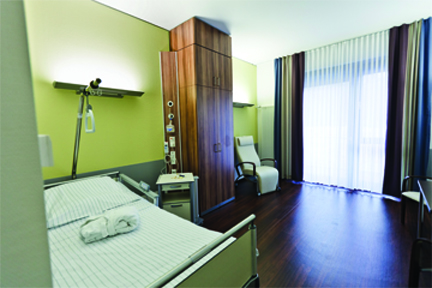 Patients need much more than just medication and skilled treatment in order to get well. Attentive care demonstrably accelerates people's recovery. Hospital architecture and the design of workplaces and patients' rooms also play an important role – for the patient's wellbeing, but also an efficient workflow at the hospital.

At the beginning of the year, the staff at the St. Josef Hospital and Pediatric Clinic in Neunkirchen, Germany, faced the difficult task of moving their patients and all of the medical equipment to a new hospital building. Despite all of the cost pressures, this new beginning gave planners the rare opportunity to design and configure the hospital building and wards from the ground up. Upon entering the red-and-white painted hospital facility, visitors arrive in a foyer with a waiting area containing a piano. The corridors are painted in warm shades of yellow, and the patients' rooms are much friendlier and more comfortable than those in the previous building. The impression of being in a living room is further enhanced by curtains and movable cupboards for the patients. Even such comparatively simple measures seem to have a big effect. "The patients say that they immediately feel as though they're in a five-star hotel," reports Dr. Ernst Konrad, Chief Physician of the Clinic for Anesthesiology and Intensive Care Medicine. In the intensive care units, doctors and nurses find it easier to do their work, and here too the rooms are more comfortable and colorful than those in the previous hospital building.
Looking at nature helps the healing process"Our conscious patients feel much better here," says Konrad about his first few weeks of working in the new wards. "And even patients who are on life support notice their surroundings to some extent." The hospital is responding to a general trend that began in the U.S. and is now becoming more pronounced in European clinics as well. The focus is not only on providing expert medical care but also on creating a feel-good atmosphere. This also applies to the technical equipment, which is being designed to not only perform well but also appeal to the eyes. One of the reasons for this development is the changed relationship between hospitals and patients, who are no longer viewed only as people in need of help, but also regarded as discerning customers. Another reason is that an individual's psychological condition has an undisputed impact on the course of his or her illness. The fact that a patient's surroundings can affect his or her wellbeing and recovery is not just an intuitive assumption; it has been proven in a series of scientific studies.
"Hospitals used to be places where patients left their personalities and individual needs at the reception desk," says Matthias Witt, Care Director at the Unfallkrankenhaus Berlin (ukb/Berlin Trauma Center). Witt has many years of professional experience and was closely involved in the planning and design of the center when it was built in the 1990s. During this process, he considered the patients' subjective well-being in many specific areas. His initial focus was on how patients appear to be when they are in a given room, and on how they view themselves. "If everything is painted white and a pale patient is lying there, the patient ends up feeling even sicker than he or she actually is," says Witt. The surroundings that people see and the materials around them can have a direct impact on how much stress they experience. In some cases, this effect can even be measured in terms of the patients' physical reactions. Whereas abstract art affects people in different ways and can even result in negative reactions, people generally like to see nature, wide expanses, and water – which can have positive effects on heart rates, blood pressure, and the perception of pain. A study at the University of Delaware showed, for example, that patients who had had a cholecystectomy (surgical removal of the gallbladder) needed fewer painkillers and could be discharged sooner if, after their operations, they lay in a room from which they could see trees, as opposed to an identically furnished room with a view of a brick wall. Another study demonstrated that even burn victims can feel less pain if they watch films of nature scenes such as waterfalls, forests, or oceans while their bandages are being changed. In order to liven up cold surroundings, some hospitals are again using natural materials. At the Berlin Trauma Center, for example, Witt is planning to obtain tables and chairs made of real wood. "The sense of touch is particularly important for patients who are old or suffer from dementia," he says. He doesn't think this will negatively impact hygiene, pointing out that "modern processing techniques mean that aesthetics and functional requirements are no longer contradictory." In fact, some hospitals now even have carpeting. The Berlin Trauma Center quickly gave up such an attempt, however, because the carpets made it too difficult to push hospital beds around and to remove coffee and other stains. Besides, the vacuum cleaners made too much noise.
Visitors can relax, too
A high sound level can have a negative impact on both the patient's healing process and the working environment.,, In many older hospitals, the constant barrage of noise in particular should be reduced for the benefit of the patients. To do this, the floors at the Berlin Trauma Center are covered with a thick layer of natural rubber in order to muffle steps, and all trolleys and beds have especially quiet wheels. Thick doors help to insulate against noise, and the patient call system only generates light signals in the corridors. Not surprisingly, scientific studies have repeatedly shown that a hospital's general noise level affects patients' sleep and stress levels. Swedish researchers at the Karolinska Institute demonstrated that patients in the cardiological intensive care unit slept more soundly, experienced less stress, and assessed their treatment as better after noise insulation was installed. In addition, the study showed that these patients had to be readmitted to the hospital somewhat less frequently than patients in other wards.
New advanced workplace design
The new Dräger "Advanced Workplace Design" for ceiling supply units is made of components that make the daily working routine of medical staff easier and are designed to create a pleasant atmosphere for patients. The "Advanced Workplace Design" includes, among other things, a new lighting concept, an additional arm for a patient lifter and the volume indicator "Noise Display". The Noise Display emits an optical warning signal if hospital staff or visitors exceed previously defined limits for the room sound volume. A glowing red dot indicates that there is too much noise for the patient and staff and that the noise level should be reduced immediately. If the noise level is within the defined limits, a green light in the shape of an ear appears. A glowing yellow circle is visible if the noise level is only 5 db below the defined limit.
"Our goal was to develop components that support the ergonomics and occupational health and safety of the nursing staff at our hospitals and to create a patient-friendly atmosphere", Dräger's Senior Product Manager Thomas Friedrich explains. Scientific studies on workplace ergonomics show that systematically designed and well lit hospital workstations reduce stress for both patients and nursing staff and can reduce medical errors by up to 30 percent.
Patients are negatively affected not only by noise and bare surroundings; they can also suffer greatly from being at other people's mercy and having no control over their lives. People who become suddenly or seriously ill are often deeply distressed and feel that their selfimage has been undermined. They literally find themselves exposed to a foreign environment that they often do not understand, where they cannot find their way around, and over which they have little control. A number of simple measures can be used to mitigate these feelings a little. Examples include enabling patients to control the lighting and ventilation from their beds or to offer their visitors a cup of coffee, and providing patients with sufficient room to display some personal mementos. Having a modicum of privacy and the support of familiar people also has a big impact on patients'   sense of wellbeing. Having a room to oneself has undisputed advantages in this regard. Hospital planners are taking new approaches in other ways as well, as it's not only the patients' well-being that is of crucial importance – visitors' needs are also increasingly being taken into account. "They also feel better in hospital rooms that are bright and cheerful," says Dr. Konrad.
The new hospital in Neunkirchen has waiting rooms with lockers for visitors. "After all, visitors have to relax now and then, too," he says. The Berlin Trauma Center is trying to create a more homelike atmosphere or environment in some of the waiting rooms by setting up sofas and partitions. Some hospitals in the U.S. have even gone a step further. For example, the new neurological intensive care unit at Emory University Hospital in Atlanta now has a separate family room next to each treatment room so that family members can provide patients with intensive support. Even though hospitals are becoming more and more comfortable and appealing, the patients' main concern remains the expertise of the doctors and nursing staff so that they can obtain reliable diagnoses and optimal treatment. Giving workplaces and hospital rooms a state-of-the-art design can be helpful in this regard. For example, it is becoming increasingly difficult to place all of the required equipment next to the patient's bed in an intensive care unit so that doctors and nursing staff can easily get an overview of the situation and quickly access the patient from all sides. "In the previous building, the devices were connected to a wall system at the head of the patient's bed," says Dr. Konrad. "As a result, you almost tripped over the big pile of cables when you did a bronchoscopy, for example." Today, the supply unit in the form of a beam is mounted to the ceiling. This system from Dräger, which is called Ponta, integrates all of the gas lines, electricity cables, and data transmission lines. Various workstations can be attached to this beam and can be moved along a rail system and a swivel arm. All of the "wet" equipment for infusions and suctioning are located on one side of the patient, while the other side is reserved for "dry" equipment such as respirators and monitors. "In addition to providing a clearer overview, this system has a big advantage in that it allows us to walk around the patient," says Dr. Konrad. "What's more, the new system makes the rooms look bigger." This is also beneficial for patients and visitors, since the beds are no longer surrounded by a tangle of tubes and cables. Now patients can have an overview of the various devices and recognize where a particular hose leads to, for example.
Sudden changes in brightness or monotonous lighting interfere with the biorhythm and may delay the recovery of the patient. Factors such as the attention and concentration of the staff, which may influence job performance, are also affected. The supply units therefore can increasingly incorporate sophisticated lighting systems. One new lighting option simulates natural daylight over a course of twelve hours by modifying the lighting conditions, creating a comfortable atmosphere for patients and staff. Alternatively, hospital employees can create different color temperatures and moods with the individually adjustable lighting in the primary colors red, green and blue (RGB light).
During the night, the navigation light on the top side of the arms of the ceiling supply unit and the bottom side of the media column allow nursing staff to move around safely without bothering sleeping patients.
Inspiring technology
The design of hospital equipment has changed with the times as well. "Laypeople often don't even recognize the respirators any more," says Witt. The rectangular, metallic machines of the past have been replaced by smaller devices that have rounded shapes. In addition, options such as Dräger's Color Line enable hospitals to select supply units in a variety of colors that are coordinated with the room in which the equipment is installed. All of these measures can help patients react to the unfamiliar hospital situation in a more relaxed way. "Medical technology can frighten patients who are totally dependent on it, and who can no longer exert any control over their environment," says Dr. Konrad. "Things don't have to be that way, however. In many cases, we've discovered that technology can even have an inspiring effect."