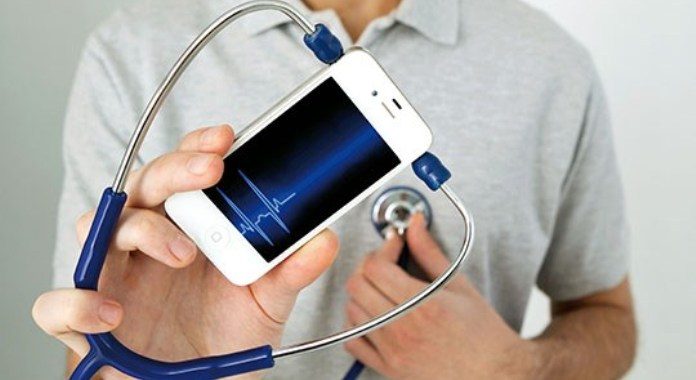 Patients wanting more self-service options for their healthcare. – Accenture survey show that patients embrace technology, but still want face-time with doctors.

Most (90 percent) patients surveyed want to embrace eHealth self-service options, such as access to health information, scheduling and prescription refills, but nearly half of patients (46 percent) are not even aware if their health records are available electronically, according to an Accenture survey of 1,100 US patients. Additionally, eighty-five percent want the option of communicating with their doctor in person. 

Paths for patients
While the majority of patients want digital access to self-service, an overwhelming 90 percent cite the Web as the channel of choice for accessing health information to help manage conditions.
Many look to the Web for other self-service options, including:
• 83 percent want to access personal medical information.
• 72 percent want to book, change or cancel appointments.
• 72 percent want to request prescription refills.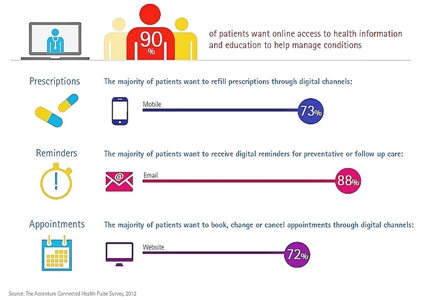 The survey also indicated that a majority of patients want to take advantage of self-service options through other channels, such as via email and mobile devices. For example, 88 percent want to receive reminders via email when it is time for preventative or follow-up care (in contrast to the 63 percent who want such reminders sent to their mobile phone), 64 percent want to request prescription refills via email and 76 percent want to communicate with their doctor via email—nearly the same number as the 74 percent who want to use the telephone to communicate with their physician.
Interestingly, there are geographical differences in patients' desire for online access. The study revealed that patients who primarily live in rural areas are less likely to want their records available online.
"Patients increasingly want access to their personal medical information, anytime, anywhere," said KavehSafavi, MD, JD, who leads Accenture's North America health industry group. "But they're not willing to give up the option of face time with their physicians." Getting in Touch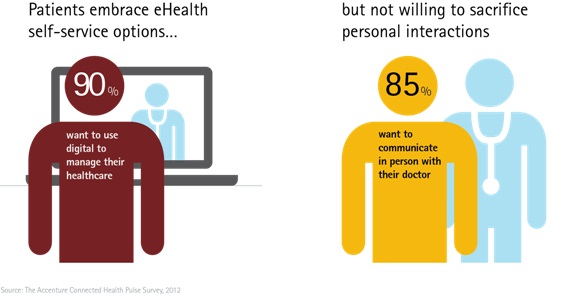 The study illustrates that patients are hungry for information, and they want it in more ways than one. They are interested in digital self-service, but they still want face time with physicians. During these in-person visits, are doctors informing patients of the services that are available to patients online? According to the survey, it may not be happening.
When asked, "Do your doctors provide you online access to the following information or services?" patients surveyed did not know whether services such as bill pay, electronic reminders and lab results were available to them online (approximately 33 percent did not know whether services were available to them online).
In-person visits may offer a chance to educate patients. While the physician/ patient encounter should focus on care, the doctor may seize opportunities to inform the patient of what self-service options are available to them online.
Since geography influences knowledge of and desire for online self-service, communications should include messaging that is more appropriate and resonates with patients, especially those in rural areas. Online self-service has many potential benefits: it helps reduce costs, drive efficiency and empower patients to take an active role in their healthcare. Healthcare providers should bear in mind that while in-person will never be out of style, they can better educate patients and ultimately drive greater adoption of self-service channels.
About the Survey
The Accenture Connected Health Pulse Survey determined the level of access and preferred channels of access to electronic healthcare-related information and services; gauged patient perceptions of EHRs, including benefits and barriers to adoption; and explored differences in patient perspectives versus physicians as well as between federal health personnel and the general population. The online survey was fielded March 30 through April 4, 2012.
For more information, please contact:
Rick Ratliff
Global Managing Director
Accenture Connected Health Services
T: +1 703 947 2525
E: richard.ratliff@accenture.com
KavehSafavi, M.D., J.D.
Accenture North America Health Industry Lead
T: +1 312 693 1541
E: kaveh.t.safavi@accenture.com