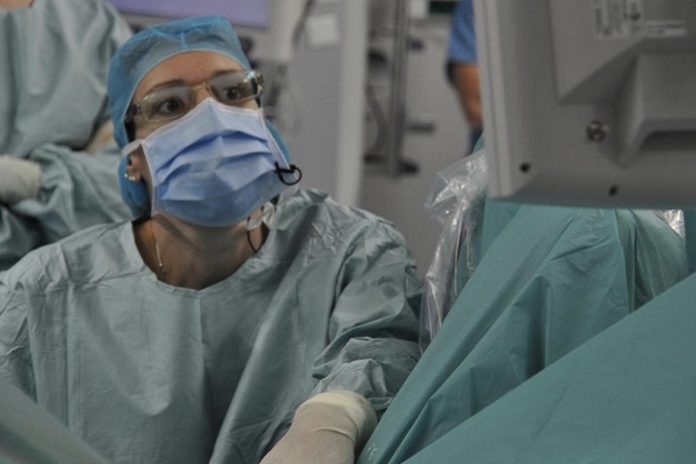 A well-established hospital-based program helps top surgeons confidently perform HoLEP for patients with BPH.
For treatment of benign prostatic hyperplasia (BPH), transurethral Holmium Laser Enucleation of the Prostate (HoLEP) has emerged as the new gold standard. Compared to other familiar BPH procedures, HoLEP has lower morbidity, less blood loss, more comfortable recovery, a shorter hospital stay, less time with a catheter, and lower retreatment rates1-3 – all the metrics to which we aspire for patients with this very common condition. Nevertheless, HoLEP is not the most common procedure used to treat BPH, largely because surgeons perceive a steep learning curve and lack opportunities for training.
In our hospital, urologists have been teaching HoLEP for over 20 years to ensure that more patients with BPH gain the advantages of HoLEP. We're ideally positioned to do so because HoLEP is the preferred BPH procedure at our hospital, where we perform about 1,200 cases per year, compared to about 200 cases at other hospitals in our region. Our program assigns a mentor to teach HoLEP to a protégé, who in turn will mentor other physicians in the future. Such a program requires the time and support of our surgeons and hospital, including a clear commitment to helping surgeons navigate HoLEP's learning curve.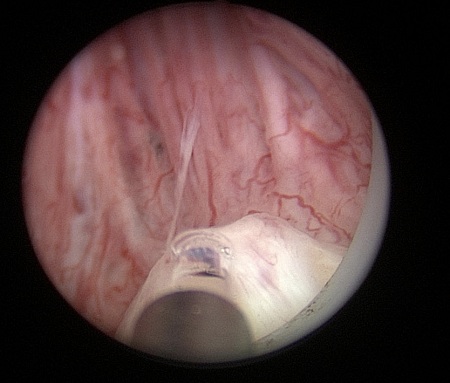 HoLEP's Learning Curve
Like many surgeries, HoLEP has a learning curve, but it is by no means overly challenging and is certainly worth the effort to attain the procedure's advantages. In our program, novice surgeons require just 20 to 25 supervised cases before they can perform HoLEP alone, compared to 50 cases indicated in literature.4-6
One reason for the training period is that several crucial steps in the operation can be new to the surgeon, depending on the prostate size and configuration.For example, as we safely enucleate the prostate, it can be challenging anatomically to get between the adenoma and capsule. We must work close to the sphincter while safely preserving it. Surgeons also learn to find and maintain the right cutting plane while being mindful of the capsule's position.
Proper hands-on training shortens the learning curve for these HoLEP techniques.What's more, surgeons perform very well during training. Research has shown that the outcomes of HoLEP during the learning curve are comparable to those of surgeons experienced in HoLEP.7
One-on-One Teaching
Our structured HoLEP mentoring program has a flexible duration of weeks to months based on each trainee's previous experience with HoLEP and educational needs. Rather than jumping into doing the entire HoLEP procedure, surgeons learn in a step-by-step process. To start, a trainee watches a few HoLEP surgeries to get an impression of the technique, essential steps, and difficult aspects of the operation. Next, under the mentor's guidance, the surgeon learning HoLEP begins to perform several steps of the operation, starting with enucleation of the middle lobe. The scope of the trainee's HoLEP proficiency eventually expands to include accessing the apical part of the prostate on the left and right lobes and mastering all the skills to complete the operation.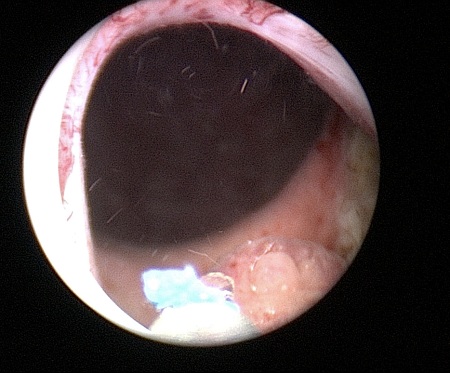 Our laser and laser fibers (MOSES Pulse 120H and MOSES D/F/L fibers, Lumenis) make cutting smoother and more precise, thus aiding new surgeons in learning the procedure. With MOSES Technology, the modulated laser pulse simultaneously cuts and cauterizes, reducing bleeding and helping maintain visibility during surgery. The fiber has less vibration and degradation than we experience with other fibers.
The MOSES laser also cuts more efficiently through adenomas tissue and potentially reduces the overall procedure time of inexperienced surgeons compared to other laser technologies.All of these advantages make the trainee more relaxed and confident while translating directly into better patient outcomes. In addition, virtual reality simulators and wet simulators dedicated to HoLEP training also help to reduce the learning curve by allowing surgeons to practice in their own time.
When trainees perform any aspect of surgery, their mentor stands behind them to offer advice and demonstrate how to rely on the screen for guidance. Mentors use the handgrip-navigated technique, placing their hand on the trainee's hand to demonstrate where to move the instrument. By the end of the mentoring program, the trainee is able to perform HoLEP while the mentor observes.
Hospital and Industry Help
Our HoLEP mentoring program would not be possible without the support of ourhospital, particularly in terms of OR scheduling. When mentors are teaching trainees to perform HoLEP,the operation time is longer, so we need to schedule longer blocks of OR time on training days. Our hospital is willing to let us take more time because it is committed to getting HoLEP's advantages for our patients.
The industry can help hospitals develop HoLEP training programs as well as help individual surgeons learn the procedure. Lumenis Academy courses in HoLEP are offered internationally, and the company collaborates in developing HoLEP workshops and courses. Ultimately, the procedure that produces the best results is the best choice not only for our patients, but also for the hospital and for all the surgeons who dedicate themselves to learning HoLEP.

References

1. Kuntz RM, Lehrich K, Ahyai SA. Holmium laser enucleation of the prostate versus open prostatectomy for prostates greater than 100 grams: 5-year follow-up results of a randomised clinical trial. Eur Urol. 2008 Jan;53(1):160-6.
2. Gilling PJ, Wilson LC, King CJ, Westenberg AM, Frampton CM, Fraundorfer MR. Long-term results of a randomized trial comparing holmium laser enucleation of the prostate and transurethral resection of the prostate: results at 7 years. BJU Int. 2012 Feb;109(3):408-11.
3. Elmansy HM, Kotb A, Elhilali MM. Holmium laser enucleation of the prostate: long-term durability of clinical outcomes and complication rates during 10 years of followup. J Urol. 2011 Nov;186(5):1972-6.
4. El-Hakim A, Elhilali MM. Holmium laser enucleation of the prostate can be taught: the first learning experience. BJU Int. 2002 Dec;90(9):863-9.
5. Shah HN, Mahajan AP, Sodha HS, et al. Prospective evaluation of the learning curve for holmium laser enucleation of the prostate. J Urol. 2007 Apr;177(4):1468-74.
6. Seki N, Mochida O, Kinukawa N, Sagiyama K, Naito S. Holmium laser enucleation for prostatic adenoma: analysis of learning curve over the course of 70 consecutive cases. J Urol. 2003 Nov;170(5):1847-50.
7. Large T, Krambeck AE. Evidence-based outcomes of holmium laser enucleation of the prostate. CurrOpin Urol. 2018 May;28(3):301-308.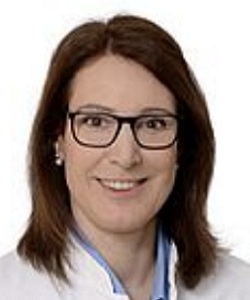 Karin Lehrich, MD, is an urologist at the Vivantes Auguste-Victoria-Hospital in Berlin, Germany, and Head of Urological Laser Center Berlin.