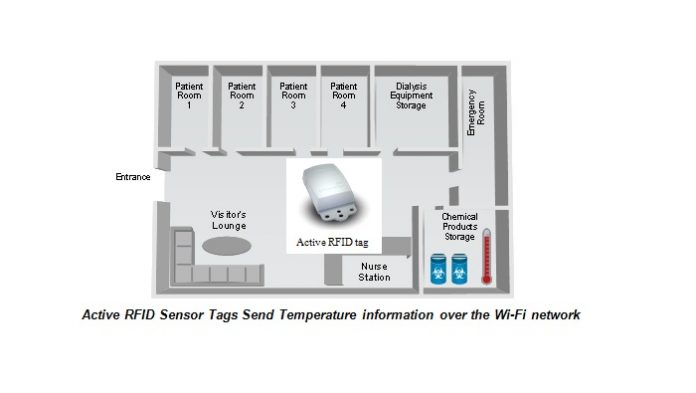 In healthcare, response time is critical to ensuring patient recovery and satisfaction. To respond promptly to patient needs, caregivers require immediate and secure access to information, such as health records and prescription databases.

In healthcare, response time is critical to ensuring patient recovery and satisfaction. To respond promptly to patient needs, caregivers require immediate and secure access to information, such as health records and prescription databases. To provide the highest-quality patient care, they also need timely access to other caregivers.
Most healthcare organizations today are characterized by legacy communications systems, which tend to be implemented and managed in silos by different teams, and by the use of multiple mobile devices on different networks. These disparate information systems limit the access of highly mobile caregivers to the most accurate data and human resources. Streamlining communications infrastructures for optimal security and user access is critical to the success of healthcare organizations whose goal is to provide quality patient service while ensuring compliance with industry regulations.
Mobility in Healthcare
Caregivers are very mobile and use multiple communications devices, making it difficult to reach the right staff member in a timely manner. For example, nurses might use pagers to communicate with each other while physicians might prefer wireless handsets. According to a report by Forrester Research , 84 percent of the time spent searching for staff impacts patient care and usually delays that care until questions are answered.
Caregivers and other hospital staff such as pharmacists also require secure access to the latest and most accurate patient and medication data to avoid any errors related to medications. A patient's condition might change and if the latest status is not reflected in the record, the results can be life-threatening. In a recent article , the director of Harvard Medical School, David W. Bates, estimates that medication-related errors cost over one million dollars a year in most hospitals.
The disparate communications and information infrastructures can also result in error-prone hospital workflows, which, in turn, affect employee efficiency and patient service and satisfaction.
Regulatory Environment
The regulation levels in the healthcare industry and the enforcement of these standards varies widely by country. In the United States, the Health Insurance Portability and Accountability Act (HIPAA) mandates high levels of security and privacy for patient information. Despite the persity in standards, all healthcare organizations are driven by the common goal to provide high quality patient care and to do this in the most efficient way by not only employing qualified staff but also providing them with the necessary tools and resources to be successful at their jobs.

Healthcare IT Innovations
Rising healthcare costs, worldwide increase in life expectancy, increased patient awareness, and a tighter regulatory environment are all factors driving innovation in healthcare IT technology. There is wide agreement that information technology is critical to addressing some of these macroeconomic factors. IT companies throughout the world—from startups to well-established incumbents—have realized the tremendous opportunity in healthcare for their services.
While the range of technologies coming to market for specific healthcare needs is vast, solutions focused on simplifying communications and on improving visibility into high-value hospital assets and people are starting to see an increase in adoption because of the clear end-user benefits and tangible return on investment.
Benefits of Streamlining Communications
A robust and secure communications system—and one designed with usability in mind, to ensure maximum adoption—is a critical component of a healthcare organization's infrastructure. Following are some of the benefits of a single communications infrastructure and the associated applications
Figure 1: Wireless Devices Simplify Information Access and Communications

Wireless IP Phones

Dual-mode handset + Wireless Tablet PC

Improved Reachability through Single-Number Reach
Most clinicians and nurses use more than one device to communicate. For example, a nurse might use the desk phone at the nurses' station or a pager when attending patients. A doctor might alternate between a pager and a cell phone, depending on the task and location in the hospital. Single-number reach applications let the caregiver to assign one number as the primary number and have calls made to their other numbers be forwarded to this selected number. For example, if a doctor steps out of the hospital and the nurse calls him on his office desk phone, the call is automatically forwarded to the physician's primary cell phone number. Single-number reach makes it possible to reach an inpidual regardless of the device or number they are using, on the first try.

Improved Collaboration through Presence Applications and a Range of Devices
While it's important to reach caregivers on the right device, it is also essential to reach them at the right time. Presence information improves collaboration by helping to ensure that clinicians are not interrupted inappropriately (for example, in the operating room) and by improving reachability and therefore hospital workflow. In the hospital setting, it's especially important for clinicians to have the most accurate availability information for coworkers, including their preferred contact information.
Flexible devices are also important for improved collaboration. Devices that work well in the healthcare environment range from fixed or wireless IP phones to voice-enabled tablet PCs, as well as dual-mode (cell and Wi-Fi) phones that are now being designed to specifically address the caregivers needs.

Improving Asset and Resource Visibility
A white paper published by Siemens in 2006 , states that about 33 percent of staff time was spent searching for equipment, patients and other personnel and every year hospitals wrote off between 5 and 15 percent of their capital equipment budgets due to loss and theft. The time spent in locating essential assets such as wheelchairs or infusion pumps is time taken away from the patient. Given the high value of these assets, it is important to track them not only to ensure their availability, but also to avoid expensive replacement costs. Asset visibility can be greatly simplified using Wi-Fi-based RFID solutions, in which Wi-Fi tags are placed on assets so that they can be monitored in real time using a facility's Wi-Fi infrastructure. Sensor tags can also be used for condition monitoring. In this case, sensor tags are placed, for example, in medication storage rooms, and alerts are generated if conditions deviate from defined thresholds. Again, by converging to a single communications and IT infrastructure, these alerts can be forwarded to the right people on the correct devices and in a timely manner for prompt action.

Summary
A single communications and information infrastructure offers very tangible benefits to healthcare organizations. Caregivers are now able to focus on providing quality patient care rather than having to figure out complex technology solutions. A healthcare organization's IT department can also benefit from this single infrastructure by potentially lowering the total cost of ownership and simplifying support costs. Standardizing on a single architecture also enables quick roll-out of innovative solutions and helps support end-user needs without requiring additional financial or human resources.
References :
1. Forrester Research, 2006
2. David W Bates, MD, MSc Assistant Professor of Medicine, Harvard Medical School Medical Director – American Medical Association
3. Siemens Enterprise Communications.