Motorola Solutions collaboration with the Infocomm Development Authority of Singapore yields ready to-market local mobile healthcare solutions


Motorola Solutions Asia Pacific announced that it will soon bring to marketa number oflocal mobile healthcare solutions together with its partners,as a result of its collaboration with the Infocomm Development Authority of Singapore (IDA), under the Healthcare Innovation Program started last April. Working closely withpartners enrolled under this incubation programme to drive healthcare mobility applications development expertise in homegrown enterprises,these solutions include routing and scheduling mobile dispatch solutions, as well as home health monitoring systems which connect devices to medical devices for vitalsigns monitoring via Bluetooth.
The Healthcare Innovation Program has seen over 15 localpartner enrolments in its first year. Two of these – Elderwise Living,LANWorks – will be showcasing their mobile solutions specifically targeted at enhancing community care at the Ageing Asia Investment Forum held in Singapore from 10-13 April.To-date, the Program has generated close to S$1million in software and hardware revenues for MSI partners, and solutions are being delivered into local healthcare outlets, or in trial phases.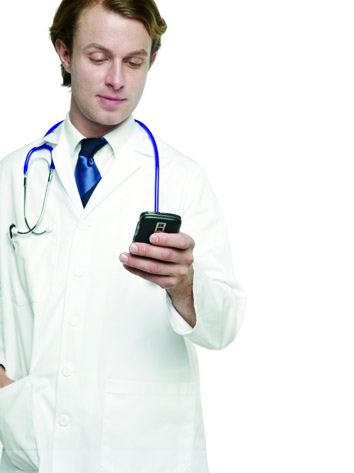 Key Benefits
• The MSI-IDA Healthcare Innovation Program was designed to incubate innovative enterprise mobile applications for the healthcare sector to build a more vibrant application development ecosystem in Singapore & the region.
• As technology leader for communications to enterprises and governments with healthcare expertise, MSI's mandate is to drive reference deployments of these applications through adoption with local healthcare clusters first and later into the Asia Pacific region.
• Other homegrown application developers also part of this program so far include SQL View, Napier Healthcare, Medisys, Y3 Technologies, Cadi Scientific, Ace Vision,LANWorks, Cicada Cube, KOOPrime,HutCabb, Autoscan, Care Inc and KenLab,whose enterprise mobile solutions are either currently undergoing trials in local healthcare clusters or currently in pilot phases.
• Solutions are built around MSI's four pillars of healthcare namely:
– Patient Care: positive patient ID,medication administration, specimen tracking, transfusion verification;
– Operational Efficiency: asset tracking in hospitals, facility management, clinical documentation tracking;
– Workforce Productivity: telemedicine,workforce scheduling, clinical decision support, routing, scheduling mobile dispatch;
– IT operations: campus-wide wireless enterprise, guest/patient wireless hotspot access
• Elderwise Living's solution with MSI's Enterprise Digital Assistant ES400 –helps field workers from Thye Hua Kwan Moral Society's Elderly Care centres with automated workforce scheduling and remote task management & tracking, while LANWorks' mobile solution focuses on an integrated web-based management solution to manage patient profile and administration for convalescent homes using Motorola Solutions' ET1 Enterprise Tablet.
Supporting Quotes:
Grace Ho, Director, Business Development, Healthcare, Motorola Solutions Asia Pacific said: "Healthcare IT spending across the region is increasing both in the private and public sector and there is strong demand for better delivery and quality of patient care. Our collaboration with IDA is strongly in line with our aim to energize and build the local mobile healthcare ecosystem together with our partners here and in the region, and to enable better patient care delivery, greater efficiencies in hospital operations, andcontribute to making healthcare accessible and affordable in the growing and ageing populations in the markets here. We are pleased with the progress we have achieved in such short time and look forward to bringing many of the solutions to fruition in the market."
Andrew KHAW, Senior Director, Industry Development Group, IDA : "I am glad to note the successful partnership Motorola Solutions has forged with Singapore infocomm companies through this initiative. The partners have benefitted from Motorola's leadership in mobile-enabled solutions and have contributed new innovations to Motorola's suite for the healthcare sector. We are seeing a trend where a range of industry sectors are using technology as a tool to differentiate and to compete, and are embracing co-innovation with partners as a means to speed up access to innovation. The Motorola Solutions partnership helps Singapore-based technology companies and application developers to participate in this growth opportunity and we look forward to seeing their solutions being productized and monetized in the local and regional enterprise mobility markets".
Natalis Tjoa, Director, Elderwise Living : "As a start-up small-tomedium enterprise (SME) focusing on using technology for 'Silver'healthcare segments, the partnership with Motorola Solutions has greatly benefitted us in terms of selecting the right enterprise-grade devices to deploy with our software solutions for our customers' needs".
Eric Lim, Vice President,Business Acquisition, Asia, Napier Healthcare:"As a healthcare solutions provider and partner to Motorola Solutions,we have been getting lots of support from their healthcare practice in terms of marketing, and we have ready access to great devices to work with. We are also very happy with the investment they have made in us and what we are doing together to sell such solutions to our customers".
Media contacts:
Annette Pau/Venkatraman Narayan Communications
Motorola Solutions Asia Pacific
+65 6643 9499 / +65 6643 9483
annette.pau@motorolasolutions.com
venkatraman.narayan@motorolasolutions.com
MOTOROLA, MOTO, MOTOROLA SOLUTIONS and the Stylized M Logo are trademarks or registered trademarks of Motorola Trademark Holdings, LLC and are used under license. All other trademarks are the property of their respective owners.