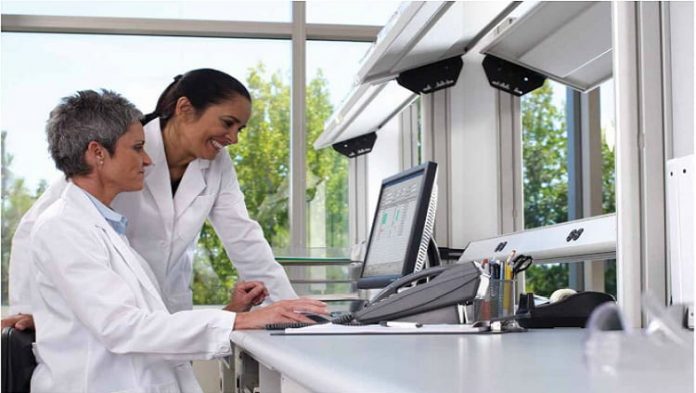 A new generation of diagnostics IT tools is getting results in the hands of clinicians faster, improving the quality of the results, and enhancing lab operational efficiency.

The Siemens Healthcare Sector is one of the world's largest suppliers to the healthcare industry and a trendsetter in medical imaging, laboratory diagnostics, medical information technology and hearing aids. Siemens offers its customers products and solutions for the entire range of patient care from a single source – from prevention and early detection to diagnosis, and on to treatment and aftercare. By optimizing clinical workflows for the most common diseases, Siemens also makes healthcare faster, better and more cost-effective. Siemens Healthcare employs some 51,000 employees worldwide and operates around the world. In fiscal year 2011 (to September 30), the Sector posted revenue of 12.5 billion euros and profit of around 1.3 billion euros.
A new generation of diagnostics IT tools is getting results into the hands of clinicians faster, improving the quality of the results, and enhancing lab operational efficiency. As a result, clinical diagnostics is increasing its value to the healthcare system even as resources decline. And, labs themselves are more aware that their very survival will depend on the ability to establish their value to physicians, administrators, patients, and payers.
Expectations and the role of diagnostics IT
As clinicians rely more on lab results for patient management, expectations of lab performance—for example, turnaround time (TAT) and quality—are rising. Clinicians and lab directors agree that achieving TAT improvement is a top priority. As clinicians are pressed to see more patients, they rely more and more on the lab to get results to them as quickly as possible so that they can move patients through. But, while TAT is often the one performance metric for which clinicians are likely to demand improvement, lab directors and clinicians agree that the accuracy of test results is the priority.
Increasingly, clinicians expect labs to counsel in the use of tests. Overloaded with information on new developments in medicine, they need help navigating through numerous test choices. They look to labs to guide them through interpretation of test results with easy-to-understand reports.
Clinicians' demand for more help from labs in supporting patient management decisions is coming at a time when labs are faced with budget crunches and labor shortages. The use of diagnostics IT to improve quality and efficiency in lab operations continues to evolve; and the role of diagnostics IT to improve processes and manage lab data are coming together. Diagnostics IT is now critical to reducing human errors, streamlining human review, guiding operations, and performing quality control. And labs that employ diagnostics IT are reporting a measurable reduction in errors concurrent with improvements in TAT and increases in test volumes.
Thriving in an inhospitable environment
Day to day, clinical labs are already using diagnostics IT to optimize operations and deliver excellent service by providing timely delivery of actionable information. Diagnostics IT is also allowing labs to take an active role in supporting initiatives coming from their own institutions, payers, or government
regulations. With the support of Diagnostics IT, lab professionals can now go one step further in cementing the relationship with their customers—the clinicians.
Siemens conducted a poll of 600 clinical laboratory professionals to learn more about their goals in the lab and how they see IT helping to achieve this new vision. To learn more about this study and the Siemens IT tools that can be instrumental in supporting this new vision.