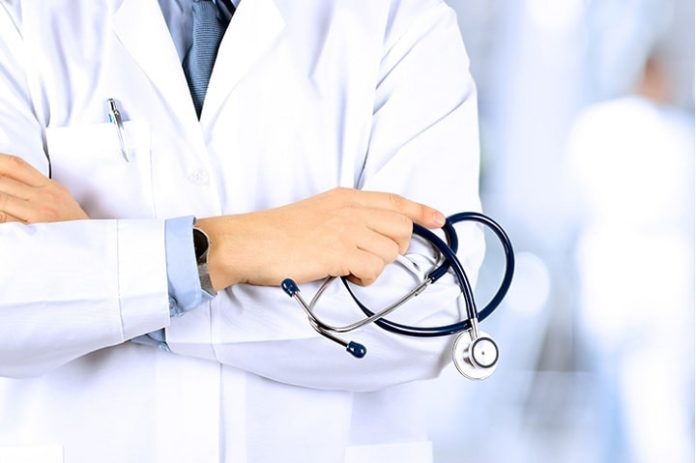 A nationwide survey of 617 recent and prospective patients for elective procedures finds serious holes in providers' approach to the patient experience that could jeopardize the recovery of the elective treatment business. In 2020, the pandemic cost hospitals alone more than $22 billion in lost elective revenue (source: National Library of Medicine). Elective Healthcare Modern Patient Insights Report 2021 from healthcare marketer LaneTerralever and CX consultancy Convince and Convert finds that 66% of patients had to delay elective procedures during the pandemic, and 39% of them don't plan to reschedule.
While patients report varying degrees of physical recovery based on type of procedure, overall only 39% are satisfied with the results. Yet it's the quality of the complete experience – not just the quality of procedural outcome – that principally determines their feelings toward providers. Unfortunately, 56% of providers are not following up on the status of patients' health beyond the days following surgery; 28% are only following up regarding billing.
"It felt like they sold me on the procedure, and once it was done, they were finished with me," said John, a 61-year-old cosmetic patient. Moreover, 74% of patients are sharing this kind of patient experience directly with others, while 33% post it on social media.
"The end of a patient's experience really determines their satisfaction," said Lauren Hillery, strategist at LaneTerralever. "That's when they're telling friends and posting reviews about their experience. Prospective patients, in turn, are basing their perceptions of providers on this intelligence, which is largely from the 61% of patients who have seen little or no change from their procedure.
"Healthcare providers need to re-examine the patient journey from the endpoint, because the dissatisfactions that jeopardize elective treatment business aren't solved by traditional marketing efforts," added Hillery. "The smallest thing a patient feels dissatisfied about during their post-op experience could change the entire trajectory of their reflection on that experience."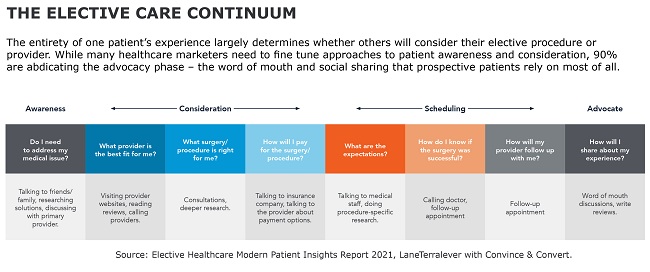 In addition, many patients don't feel they know what they're getting into even after a consultation. Cost is a factor for 54% of patients considering elective procedures, and 56% did not understand all the costs involved. That's critical when more than half are paying out of pocket for elective procedures, and 78% who defer do so for cost reasons.
Given that 78% of patients evaluate no more than two providers, and most make their decisions within two months, Hillery says providers need to take some fundamental steps.
Mine reviews. Patients write reviews to be heard, and bad reviews provide the best opportunities to improve service. Instead of just responding to the post, providers can apply it toward tuning up the patient experience in specific, meaningful ways.
Ramp up patient education. 59% of patients look for information about their procedure on a provider's website and yet 44% felt the site didn't answer their questions. Providers can give visitors all the options – including ones they don't perform – and show what recovery really looks like six months to a year after surgery. Infographics, interactive quizzes, and visual timelines can make all the difference.
Put people first. More than half (53%) of patients want to schedule, and 45% want to communicate with providers over the phone. And the quality of their live interaction sets the tone for the relationship. So, the convenience of online interaction and scheduling needs to be balanced with a human touch.
Connect prospects with patients. Prospective patients want to feel they're not alone. Instead of simply providing testimonials, providers can connect prospects one-to-one with patients who have recovered from similar procedures.
Follow up continuously. Providers' greatest expansion opportunity lies in post-op engagement. Patients said they need to feel like they matter more to providers after they've been on the table; and that no amount of follow up is too much when it's clearly aimed at making them feel cared for and supported. One oral surgeon takes this a step further by making calls to post-op patients every day so people are hearing from him personally.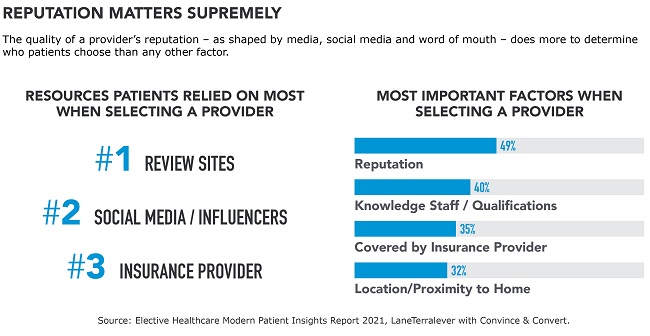 "Elective patients care primarily about their quality of life, not the nuances of the procedure itself," said Hillery. "Providers need to reconstitute marketing based on people, not procedures, according to a real-life continuum that's much longer than the short window immediately before and after a procedure."
LaneTerralever and Convince and Convert surveyed more than 600 patients across the country in June to understand the pandemic's impact on their decision-making processes. Respondents were 50% male, 50% female, and represented all age groups with the largest being 35-64 (65%).
About LaneTerralever
LaneTerralever helps healthcare providers attract qualified patients and improve satisfaction with creative lead generation and seamless digital patient experiences. The agency has increased patient volume and satisfaction for providers including HonorHealth, American Vision Partners, Landmark Recovery, NextCare Urgent Care, The Joint Chiropractic, Phoenix Children's, and Risas Dental and Braces.
About Convince & Convert
Convince & Convert is an experienced, highly focused analysis and advisory firm that creates effective, best-in-class digital marketing, content programs, and customer experience strategies for the world's most iconic organizations. They've helped a number of healthcare organizations boost the effectiveness and impact of their digital communications programs including Cambia Health, Excellus BCBS, Kindred Health, University of Rochester Medical Center, and Kaiser Permanente.