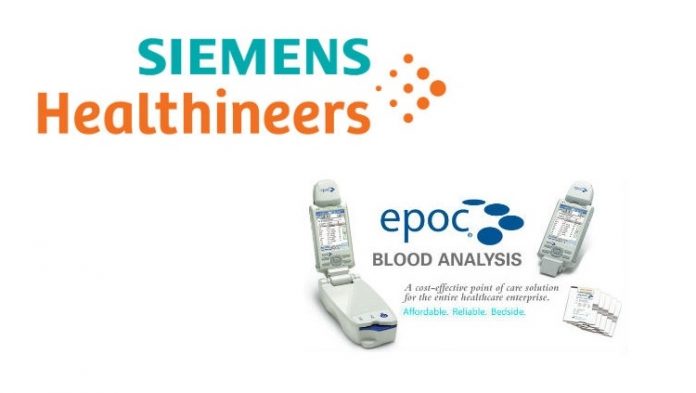 Siemens Healthineers has entered into a definitive agreement to acquire Epocal Inc., a subsidiary of Alere Inc. Epocal Inc. develops and provides point-of-care blood diagnostic systems for healthcare enterprises, including the epoc® Blood Analysis System, a handheld, wireless testing solution. Financial details of the transaction are not being disclosed. The transaction is subject to the completion of Abbott's acquisition of Alere, as well as antitrust approvals and other customary closing conditions.
"We want to help our customers innovate care delivery. As one of the market leaders in blood gas, the acquisition of the epoc® product line will enable us to provide the right solution in the right setting, all from one partner," said Peter Koerte, President, Point of Care Diagnostics, Siemens Healthineers. "The epoc® product line will seamlessly integrate with our digital ecosystem offering customers the broadest solution available in the market. The acquisition complements our existing offerings in the point of care diagnostics space, with a view to provide customers globally with a full range of blood gas solutions."
Healthcare systems continue to look for ways to elevate patient experience and satisfaction as well as the quality of care. It is a strategic goal of Siemens Healthineers to support healthcare providers worldwide to meet their challenges and excel in their respective environments. Health networks may have varying testing needs near to their patients at the point of care in physician's offices, clinics, emergency departments and labs. With a complete offering for blood gas diagnostics from a low-volume, single-use handheld device up to a high-volume, multi-use benchtop solution, Siemens Healthineers can help customers improve their workflows and utilize the correct system for the needs of their particular settings.
Arterial blood gases are an important routine investigation to monitor the acid-base balance of patients. They play an important role in the work-up and management of critically ill patients and may help in diagnosing pulmonary and metabolic disorders. They indicate the severity of a condition and help to assess treatment. Blood gas test systems are an important component in critical care settings such as hospitals, clinics, emergency departments and pulmonary laboratories.
About epoc® Blood Analysis System
The epoc® Blood Analysis System is a handheld, wireless testing solution that provides blood gas, electrolyte and metabolite results near the patient in approximately 30 seconds after sample introduction. The epoc® Blood Analysis System is comprised of the epoc® room-temperature stable BGEM test card, epoc® reader and epoc® host2 mobile computer. Each single-use epoc® BGEM test card features smartcard technology with a full menu of tests on one card.
Siemens Healthineers is the separately managed healthcare business of Siemens AG enabling healthcare providers worldwide to meet their current challenges and to excel in their respective environments. A leader in medical technology, Siemens Healthineers is constantly innovating its portfolio of products and services in its core areas of diagnostic and therapeutic imaging and in laboratory diagnostics and molecular medicine. Siemens Healthineers is also actively developing its digital health services and enterprise services. To help customers succeed in today's dynamic healthcare marketplace, Siemens Healthineers is championing new business models that maximize opportunity and minimize risk for healthcare providers. In fiscal 2016, which ended on September 30, 2016, Siemens Healthineers generated revenue of €13.5 billion and profit of over €2.3 billion and has about 46,000 employees worldwide. Further information is available at www.siemens.com/healthineers.