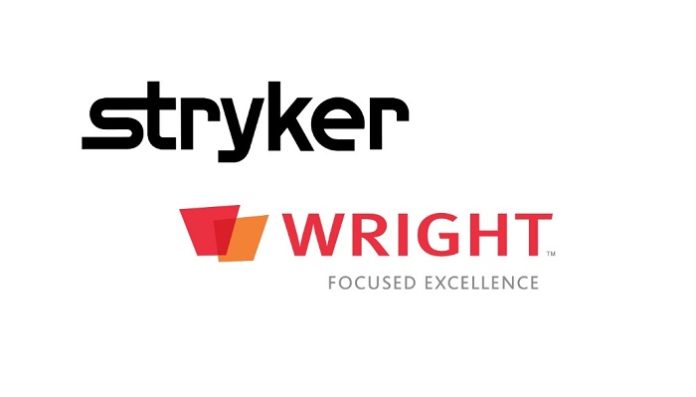 Stryker announced a definitive agreement to acquire all of the issued and outstanding ordinary shares of Wright Medical Group N.V. for $30.75 per share, or a total equity value of approximately $4.0 billion and a total enterprise value of approximately $5.4 billion (including convertible notes). Wright Medical, which was founded in 1950, is a global medical device company focused on extremities and biologics.
Wright Medical brings a highly complementary product portfolio and customer base to Stryker's trauma and extremities business. With global sales approaching $1 billion, Wright Medical is a recognized leader in the upper extremities (shoulder, elbow, wrist and hand), lower extremities (foot and ankle) and biologics markets, which are among the fastest growing segments in orthopaedics.
Wright Medical's leading upper extremity portfolio and advanced preoperative planning technology will significantly add to Stryker's offering. Additionally, Wright Medical's lower extremity and biologics will complement Stryker's portfolio and strengthen the company's position in this high-growth segment.
"This acquisition enhances our global market position in trauma & extremities, providing significant opportunities to advance innovation, improve outcomes and reach more patients," said Kevin Lobo, Chairman and Chief Executive Officer, Stryker. "Wright Medical has built a successful business, and we look forward to welcoming their team to Stryker."
"We believe this transaction will provide truly unique opportunities and will create significant value for our shareholders, customers and employees," said Robert Palmisano, Executive Director, Chief Executive Officer and President of Wright Medical. "By merging our complementary strengths and collective resources, we will be able to advance our broad platform of extremities and biologics technologies with one of the world's leading medical technology companies that shares our vision of delivering breakthrough and innovative solutions to improve patient outcomes."
Under the terms of the agreement, Stryker will commence a tender offer for all outstanding ordinary shares of Wright Medical for $30.75 per share, in cash. The boards of directors of both Stryker and Wright Medical have approved the transaction. The closing of the transaction is subject to receipt of applicable regulatory approvals, the adoption of certain resolutions relating to the transaction at an extraordinary general meeting of Wright Medical shareholders, completion of the tender offer and other customary closing conditions.
The acquisition of Wright Medical is expected to close in the second half of 2020 and is expected to have no impact to Stryker's net earnings per diluted share and adjusted net earnings per diluted share in 2019. There is no change to Stryker's previously announced expected adjusted net earnings per diluted share for the full year, which is a range of $8.20 – $8.25. Assuming a September 30, 2020 closing, the transaction is expected to have no impact to Stryker's adjusted net earnings per share in 2020, $(0.10) dilution in 2021 and will be accretive thereafter.
Stryker will host a conference call for financial analysts at 8:00 AM ET today to discuss additional details regarding the proposed transaction. To participate in the conference call dial 877-702-4565 (domestic) or 647-689-5532 (international) and be prepared to provide conference ID number 9898250 to the operator.
A simultaneous webcast of the call will be accessible via the company's website at www.stryker.com. The call will be archived on the investor relations page of this site.
A recording of the call will also be available from 11:30 AM ET on Monday, November 4, 2019, until 11:59 PM ET, on Monday, November 11, 2019. To hear this recording, dial 800-585-8367 (domestic) or 416-621-4642 (international) and enter the conference ID number 9898250.
About Stryker
Stryker is one of the world's leading medical technology companies and, together with its customers, is driven to make healthcare better. The company offers innovative products and services in Orthopaedics, Medical and Surgical, and Neurotechnology and Spine that help improve patient and hospital outcomes. More information is available at www.stryker.com.