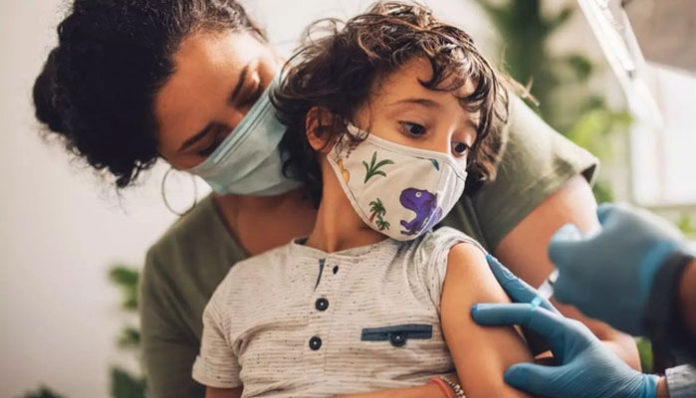 25 million children missed out on potentially life-saving vaccinations in 2021, according to data released by the World Health Organization and UNICEF. Vaccine coverage also continues to fall globally.

The organisations said in a press release that they had seen the largest sustained drop in childhood vaccination rates in around 30 years.
The proportion of kids who had three doses of DTP3, a vaccine against diphtheria, tetanus, and pertussis, decreased by 5 points between 2019 and 2021. The coverage was reduced to 81% because of this.
According to WHO and UNICEF, DTP3 penetration is used as a benchmark for broader vaccination coverage.
As a result, through routine vaccination programmes, 25 million kids were denied one or more shots of DTP in just 2021. This highlights the growing number of children at risk from deadly but preventable diseases, which is 2 million more than those who skipped them in 2020 and 6 million more than in 2019, they claimed. Of these children, 18 million, the bulk of whom resided in low- and middle-income nations, did not receive even one dose of the vaccine.
Other declines included measles, where first-dose coverage fell to 81% in 2021, and HPV, where more than a quarter of the protection attained in 2019 was lost. In 2021, 24.7 million children will have missed their first dosage, according to WHO, noting that this is the lowest number since 2008.
There was a decrease in vaccine coverage across all regions, with East Asia and the Pacific seeing the biggest loss in DTP3 coverage. However, other nations, like Pakistan and Uganda, were able to halt declines.
The declines were caused by a number of variables, including an increase in the number of kids living in unstable environments like war zones and weak communities, an increase in misinformation, and troubles with the COVID-19 virus.
For children's health, this is a red alert. The rate of childhood immunisation is currently experiencing its worst persistent decline in a generation. The effects will be assessed in terms of lives, Catherine Russell, the executive director of UNICEF, remarked. As a consequence of COVID-19 interruptions and shutdowns, a pandemic whiplash was anticipated last year; yet, what one is currently witnessing is a sustained drop. COVID-19 is not a justification. If one does not immunise the missing millions, infections will undoubtedly increase, more kids will get sick, and the pressure on the already overburdened health systems will grow.
As per Tedros Adhanom Ghebreyesus, WHO Director-General, measles, pneumonia, and diarrhoea vaccinations should go hand in hand with COVID-19 planning and management. One can accomplish both; there is no either/or dilemma.
The Global Immunization Agenda 2030 asks governments and other organisations to assist in addressing the slip-up in vaccination, including ramping up efforts for catch-up in vaccination; incorporating evidence-based, people-centered, tailor-made strategies to build confidence; and giving priority to reinforcing health information and disease surveillance equipment to provide the information and tracking needed.