Like other business ventures, a medical practice business requires you to manage your expenses well to maximize profits. Your patients and their records require absolute attention. However, hiring enough administrative staff to facilitate this can only inflate your costs further. Therefore, it would help if you have the technology that can assist you in achieving operational efficiency with minimum expenses.

Most medical practice management software designs mean that you can perform various functions from one platform. For instance, you can manage appointment schedules and patient billing at the same time. You can also produce multiple reports, such as detailed patient information and other medical-related reports. By accessing these features on practice management software, you significantly cut down your operational costs while enhancing patient management.
Below are other benefits you can get from adopting medical practice management software.
1. Enhanced Billing Process
A quality billing system should enable you to efficiently improve your revenue collection processes. Thus, helping you improve your profitability curve over time. Practice management software automates this process, thereby improving your bottom line.
Your team can easily accept credit card payments. In addition, the frontline staff can verify patients' insurance coverage much quicker, thus avoiding inconveniences and delayed service delivery. Furthermore, the software can also help analyze claims, which ensures you eliminate possible errors.
Overall, practice management software helps streamline your billing process. Hence, your team can handle various billing requests with minimal errors and confusion. This increases your revenue and reduces client complaints concerning their billing.
2. Better Customer Interaction and Satisfaction
If your goal is to increase profitability, the satisfaction of your patients is a crucial aspect to achieve that. Therefore, you need to nurture a good relationship with your patients and prioritize their wellbeing and comfort.
The features of practice management software allow you to interact with patients through text and email. Through those channels, you can send out reminders for appointment schedules, treatment plans, or prescriptions. In addition, it can be communication for follow-up care. Such interactive communication with your patients can enhance trust and boost satisfaction.
Furthermore, regular reminders help keep your patients engaged. Thus, they're more likely to keep up with appointments and other required medical care. This can ensure you get more visits. In addition, you may get more referrals, thus increasing your customer base.
3. Enhanced And Efficient Workflow
Efficiency and accuracy are critical in any medical institution. The reason is that patients' lives depend on your team to not make simple errors. For instance, a staff member can make a wrong entry on a patient's prescription or billing details due to fatigue. This can result in legal action against your institution. Thus, resulting in an extensive loss of reputation and revenue.
However, with practice management software, its automation feature significantly removes the chances of human errors. In addition, the software enhances workflow coordination in your facility. This ensures quicker and more accurate service delivery to your patients.
Furthermore, it saves time checking and verifying patient information from various sources. For instance, sometimes, you need to confirm data like payment details, insurance coverage, and other administrative duties. This enables your team to focus more on the customers and their well-being.
In essence, using practice management software automates most of your processes. This relieves your staff from additional stress due to tedious and repetitive work, thus reducing errors and redundancies. The automation feature can also increase the team's productivity and morale as they can accomplish more within a short period.
4. An All-Inclusive Integration
As a business, a medical facility doesn't deal with patients' treatment and monitoring alone. Other processes also help smoothly and efficiently run your business. For instance, there's document filing, patient billing, and prescription updating. In most cases, you may need different platforms to accomplish these tasks. This may often result in duplication, oversight, and other errors.
However, practice management software integrates all tasks and processes into one platform. Thus, you won't need to send tasks from one platform to another. This integration also ensures that your team can access all the data they need without changing platforms. The team can check a patient's billing, insurance coverage, and appointments and make schedules in one software solution. Thus, it saves time and also minimizes the risk of data loss and duplication errors.
5. Better And Simpler Scheduling
Most quality practice management software provides patient portals. Thus, a patient can quickly sign up and schedule appointments at their convenient time. In addition, patients can subscribe for reminders, updates, and follow-up care. They can also access their personal treatment history from there. This feature enhances patient interaction, thus helping them stay up to date with their care. Furthermore, it relieves your team of the stress of scheduling appointments and scouring through documents just to get the information they need.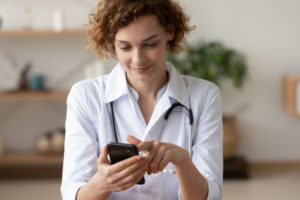 Conclusion
Practice management software helps you efficiently manage billing, documentation, and patient scheduling tasks. In addition, it takes away other repetitive administrative tasks. This enables you and your team to focus more on your business's core mission. Furthermore, its integration and automation features help streamline your process. Thus, it helps enhance efficiency and service delivery.