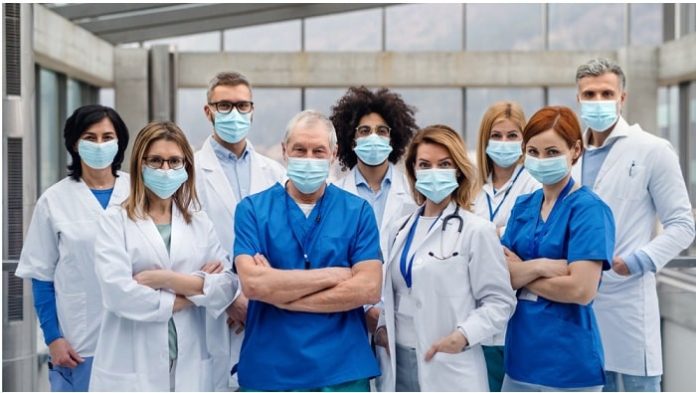 In the current climate, with COVID-19 affecting our livelihoods and how we work and live, there is a massive strain on key workers around the world. People are feeling the pressure to remain safe while going about their lives and adapting to lockdowns and new rules and regulations. We are learning to work remotely, self-isolate, and reduce the spreading of the virus.
But this isn't always possible. The coronavirus is still very much a threat, and while the vaccination is slowly being administered, there are huge amounts of pressure still being placed on hospitals, clinics and healthcare workers worldwide. Before the coronavirus, healthcare workers were already overworked and found themselves battling against mountains of admin while seeing to a long list of patients. Therefore, finding solutions to help reduce general practice workload is essential. Here are 5 ways to help healthcare workers.
1.   Invest in Software
Too much admin can make the workday a lot longer and a lot less enjoyable. For doctors and nurses, it can also eat into their time that is better spent seeing to and speaking with patients. There are many medical software packages on the market to streamline general practices so that healthcare staff can reduce the time spent on paperwork and make an impact on their patients instead. MedicalDirector offers the best practice management software on the market, with its easy-to-use interface that is in tune to how doctors and GPs think. They offer two world-class practice management solutions: The Helix and the Pracsoft. Both allow easy scheduling, billing, and have patient-centric workflows to help improve clinical tasks.
2.   Hire Talented Staff Members
Always be on the lookout for talented staff members who can bring unique and useful skills to the team. For example, hire receptionists who are good at communicating, personable, and who can get to grips with medical software quickly. Receptionists are the first faces many patients see, so you will want to hire someone who is friendly and inviting, and who can quickly make appointments and get through the queue. Likewise, you will want to hire pharmacists who are qualified and well-organised.
3.   Brief Your Staff
Gather your team each morning and brief them on any meetings or unusual situations that may be happening that day. Communicating with your whole team (receptionists, pharmacists, doctors, nurses, etc.) will help ensure that everyone is working on the same page and can liaise with one another if it helps get the job done quickly and properly.
Take the time to look through the schedule and see which patients are booked in with an appointment. For instance, if there are new patients, then you may have to help them set up an account. This means receptionists will need to spare some time to help the patient do this. You may also recognise certain names that are known for being no-shows. This could present you with an opportunity to finish some paperwork.
4.   Keep the Pharmacy Organised
Ensure that all medicines are labelled properly and stored in the correct place. You will also want to ensure that your pharmacists are doing regular inventory and ordering in the supplies before they run low and are completely gone. You can streamline your pharmacy by having regular assigned hours so that pharmacists can check stock levels and spend the right amount of time ordering the correct supplies. You should also invest in software that makes it easier for doctors to send across prescriptions to the pharmacy, a printer so that labels and instructions can be printed easily, and have a card machine and/or till so that patients can pay for their medication easily and quickly.
5.   Check that Exam Rooms Are Properly Prepared
An unprepared exam room can make examinations much longer, but it can also cause frustrations for the patient who may be anxious and/or stressed. Remember that patient care and ensuring that they are comfortable and as relaxed as possible is your main priority, and an exam room that is ready for the next patient can make it a much more pleasant experience.
Check that all exam rooms are stocked with the correct equipment. If there is a patient coming in for a blood test, then make sure that you have the proper kit to make the process as quick and seamless as possible. Exam rooms should be checked at the end of the day, in the morning, and mid-day. It is easy to lose equipment, so regular check-ins can help keep you on top of your responsibilities and help you save time.
General practices should be as efficient and streamlined as possible. This can make it easier for the healthcare workers, but it can also make the experience a lot less stressful for patients. There are a lot of moving parts, however, so ensure that you have the correct software to help with admin and hire the right staff so that responsibilities are completed in plenty of time and to a high quality.