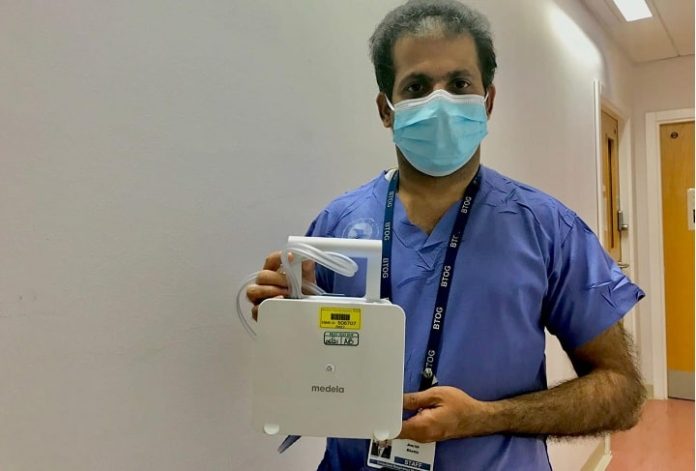 Blackpool Victoria Hospital has introduced chest drainage system into three of its respiratory wards, minimising the risk of COVID-19 cross contamination.
The department has purchased 10 portable units, which will be used for chest drainage in cases for pneumothorax (collapsed lung) to monitor air leaks. The pioneering devices are already being used in the hospital's Cardiothoracic unit and following positive feedback from surgeons, are now being rolled out across respiratory.
Traditionally they would have used wall suction connected to a drainage system, but have chosen a portable solution to remove any risk of disconnection and air contamination due to COVID-19. Compact and lightweight with a convenient carrying handle,  Medela Healthcare's pioneering portable Thopaz+ allows clinicians to make informed decisions based on precise drainage data.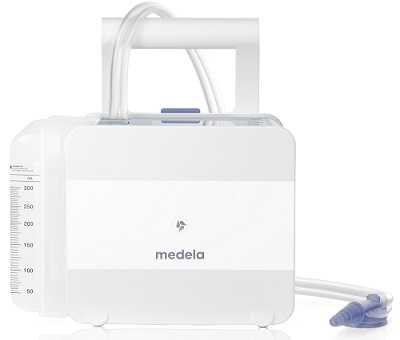 Dr. Amrithraj Bhatta, said:  "I believe it will help us manage air leak effectively and give us greater confidence in managing these patients. It also has many patient benefits such as enabling early removal of chest drains, reducing their stay in hospital and helping patients with their mobility. We are delighted to have introduced Thopaz+ on our ward and are looking forward to using it as part of  our clinical practice."
NICE guidance states that Thopaz+ can reduce drainage time, length of stay in hospital and also improves safety for people with chest drains. It may also improve clinical decision making through continuous, objective monitoring of air leaks and fluid loss and staff may find it more convenient and easier to use than conventional chest drains.
In addition the NICE resource impact assessment shows that at a national level, adopting Thopaz+ is expected to save around £8.5 million per year in England.  Focusing specifically on respiratory, the guidelines suggest a saving of £550.90 per patient can be achieved with Thopaz+ compared to conventional chest drains.
Rob Rennel, Business Unit Manager at Medela, added: "I am delighted to see that our device is being used in both the Cardiothoracic and Respiratory wards at Blackpool Victoria Hospital to not only provide safe and effective chest drain management but also help safeguard both patients and staff against COVID-19."