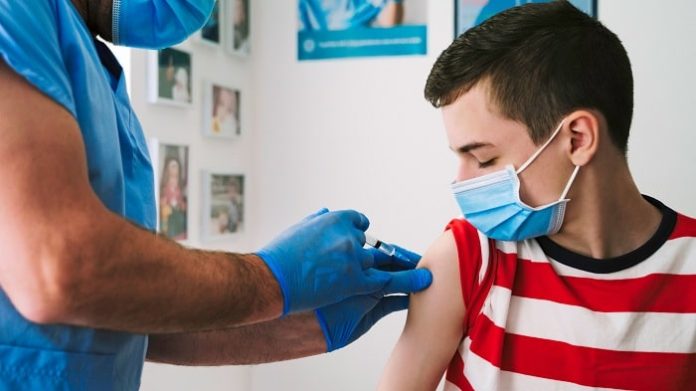 The national booking service has been modified so that the most vulnerable members of this generation can get a booster shot as soon as they are eligible. Household contacts of critically immunocompromised individuals are still being identified by GP-led teams and specialists in order to set them up for their vaccine. Parents and guardians of eligible children have already received 6,400 invitations to have their children vaccinated by a local GP-led team.
The NHS will write to the 4,400 people who are currently qualified, to invite them to use the national booking service. At the end of last year, the government accepted recommendations from the JCVI to expand the booster initiative to at-risk 12- 15-year-olds, providing a boost in protection to individuals with an underlying medical condition that puts them clinically at risk.
Until date, GP-led teams have vaccinated families and their children who are eligible, including those having radiotherapy or chemotherapy, those with leukaemia, chronic diseases, diabetes, or severe mental illness. Although only about 4,400 12- to 15-year-olds are currently eligible, thousands more will become qualified 12 weeks after their second vaccination in the following weeks and months.
The NHS programme has helped avert roughly 157,000 hospitalizations since mid-December, according to research from the UK Health Security Agency. Children's lives, particularly their schooling, has been considerably disrupted over the last couple of years, and every parent wants to do everything they can to safeguard their little ones while they are in school, said GP and Deputy SRO for the NHS COVID Vaccination Programme, Nikki Kanani.
However, when a family is further worried about what COVID might imply for a very ill kid, giving them their top-up boost in coverage when they become entitled is critical, she adds. For young people aged 12 to 15 who are clinically at risk, a booster is required three months following their second dosage, with families now finding it even easier to get their child scheduled in and safeguarded at a convenient vaccination site nearby.
Over 800,000 young people aged 12 to 15 have got a second jab as a result of the largest and most effective vaccination campaign in health history, which has provided nearly 32 million boosters to more than four out of five eligible adults.
The NHS has gone to great lengths to make vaccines as painless as possible for children, with therapy dog Ruby in Nottingham helping to calm anxiety and a mini-toy town in the Black Country where children can play hopscotch, a treasure hunt, and a snake and ladders game post-inoculation.
The original distribution of first and second jabs to the group was driven by school-led vaccination teams, and while schools continue to jab, qualified 12–15 year olds can also book their first and second vaccinations through the national booking service.
Twelve to fifteen-year-olds who are clinically at risk or who live with someone who is immunocompromised are eligible for their booster three months after receiving the two primary doses, with those who are severely immunocompromised being eligible for their booster after receiving a third primary dose. There are approximately 55,000 immunocompromised young people in all, and the advent of the online booking option tends to make it even simpler for families to get their child scheduled and protected at an established and handy vaccination centre.