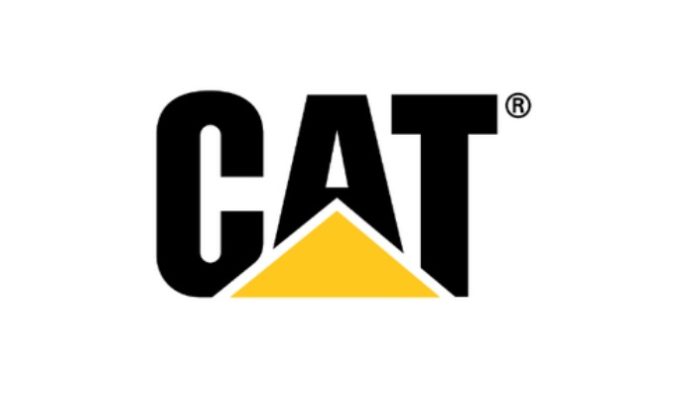 The Caterpillar team, including our employees both past and present, have a long history of giving back in the communities where we live and work. Committed, passionate and ready to make a difference in the world, Caterpillar people are doers. Whether it's contributing financially or volunteering your time and talents to worthy causes, you help build a better world and improve lives everywhere. And, you've risen to the occasion once again.
At the end of March, the Caterpillar Foundation announced it was committing $8.5 million to global COVID-19 response efforts. The Foundation's support also included a limited time 2:1 match on U.S. employee and retiree donations to eligible nonprofits through its existing U.S. Matching Gifts Program.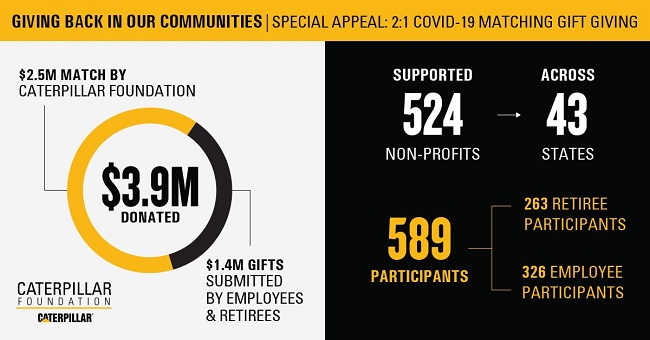 Thanks to the incredible outpouring of support from employees and retirees, in a matter of days, we surpassed the original $1 million match cap. In recognition of Team Caterpillar's giving spirit, the Foundation increased the match cap to $2.5 million, resulting in a total of $3.9 million in donations, including the Foundation match – directly supporting COVID-19 response activities and helping organizations that have been impacted. And even better, this brings the Foundation's total commitment to $10 million.
While the 2:1 match has closed, the good news is the 1:1 match offered through the U.S. Matching Gifts Program continues to be available.
From foodbanks to hospitals, to educational and international development organizations, our support is making an impact in our own backyards, keeping our communities safe and strong during this difficult time.
For instance, our support for Doctors Without Borders will enable them to continue to respond to the pandemic on multiple fronts, including caring for patients, offering health education and mental health support, and providing training for vital infection control measures in health facilities around the world. They are also continuing to keep their regular medical programs running for tens of thousands of patients and extremely vulnerable communities.
In San Diego, donations to the Rady Children's Hospital Foundation will help them continue to provide critical care for their patients during these unprecedented times.
In Central Illinois, with the help of our donations, the Dream Center is continuing to provide shelter, food and personal hygiene items to individuals and families hit hardest during these challenging times.
Our donations are also helping food banks in numerous Caterpillar communities across the United States as they provide millions of meals to the food insecure. The Midwest Food Bank in Central Illinois, the Second Harvest Food Bank in Tennessee, the Houston Food Bank and Feeding San Diego are just a few examples of the food banks we're impacting at a time when 37 million Americans are facing hunger. Plus, from school closures to job loss, this public health crisis has put millions more of Americans at risk for food insecurity, resulting in an increased demand for services provided by local food banks.