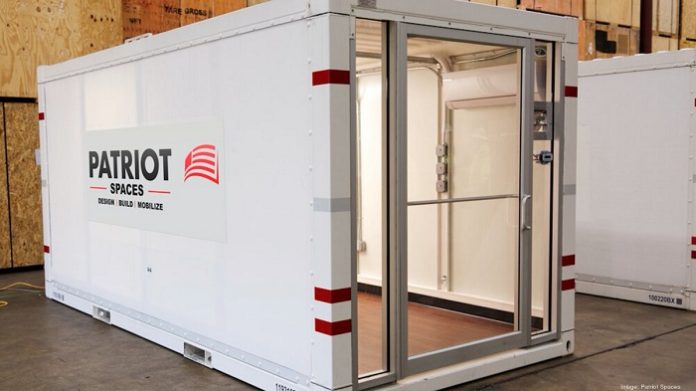 The first of potentially hundreds of steel-frame PODS® containers to be converted into individual medical stations for COVID-19 patients were delivered this morning to the United Medical Center in Washington, DC. The hospital will staff, operate and maintain the units.
This is a pilot development program for other potential locations in the United States to help address the growing demand for — but limited supply of — hospital facilities for people diagnosed with the coronavirus.
The units — standard 8'x16′ PODS containers made with a steel frame and fiberglass panels — include essential critical care necessities for COVID-19 patients such as negative air pressure controls; self-contained air conditioning; standard medical electrical service and lighting; a nurse's call button, and easily sanitized finishes. When delivered to their final destinations the units will be outfitted with alternate power generation, flooring, and other infrastructure items.
PODS currently has some 40,000 lightweight and stackable containers that can be quickly customized for COVID-19 patients. The units, which are easy to store and transport, are located at 12 PODS warehouses across the United States.
The units will retail for $18,000 to $33,000 each depending on how they are used. They are more cost-effective when compared to the alternatives now on the market, including tents, which do not hold up as well, and expensive high-end models that take longer to build and cost about $50,000 each.
These PODS units are being converted by Patriot Spaces located in Dunkirk, Md. which was awarded a contract by the U.S. Army Corps of Engineers (USACE), Baltimore District. The units were converted at a warehouse in Upper Marlboro, Md. by a team of a dozen tradesmen in less than five days, well ahead of the contract delivery date.
The contract calls for the construction of Containerized Medical Stations (CMS) as alternative care sites for COVID-19 patients in response to the presidential national emergency declaration addressing concerning the novel coronavirus pandemic.
The contract requires Patriot to design, build, test, deliver, set up, operate, maintain, and repair the containerized medical rooms for COVID-19 patients.
The company will construct an outside alternate care site in a parking lot at the United Medical Center in southeast Washington, DC and provide fuel for the generators.
The initial project called for a rapid conversion and delivery of the first six units. Patriot collaborated with USACE to complete the units; the work included producing mock-ups of the container, design, build-out, and testing.
Director of Patriot Spaces Rick Wincek said, "It was an honor to be selected by USACE for this urgent and important project. This program is a testament as to what can be accomplished when industry and government collaborate to achieve one common goal…saving lives."
About Patriot Spaces
Patriot Spaces, a division of Patriot in Dunkirk, MD, is the turnkey provider of cost-effective, customizable, individual containment units and the support services required to deploy, set-up and operate them. Patriot's unique product offering is ideal for quarantine applications meeting client needs, ranging from emergency response to overflow shelter for medical facilities; detention centers; border control containment; deployed military personnel, and numerous other scenarios meeting the needs of federal, state, and municipal governments and private industry.