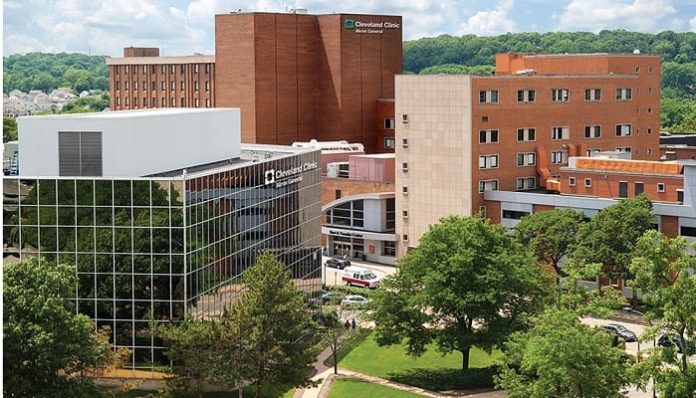 Cleveland Clinic Akron General has been certified as an Advanced Thrombectomy-Capable Stroke Center by The Joint Commission, an important validation of the quality care it provides for stroke patients.

"Our capabilities in advanced thrombectomy and the time-sensitive care we provide here in Akron undoubtedly have made a major impact for patients," said James Gebel, M.D., of the Cerebrovascular Center at Akron General. "The Joint Commission's certification of our procedure is a reflection of the outstanding work of our acute stroke team, and our commitment to providing the highest level of quality and safety."
To achieve this designation, Akron General underwent a rigorous onsite review. During the visit, a Joint Commission reviewer evaluated compliance with related certification standards, which are developed in consultation with health care experts and providers, measurement experts and patients. The reviewer also conducted onsite observations and interviews.
In order to be eligible for this certification, an organization must have performed mechanical thrombectomy (procedure to remove a clot from a blood vessel) and post-procedure care for at least 15 patients with ischemic stroke in the past 12 months or at least 30 patients over the past 24 months. The organization must also have an acute stroke team available 24/7, have a neurologist accessible 24/7 in person or via telemedicine, have designated stroke beds, maintain sufficient diagnostic services, have the ability to provide IV thrombolytics, and track, monitor and report performance measures.
"Cleveland Clinic Akron General receiving this designation is another great achievement for our stroke system of care," said Shazam Hussain, M.D., director of the Cerebrovascular Center at Cleveland Clinic. "This designation will aid patients, physicians and our EMS colleagues in directing patients and allowing them to get to the right hospital, the first time."
Certification recognizes health care organizations committed to fostering continuous quality improvement in patient safety and quality of care, according to Mark Pelletier, R.N., M.S., chief operating officer, Accreditation and Certification Operations, and chief nursing executive at The Joint Commission.
"We commend Akron General for using certification to reduce variation in its clinical processes and to strengthen its program structure and management framework for stroke patients," Pelletier said in a statement.
About Cleveland Clinic Akron General
Cleveland Clinic Akron General is a nonprofit healthcare organization that has been improving the health and lives of the people and communities it serves since 1914. Akron General serves as the hub for Cleveland Clinic's Southern Region and includes a 532-registered-bed teaching and research medical center in downtown Akron; Akron General Partners, which includes Partners Physician Group; three Health & Wellness Centers; Lodi Hospital; Visiting Nurse Service; and Akron General Foundation. Recently, U.S. News & World Report ranked Akron General Medical Center as the 11th best hospital in Ohio.
About Cleveland Clinic
Cleveland Clinic is a nonprofit multispecialty academic medical center that integrates clinical and hospital care with research and education. Located in Cleveland, Ohio, it was founded in 1921 by four renowned physicians with a vision of providing outstanding patient care based upon the principles of cooperation, compassion and innovation. Cleveland Clinic has pioneered many medical breakthroughs, including coronary artery bypass surgery and the first face transplant in the United States. U.S. News & World Report consistently names Cleveland Clinic as one of the nation's best hospitals in its annual "America's Best Hospitals" survey. Among Cleveland Clinic's 66,000 employees are more than 4,200 salaried physicians and researchers and 16,600 nurses, representing 140 medical specialties and subspecialties. Cleveland Clinic's health system includes a 165-acre main campus near downtown Cleveland, 11 regional hospitals in northeast Ohio, more than 180 northern Ohio outpatient locations – including 18 full-service family health centers and three health and wellness centers – and locations in southeast Florida; Las Vegas, Nev.; Toronto, Canada; Abu Dhabi, UAE; and London, England. In 2018, there were 7.9 million total outpatient visits, 238,000 hospital admissions and observations, and 220,000 surgical cases throughout Cleveland Clinic's health system. Patients came for treatment from every state and 185 countries. Visit us at clevelandclinic.org