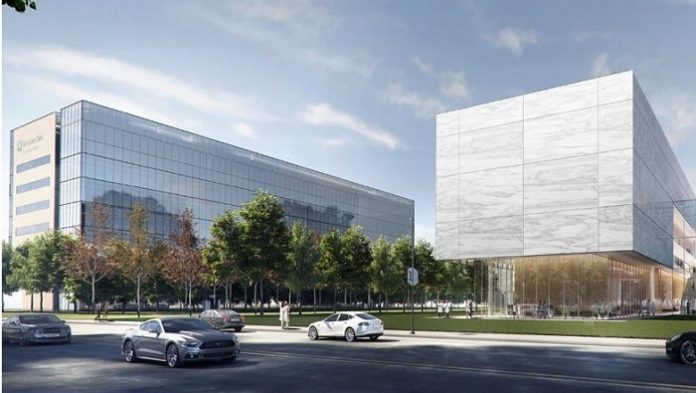 Cleveland Clinic announced plans to build a Neurological Institute building and expand the Cole Eye Institute. The two new buildings, to be located on Cleveland Clinic's main campus, will accommodate expansion of patient care, research and education needs.
The new facility for the Neurological Institute will centralize all outpatient neurological care on Cleveland Clinic's main campus. The proposed 400,000-square-foot building, to be located on Euclid Avenue just east of East 96th Street, will bring together services currently delivered in eight locations to provide integrated sub-specialty care for patients with neurological conditions.
The building will feature the most advanced technology and will house care teams in various neuroscience subspecialties to enable a new level of clinical collaboration and individualized treatment planning. A comprehensive array of services will include digitized patient evaluations, imaging, neuro simulation training, infusion therapy, neurodiagnostics, and brain mapping suites as well as research space dedicated to investigating new therapies. It will serve as the nucleus for neurology-related distance health care and digitized data processing and management, offering access to Cleveland Clinic care to patients who live far away.
Currently over 1,700 Neurological Institute caregivers provide care to 225,000 patients annually through clinical visits, surgeries and in-patient stays. Patient volumes are projected to increase significantly by 2025, needing to serve more than 300,000 patients annually.
"The new Cleveland Clinic neurological building will enable us to centralize and advance the care we provide in an environment specifically designed around the unique needs of people with neurological conditions," said Andre Machado, M.D., Ph.D., chair of the Neurological Institute and the Charles and Christine Carroll Family Endowed Chair in Functional Neurosurgery. "It will become the hub for patient-centered care, distance health, digitization, discovery and innovation. A building fully dedicated to neurological care will enable us to provide leading-edge treatment options to restore neurological function and improve quality of life while making progress toward developing the care of tomorrow."
The Cole Eye Institute has grown dramatically over the last 10 years and has one of the highest patient volumes in the United States. Patient visits have increased from 130,000 annual visits in 2008 to more than 310,000 in 2018. Over the same time period, surgical procedures have grown from 5,000 to more than 16,000 each year.
The Cole Eye Institute expansion involves adding more than 100,000-square-feet to the existing building to accommodate its rapidly growing patient eye care and research needs. The new addition will feature an ophthalmic surgical center that will increase the number of operating rooms from five to 12 and the addition of 60 new exam rooms. It will also house a new Center of Excellence in Ophthalmic Imaging, an expanded simulation center for resident and fellow education and training, and a larger ophthalmic research center to facilitate growth of eye research as well as consolidate multiple ophthalmology research labs currently housed at different locations. The new construction will be complemented by renovation of the existing 130,000-square-foot Cole Eye Institute. The two buildings will be connected to create an integrated eye center designed to deliver an outstanding patient experience, as well as state-of-the art eye care, research and education.
"The current Cole Eye Institute building has served us well but we have surpassed its clinical, surgical, research and educational capacity," said Daniel F. Martin, M.D., chair of the Cole Eye Institute and the Barbara and A. Malachi Mixon III Institute Chair of Ophthalmology. "The new state-of-the-art facility is designed to provide exceptional clinical, diagnostic and surgical services for the entire range of eye diseases, as well as to facilitate research and discovery of the next generation of new therapies."
Both the expansion of the Cole Eye Institute and the building of the new Neurological Institute will be supported in large part by philanthropy and the power of giving.
Groundbreaking for the Cole Eye Institute is slated for next year and within the next two years for the Neurological Institute.

Reference: https://my.clevelandclinic.org/departments/neurological