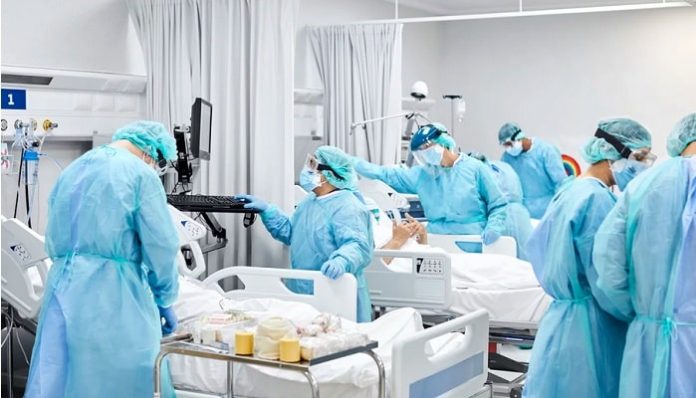 The US has surpassed a milestone that they shall not be proud of. As the Omicron variant spreads its wings across the length and breadth of the country, COVID hospitalizations have climbed up, beating the previous peak which was seen in January 2021. As per the US Health Department, the data from the 2nd week of January 2022 shows that a total of 1,42,388 people were hospitalized because of COVID-19, more than the previous number of 1,42,315 patients that was reported on 14th Jan 2021. Besides, the 10 day average of per day hospitalizations was 1,32,086, which was a whopping 83% climb than two weeks back. It is well to be noted that these numbers include those patients as well who were admitted for other conditions but tested positive for coronavirus upon hospitalization. There is no actual number that suggests patients hospitalized specifically because of catching the virus.
Significantly, the hospitalizations are driven by those who are younger than 60 years of age. A sigh of relief for the older population as their hospitalization figures remain much lower than the previous year same time. There is also worrying data that tells us that the areas where Omicron was reported the first time have suddenly started seeing a spike in death, thankfully not as fast as the rise in cases. But the steep climb itself predicts devastation in store.
Understandably the surge in cases has overwhelmingly affected the medical facilities across the country as almost one-fourth of the establishments are facing severe staffing shortages. There are some states in the country that have already put in place the National Guard for help, while other states are having elective surgeries.
As per a physician in an emergency department, even the most dedicated of the surgeons and physicians are going to be worn out two years into the pandemic and may head towards mental issues and consequences related to it.
With the kind of spread which is being witnessed, no wonder, doctors, nurses, and other medical staff are also getting infected.
That leaves the medical facilities more loaded with coronavirus cases, thereby resulting in the inability to handle emergencies such as cardiac arrests, cancer surgeries, trauma cases, etc. As per a report in a leading newspaper, making a shift from the prior rules, hospital employees who have mild or no symptoms are continuing with their daily work. The physician adds that the demand is going up while the supply is touching lower numbers by the day, and that's not only for COVID but other health issues as well.