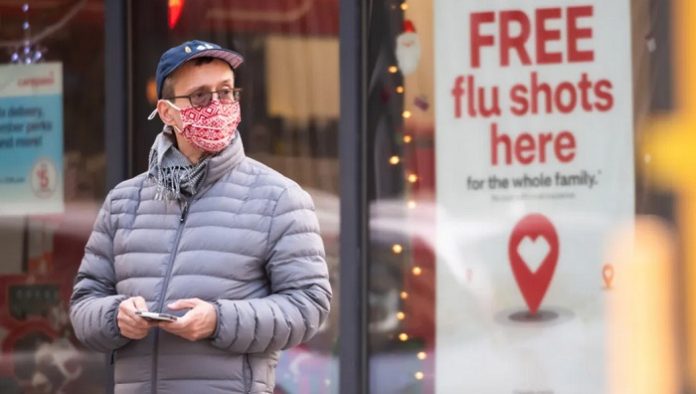 In most of the United States, influenza is on the rise after reaching near-zero levels last year.
According to the latest flu data provided by the US Centers for Disease Control and Prevention, the number of confirmed flu-related hospital admissions has climbed each week for the past seven weeks. Specialist in infectious disease as well as associate professor of medicine at the University of Rochester, Dr. Angela Branche, said that she has been keeping an eye on the recent influenza activity both nationally and locally. The fact that influenza prevalence is on the rise is not surprising. She says that she is astonished that H3N2 infections are still the most common, instead of influenza B. This much later in the flu season, she was expecting an influenza B outbreak.
In the United States, influenza A and B viruses are the most common causes of disease, particularly during flu season. H1N1 and H3N2 are two influenza A subtypes. According to the CDC, the influenza A H3N2 virus is by far the most commonly discovered influenza virus this season.
This trend of flu activity would not be altogether unprecedented in a non-pandemic year to see influenza infections peak in January and then fall, with another rise in early spring, Blanche says. As of Friday, the CDC projected that there had been at least 3.1 million flu infections, 31,000 hospitalizations, and 1,800 flu fatalities thus far this season.
Between 2010 and 2020, the lowest end of the CDC flu forecasts includes 9 million illnesses, 140,000 hospitalizations, and 12,000 fatalities. According to the CDC, although flu activity has been rising in most parts of the country, the greatest levels have been observed in the central and south-central areas of the country.
Due to an outbreak of the flu, certain schools in such areas have cancelled classes. In Tennessee, Johnson County schools were closed on March 11 due to an "extreme volume" of influenza cases. Janitors were able to fully clean the buildings during the closure before the schools returned the following week. They did close one day due to an increase in the number of personnel out with the flu and not having enough replacements to cover it, said Mischelle Simcox, Johnson County's director of schools.
Simcox noted that they did this on a Friday, giving themselves a long weekend to assist members of staff recover and feel better. Since 2020, they haven't had to close due to the flu. Apparently, they only close when a substantial number of employees are absent and there is insufficient coverage for their crew. Notably, their custodians take special precautions to sanitise and clean all sections of the facilities during this period.
We are witnessing an increase
In the Western region, Dr. Dean Sidelinger, Oregon's health officer, believes an increase in flu cases could indicate a spike. According to him, about 3.1 percent of flu tests recorded in Oregon in the week ending March 12 were positive, up from 2.5 percent the week before.
For the whole week ending March 19, 7.7% of tested specimens in clinical laboratories for the flu virus were found positive for influenza, according to the CDC. Things look worrying because this is generally when the flu season is winding down, Sidelinger said, but they are seeing a rise in cases, and it could be linked to people's behaviour like pulling off their masks and resuming some of their normal activities.
He went on to say that current flu levels in Oregon are still "far below" those seen in pre-pandemic flu seasons. In March of this year, approximately 40% of influenza tests were found to be positive. One saw relatively little flu last year, much like the rest of the country, Sidelinger said. This was not due to the fact that the flu virus had vanished. However, the efforts people were making to battle COVID, like wearing masks, restricting their gatherings, and attempting to relocate activities outside the spread of respiratory viruses, proved more difficult this time.
According to Branche, the rollback of COVID-19 mitigating measures has played a part in the rise in flu activity. Since H3N2 has been in circulation for some months, even if at low levels, she would infer that the present surge in H3N2 cases is most likely due to the relaxing of COVID-19 mitigation like masking and social distancing.
Viral competition, which explains when respiratory viruses compete for the ability to infect humans, could possibly be a factor.The concept has been proposed for several years and intuitively makes sense when it comes to adults, since they are far less likely to be co-infected and are normally only affected by one virus at a time. So that's one of the possibilities, says Branche. Although influenza is causing an increase in respiratory diseases in the United States, the Centers for Disease Control and Prevention (CDC) adds that other lung viruses are also prevalent. While the number of flu-concerning hospitalizations reported to the US Department of Health and Human Services has soared for the seventh week in a row, the cumulative hospitalisation rate for this influenza season is higher than the amount for the whole 2020–2021 season, but nevertheless less than the rate seen at this moment during the four flu seasons preceding the COVID-19 pandemic.
According to the CDC, flu levels dropped from mid-December to January. COVID-19 instances were on the rise at the time. COVID-19 instances began to decline as flu cases began to climb earlier this year. Why has the country experienced a spike in flu cases but not COVID-19? As coronavirus mitigation measures such as mask-wearing and social distancing are scaled back in numerous states, why has the country seen a rise in flu cases but not COVID itself?
Sidelinger believes the reason they are not seeing an increase in COVID cases right now would be a mix of high vaccination rates as many people in Oregon are up-to-date on their COVID vaccines and people who have recently recovered from the largest Omicron surge, still have some protection. According to her, things are at a point in the pandemic where there are fewer people who are vulnerable to the sickness. Which is why, even as the masks are removed, they are still seeing reductions in numbers.
It is still worth getting

vaccinated
Lori Tremmel Freeman, NACCHO's chief executive officer, said that the rise in cases could be linked to fewer people getting flu shots this year and this season's flu vaccine not being as effective as previous seasons.
Even if it's less efficient than typical, it still has the potential to provide some protection, significantly reducing the symptoms and–or length of the flu. says Lori.  As a result, he wouldn't completely abandon the flu vaccine, as it may still be useful in preventing more serious diseases. According to a weekly CDC Morbidity and Mortality Report published in March, the vaccine did not appear to reduce the risk of getting sick from the influenza A (H3N2) viruses that have been widespread this flu season, drawing on statistics from 3,636 kids and adults who got the flu between October and mid-February. Overall, the vaccine was only 16 percent effective against illness, which isn't statistically significant.
However, the trial did not have enough participants to provide a reliable estimate as to how efficient it was, so the CDC is examining how effectively the new vaccine protects against severe disease. Overall, the flu vaccine has been shown to reduce the risk of flu-related hospitalisation or death, and the CDC still advises that people get vaccinated, even if it's late in the season. The CDC estimates that flu vaccination averted 105,000 flu-related hospitalizations during the 2019-2020 season. Vaccination against influenza should be constantly advocated among Americans.Even during the pandemic, influenza has always posed a threat to the health of the most vulnerable citizens of local communities. Branche expressed her dissatisfaction with the current situation. She mentions that, normally, she wouldn't strongly advise her patients to obtain an influenza vaccine so far down the stretch, but with rising cases and uncertainty about how things will evolve over the next three months, it's still worth being immunised if one has not already for the 2021–2022 season.