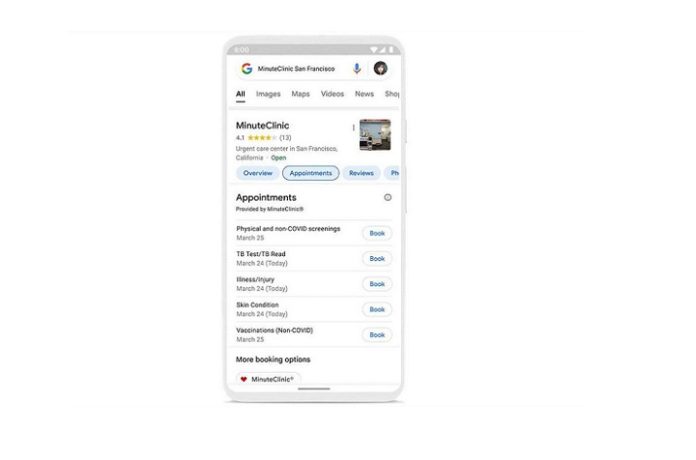 Google revealed that it is launching a new tool in search that will allow users to make medical appointments. Users who want to schedule a check-up or a same-day appointment can use Google Search to learn which health care providers are available in their area. To begin with, Google is collaborating with CVS MinuteClinic.
For instance, if one searches for a MinuteClinic nearby, Google will offer results detailing the different types of appointments available. Without leaving Google search, a person will be able to arrange an appointment for a check-up, immunisation, skin issue, or injury/illness. It could be useful for people who don't have access to reliable medical care or who are unable to see their current doctor.
The functionality is still in its early phases of implementation, according to Google. It hopes to expand the feature's partners and capabilities to make it much easier for consumers to get the help they need.
This is the latest step in Google's ongoing effort to play a bigger role in healthcare. Whether one has put off a yearly checkup, recently relocated or needs a new doctor, or needs a same-day visit to a CVS MinuteClinic, people might discover open consultation dates and times for specialists in the region, says Karen DeSalvo, Google's chief health officer, in a blog post. According to a Google official in a briefing, the business intends to reduce medical wait times, but users will still need to schedule appointments with medical specialists outside of the search site.
The search engine is often referred to as "Dr. Google" as it is accessed by people all around the world to obtain health-related information. Nonetheless, the company's ambition to play a larger role in the region has been inconsistent. Google, which is controlled by Alphabet Inc., shut down its autonomous health division in August and merged its numerous teams into the other business groups. To some, it appeared to be a concession, but the company maintained that it was attempting to extend health care features to improve information quality by leveraging the reach of services such as search and YouTube. Google also plans to announce research on utilising smartphone cameras to identify some eye problems, having phone microphones pick up irregular heartbeats, and a plan to offer more accurate real-time health information to Japanese, Brazilian, and Indian users during an event called "The Check Up".