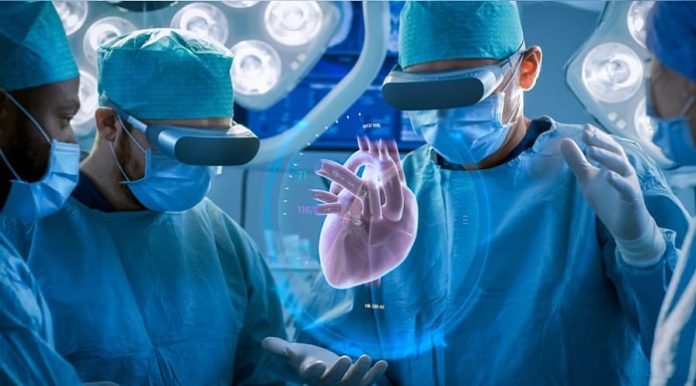 Virtual reality (VR) for enhanced immersive experience is now evolved from a buzzword to a mainstream business arena. It is being used across diverse business areas such as workforce training, 3D simulation to improve productivity, and much more. In healthcare, VR technology is starting to gain ground and visibility as a potential diagnostic tool, delivering full immersive 3D simulation in the treatment of several ailments such as autism, post-traumatic stress disorder, anxiety and severe pain cases. Surgeons are turning to this technology to plan surgical procedures. Not only do medical professionals benefit from VR, but also it reassures patients as they can tour a virtual model of their own body.
VR with closely related augmented reality (AR) can be effective in surgical navigation and robotic surgery. They can assist surgeons to work more quickly and accurately and eliminate potential human error during surgery. AR and VR also provide them with more precise information and visuals that can help a medical professional to make faster and more accurate decisions.
Applications of VR and AR in healthcare are feasible in medical education. By embracing realistic surgical simulators, medical students can better prepare for operating on actual patients by providing realistic views of surgical situations.
Medical Practices Influenced by VR Tech
Since virtual reality in healthcare continues to reach heights, it is changing how medical education and practices have been performed over years. It is likely to be an ideal tool for training in hands-on practices. Indeed, surgical and other interventional procedures are the main fields of application of VR. By leveraging this tech, healthcare professionals can demonstrate to their patients exactly what will be happening during their procedure. They can even clearly explain every step of operation by guiding them through the process step by step.
To train medical students of all kinds, VR medical software is an increasingly prevalent method. It provides medical students who practice surgical procedures ease of operation, with 29 percent faster-operating speeds, six times less likely to make errors, nine times more likely to show marked improvement of skills, and significantly more improvement in hand-eye coordination, according to a study.
Improving Patient Experience Using VR
Virtual reality as well as augmented reality have a broad array of patient-facing use cases such as pain management, therapy and improved patient care by lessening fear. For instance, Cedars-Sinai Medical Center with AppliedVR, a developer of scalable therapeutic VR, implemented VR technology in its department of Surgery and Orthopaedic Center. The medical center also launched a pilot study with devices from Samsung that designed to ease the stress of patients staying in the hospital. The purpose behind this pilot was to test VR scenarios with patients to determine if they enjoyed virtual reality experiences while waiting for procedures or even throughout their hospital stay as an alternative for pain relief.
VR technology is quickly progressing through the healthcare industry, expecting to reach US$2.4 billion by 2026 in the sector. Although the technology is relatively new in this space, there are increasingly great potential VR is having on patients' lives and physicians' work. Furthermore, there are a growing number of companies offering virtual reality solutions to train surgeons and hone their skills.