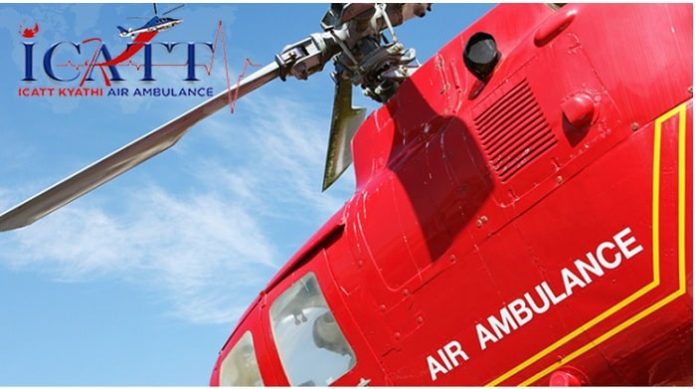 International Critical Air Transfer Team (ICATT), India's only air ambulance company owned and lead by emergency medical services experts. This integrated air ambulance services according to the company is for the first time in the country, in collaboration with Kyathi, a leading aviation technology firm.
The ICATT Kyathi's fixed wing aircraft for long distance emergency medical transport, combined with helicopter and land ambulance services providing last mile connectivity, will address the growing need for timely and quality emergency medical services in India. The fixed wing air ambulance to be stationed at the HAL airport in Bengaluru, will also be the first air ambulance based out of South India, enabling speedier services for medical emergencies in the region and overcoming the challenges of high road traffic in the metro cities. Equipped with state-of-the-art German Isolation Pod, ICATT Kyathi will enable safe transport for critical COVID-19 patients as well.
The integrated air ambulance service was formally unveiled and launched today by Karnataka Chief Minister. B S Yediyurappa. Minster of health B. Sriramulu, minsiter for medical education Dr Sudhakar were also present.
Karnataka Deputy Chief Minister Dr C N Ashwath Narayan said "Emergency medical services is an essential part of the overall healthcare infrastructure and system.
The introduction of ICATT Kyathi's Integrated Air Ambulance service will ensure not only quick medical assistance but also high quality care delivered by senior doctors and paramedics trained in critical care, while in flight, said Karnataka chief minister Yediyurappa.
According to Dr Shalini Nalwad, co-founder & director, ICATT, "India requires better emergency medical services to meet the growing number of emergencies. What exists today, primarily stationed out of Delhi and Mumbai and providing fragmented services across the country, falls short of meeting the requirement. Second, for the service to be fully effective, you need last mile connectivity through well-equipped land ambulances and helicopters that could cater to cases in close by Tier II cities or overcome the challenge of loss of time in the golden hour due to land traffic. Dr Rahul Singh Sardar, co-founder & director, ICATT said that the key aspect in choosing the right air ambulance is to understand the importance and criticality of the service. Having the right aero-medical professionals to tend to the patient while transferring them to a hospital is extremely important. ICATT has a comprehensive medevac team of doctors, intensivists, perfusionists and paramedics. The doctors and paramedics are certified in Fellowship in Aero Medicine (FAM)"