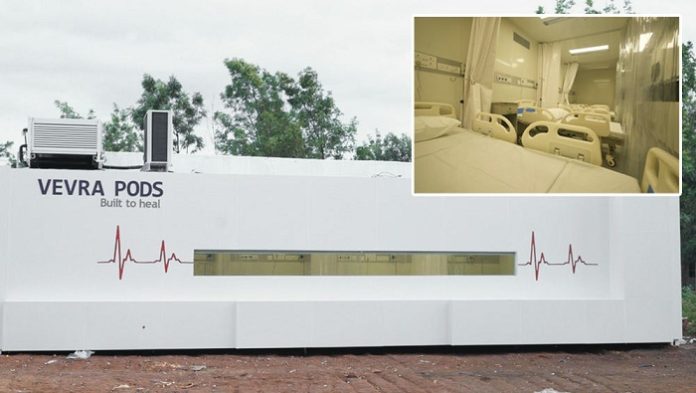 Karnataka Government recently announced the launch of AI-driven movable hospital to treat COVID-19 patients. It has been done in an effort to contain the spread of the virus in the state.
Called the Vevra Pods, these are movable capsules that are infused with artificial intelligence to prevent the spread of contagious diseases such as COVID-19, flu, TB and more. Dr Sudhakar K, the education minister tweeted that AI has the potential to transform healthcare and urged tech startups to focus on low-cost solutions.
It has been developed by Bengaluru-based design-and-build firm Vevra in association with Portugal-based healthcare IoT InnoWave Group. With an accommodation capacity of up to nine beds, it will have an antechamber airlock room to provide a safe area for healthcare professionals.
The Pods will have stringent control over the quality of air being circulated in and out of the room with installations such as HEPA filters, UVC lights and high-end exhaust system. It will also have PLC-integrated air conditioning system to maintain temperature and humidity.
It will also have other features such as fire-resistant structure, anti-bacterial wall, attached toilet, devices to measure oxygen level, RO water purifier, geyser, shower area, fire extinguisher, CCTV surveillance and more. The pods are reusable with 15 to 20 years' structural warranty.
"I am delighted to be a part of such an innovative development in our hospital and medicine industry. Artificial Intelligence has the potential to transform public healthcare," Dr K Sudhakar said.