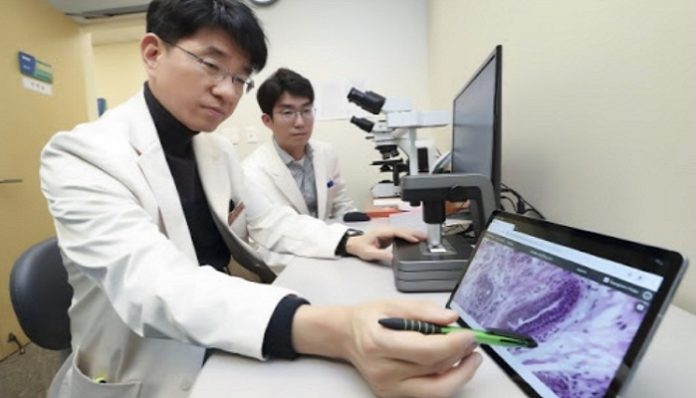 KT Corp., South Korea's No. 2 mobile carrier, said Wednesday it has teamed up with the country's top industrial robot maker and a major general hospital to develop advanced medical solutions.
Under the partnership with Asan Medical Center and Hyundai Robotics Co., KT will develop contactless medical services, such as remote diagnosis and real-time health care tracking using wearables.
KT will be responsible for developing the software for the services, which will incorporate fifth-generation (5G) networks and artificial intelligence, while Hyundai Robotics will focus on developing automated infrastructure with robots.
The collaboration comes a month after KT acquired a 10 percent stake in Hyundai Robotics, an affiliate of shipbuilding titan Hyundai Heavy Industries, to boost its presence in smart factory and service robot sectors.
Local carriers have recently been trying to expand their businesses into the health care industry.
SK Telecom Co., the country's largest mobile carrier, established digital health care firm Invites Healthcare in March with local private equity firm Newlake Alliance Management.
The joint venture is currently developing ICT-based chronic disease management services that monitor patient data in real time.
LG Uplus Corp. signed an agreement last year with Eulji Foundation, which operates local hospitals, to develop hospital services that incorporate 5G technology.