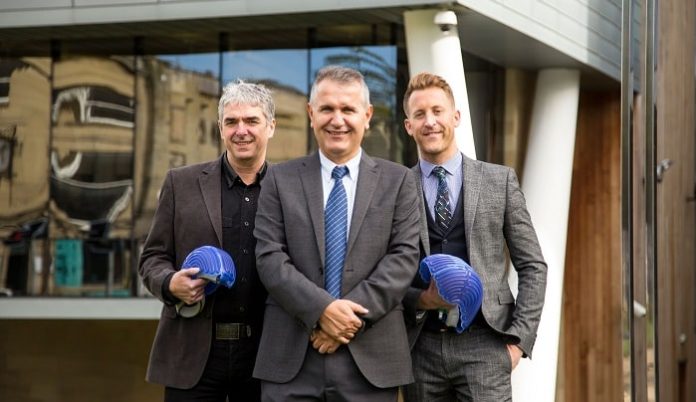 A UK Government agency has delivered a verdict of "outstanding" on University of Huddersfield research that will aid a global healthcare company to continue its expansion, marketing its innovative scalp cooling caps – designed to prevent hair loss during cancer treatment – in several continents and dozens of countries.
The multi-national campus at the University has played its part in helping to ensure that the cold caps produced by Huddersfield Company Paxman are a perfect fit for the subtly different head shapes to be found around the world.
Researcher Dr Ertu Unver, a Principal Enterprise Fellow at the University and an expert in product design, needed anthropometric data to complete his latest Knowledge Transfer Partnership (KTP) with Paxman. Its goal was to design and develop a single-use cooling cap made from silicon that can be mass manufactured using the latest 3D printing technology. The cap has to be both comfortable and very close-fitting. Initially, the caps were designed for typical Caucasian head shapes, but then Paxman started to move into new markets that included Japan, meaning it was vital to have caps that could fit more rounded Asian heads.As part of his extensive data-gathering exercise, Dr Unver sought the collaboration of Japanese students at the University of Huddersfield and scanned their heads, enabling him to produce a 3D model that could be used to develop a range of caps for Asian markets.
Huddersfield-based Paxman has a long-standing collaboration with the town's University and has now provided backing for a dedicated research centre that investigates the biology of scalp cooling – how and why it prevents hair loss during chemotherapy – and the development of new generations of cold caps, harnessing the latest manufacturing technologies such as 3D printing and rapid tooling. The Paxman Scalp Cooling Research & Innovation Centre at the University continues the work carried out by Dr Unver during the recently completed KTP. It received funding from the official agency Innovate UK, which has now awarded its highest grade of Outstanding on the four-year project.
Designing the new cooling caps presented considerable challenges – especially the complex grooves that carry the cooling fluid and which have to be flat in order to make a perfect contact with the scalp. Breakthroughs made by the research team have now led to two patents being awarded. Prof Kagioglou and Dr Unver were the academic supervisors of the KTP, which also saw postgraduate associates based at Paxman, where they were also supervised by Patrick Burke and Richard Paxman.
Speaking about the partnership Dr Unver, said: "Our collaboration with Paxmanisa fantastic opportunity for the academic team that deliver the BA/BSc Product Designcourse. To date, the team have received many awards, published journal articles, spoken at conferences and exhibited world-wide. Both the University Dean, Mike Kagioglouand I, are very proud of designing an award winning, Shonin, Ninsho, and the FDA cleared product used in over 50 countries that has been proven to help cancer patients keep their hair during chemotherapy treatment."
The Paxman Scalp Cooling Research & Innovation Centre team will now investigate development of a novel, environmentally friendly ecosystem for 3D-printed, individual cooling caps, ready for mass customisation. The team will also research new medical applications for cooling technologies, such as devices that could curtail CIPN (chemotherapy-induced peripheral neuropathy), which causes damage to patients' nervous systems.
Hair loss is a well-known side effect of many chemotherapy regimens, with many patients reporting it to be the most traumatic aspect of their treatment. Scalp cooling provides the only real alternative to hair loss, resulting in a high level of retention or even complete hair preservation, improving patients' self-confidence and creating positive attitudes towards treatment.
To find out more about scalp cooling visit www.paxmanscalpcooling.com
About Paxman
The Paxman Scalp Cooling System has been developed by the Paxman family to reduce hair loss in breast cancer patients undergoing chemotherapy. The concept behind the system came when the mother of four, Sue Paxman, experienced first-hand the trauma of chemotherapy-induced hair loss. With more than 3,500 systems delivered into hospitals, clinics and treatment centres around the world, Paxman is the leading supplier of Scalp Cooling technology. Paxman's scalp-cooling cap is made from lightweight, biocompatible silicone that is soft and flexible, providing a snug yet comfortable fit during treatment.
About the University of Huddersfield
The University of Huddersfield has a growing reputation as an inspiring, innovative provider of higher education of international renown. The University has been the recipient of the Times Higher Education magazine's awards for University of the Year, Entrepreneurial University of the Year and Outstanding Leadership and Management and also a recipient of a Queen's Awards for Enterprise. It recently became one of the few universities in the UK to be awarded the 'Gold' standard in the Government's new Teaching Excellence Framework. The University's research activities are continuously acknowledged for its internationally recognised centres of excellence, strategic industry relationships and a commitment to providing state-of-the-art facilities and equipment.