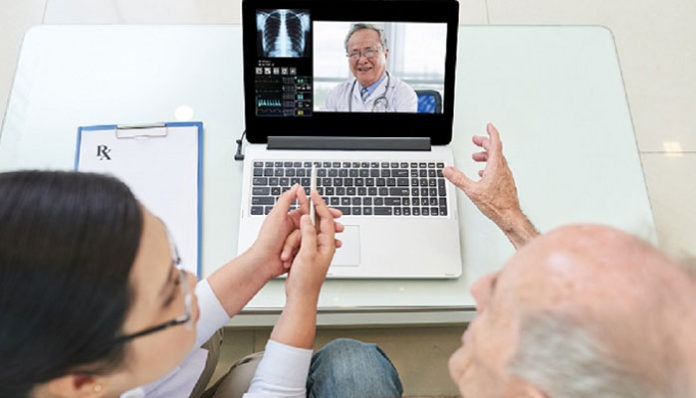 Similar to several other health systems around the nation, COVID-19 forced MaineHealth to act quickly to care for patients remotely in order to protect both individuals and care teams.
The Issue
According to Lizzy Mulcahy, director of telehealth at the Portland, Maine-based health system, this was pertinent to patient populations in the outpatient program, who needed to be kept connected with their primary care and specialist providers for acute or chronic needs, including for patient populations in the inpatient unit, who were able to receive some of their care virtually.
MaineHealth integrated virtual care services into its care ecosystem to address the need to deliver care virtually, which required recognising and buying the software and hardware solutions, implementing significant patient and care team education initiatives, and creating a process for quality control and analytics, the spokesperson said.
Proposal
MaineHealth sought telemedicine technologies that would be simple to incorporate into its care delivery models and that patients would have easy access to.
IT director for client services and telehealth at MaineHealth, Patty VonIderstine, stated that the solution needs to be able to work efficiently in low-bandwidth areas due to the rurality of Maine. To avoid escalating the hurdles to digital access and digital literacy, selecting a solution that was simple to use for both patients and the care teams was of utmost importance.
Conquering The Trouble
Both inpatient and outpatient settings have employed the telemedicine technology MaineHealth chose. According to telehealth technical architect at MaineHealth, Tom Winchell, in the hospital setting, Vidyo was used to digitally connect care teams with patients in isolation areas. Zoom service access was launched and widely implemented for direct patient care in the outpatient context.
In a fairly short amount of time, around 1,000 licences were implemented, he added. The Zoom capabilities were used for direct patient care among doctors, whether in an office setting or at a distance, with patients who were placed in their own homes and eventually integrated into MaineHealth's HER.
MaineHealth also bought care team setups, such as desktop PCs, iPads, and web cameras, in order to take part in virtual care.
Results
Utilization has so far been the main success statistic linked to the application of this technology, according to VonIderstine. Care team adoption was widespread; primary care, specialised care, and behavioural health services all had high utilisation rates.
They are still seeing significant amounts of utilisation, especially in the behavioural health sector, she continued. Now that things are moving across to the other side of the pandemic, additionally, group sessions for managing chronic diseases or changing behaviour around a healthy lifestyle have been considered as having a high value for the virtual services.
Using FCC Award Funds
MaineHealth received $803,268 from the FCC telehealth award programme for telemedicine carts, laptops, tablets, and videoconferencing equipment and software that will enable providers to conduct virtual rounds for inpatients, allow patients to see specialised care and primary care providers from the comfort of their own homes, and enable patients in hospitals to use tablets to see and interact with family members they otherwise would be unable to see due to prolonged bed rest.
The FCC CARES program's resources, according to VonIderstine, enabled a swift rollout of new work processes, modalities, and structure for the delivery of healthcare for the patients of MaineHealth. MaineHealth patients now have access to a strong, comprehensive, and active virtual care option that was not available before the pandemic.
She said, this was planned, bought, tested, deployed, and triggered in a coordinated timetable. The COVID response build-out's initial phase was able to proceed with better effectiveness and efficiency thanks to CARES' financial support than would have been otherwise possible. Now that the framework for virtual care has been built, MaineHealth anticipates continuing to expand its omni-channel options for patients and care teams in order to increase the standard of care, enhance the patient experience, and enhance the experience of the care team, she said.