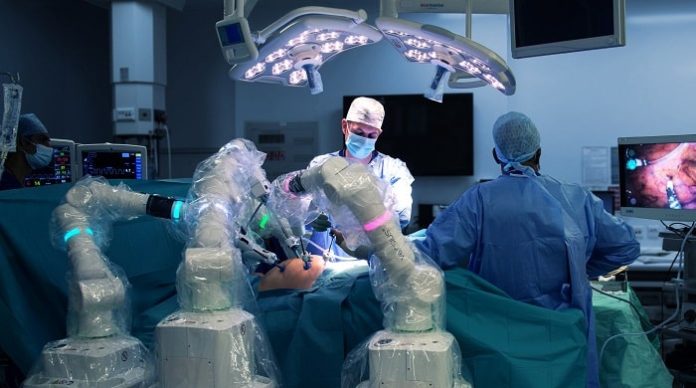 CMR Surgical has announced the introduction of its surgical robotics system, Versius at Manchester Royal Infirmary (MRI), part of the Manchester University NHS FT.
Versius becomes the first surgical robot to be used to perform minimal access surgery at Manchester Royal Infirmary and will initially be used to perform colorectal cancer surgery.
WHY IT MATTERS
Colorectal surgery is commonly used to remove part of the bowel for people with inflammatory bowel disease or to remove tumour cells from patients with colorectal cancer.
The procedures are often complex and may last for many hours. Using robotic keyhole surgery enables surgeons to bring the benefits of keyhole surgery to the patient which includes the potential for faster recovery time, as well as making the procedure less strenuous on the surgeon.
At Manchester Royal Infirmary, it is estimated that this could equate to hundreds of bed days freed up each year.
THE LARGER TREND
Keen to expand, Versius has launched its technology to a number of hospitals. Frimley Health NHS Foundation Trust has partnered with CMR Surgical to introduce the Versius Surgical Robotic System to expand its surgical robotics programme.
Last month, Versius' surgical robotic system launched in France at the Clinique du Parc Hospital in Saint-Etienne, to perform procedures such as hernia repair surgeries, prostatectomies and hysterectomies.
ON THE RECORD
Mr Nicholas A. Stylianides, consultant colorectal and general surgeon at Manchester Royal Infirmary said: "The introduction of Versius at Manchester Royal Infirmary is an exciting step forward and one that will help our team continue to deliver world-leading surgical training and care. Today, more than ever, it is vital that we are able to minimise complications from surgery and help patients recover quickly – keeping them well and out of hospital. Using robotic minimal access surgery more frequently will play an important role in this and Versius will therefore be a critical tool for our surgical teams moving forward."
Mark Slack, chief medical officer at CMR Surgical said: "The fact that this leading teaching hospital has never had a surgical robot highlights the need for a new approach to surgical robotics and reinforces the value of the defining features of Versius – its portability, versatility and its cost-effectiveness. These are attributes that we believe will open the door to more minimal access surgery across the world improving outcomes for patients, surgeons and hospitals."