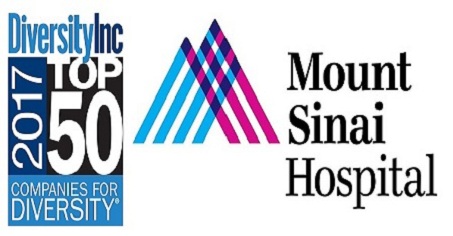 In recognition of its comprehensive efforts aimed at ensuring a diverse workforce and leadership, the Mount Sinai Health System was ranked No. 1 on DiversityInc's Top Hospitals and Health Systems list for 2017.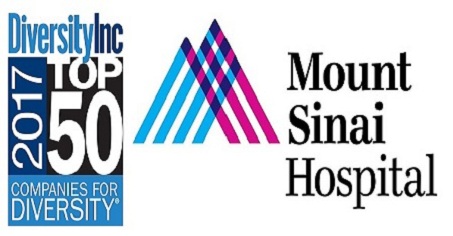 "We are very pleased that DiversityInc has ranked the Mount Sinai Health System as the top health care company for diversity in the nation," said Gary Butts, MD, Chief Diversity and Inclusion Officer for the Mount Sinai Health System and Dean for Diversity Programs, Policy, and Community Affairs at the Icahn School of Medicine at Mount Sinai. "We are proud that our leadership efforts continue to be recognized and that the value and positive social impact of a diverse, inclusive, and culturally competent workforce is once again being commended. It is imperative that we continue identifying the best ways to serve the needs of our vastly diverse patient populations."
The DiversityInc Top 50 list, issued yearly since 2001, recognizes the nation's top companies for diversity and inclusion management. These companies excel in such areas as hiring, retaining and promoting women, minorities, people with disabilities, people who are LGBT, and veterans. The 2017 Top 50 Companies for Diversity results will be featured on DiversityInc.com and in DiversityInc magazine.
The 300-question self-assessment survey ranks hospitals and health care systems on multiple diversity criteria including talent pipeline, talent development, leadership commitment and supplier diversity. Typically, ranked health systems demonstrate best practices in employee resource group participation, manager participation in cross-cultural mentoring, executive diversity councils setting goals tied to executive compensation, and educating and mentoring diverse suppliers.
"There are simply not enough qualified people to hire. A company's ability to find the best and brightest, and advance and retain them equitably is a decisive competitive advantage," notes Luke Visconti, founder and CEO of DiversityInc. "The DiversityInc Top 50 have a decisive metrics-evidenced ability to treat people more fairly than other large companies. They also have a greater-than-average return for their shareholders."
The complete 2017 rankings may be found
here
.
About the Mount Sinai Health System
The Mount Sinai Health System is an integrated health system committed to providing distinguished care, conducting transformative research, and advancing biomedical education. Structured around seven hospital campuses and a single medical school, the Health System has an extensive ambulatory network and a range of inpatient and outpatient services—from community-based facilities to tertiary and quaternary care.
The System includes approximately 7,100 primary and specialty care physicians; 12 joint-venture ambulatory surgery centers; more than 140 ambulatory practices throughout the five boroughs of New York City, Westchester, Long Island, and Florida; and 31 affiliated community health centers. Physicians are affiliated with the renowned Icahn School of Medicine at Mount Sinai, which is ranked among the highest in the nation in National Institutes of Health funding per investigator. The Mount Sinai Hospital is on the "Honor Roll" of best hospitals in America, ranked No. 15 nationally in the 2016-2017 "Best Hospitals" issue of U.S. News & World Report. The Mount Sinai Hospital is also ranked as one of the nation's top 20 hospitals in Geriatrics, Gastroenterology/GI Surgery, Cardiology/Heart Surgery, Diabetes/Endocrinology, Nephrology, Neurology/Neurosurgery, and Ear, Nose & Throat, and is in the top 50 in four other specialties. New York Eye and Ear Infirmary of Mount Sinai is ranked No. 10 nationally for Ophthalmology, while Mount Sinai Beth Israel, Mount Sinai St. Luke's, and Mount Sinai West are ranked regionally. Mount Sinai's Kravis Children's Hospital is ranked in seven out of ten pediatric specialties by U.S. News & World Report in "Best Children's Hospitals."