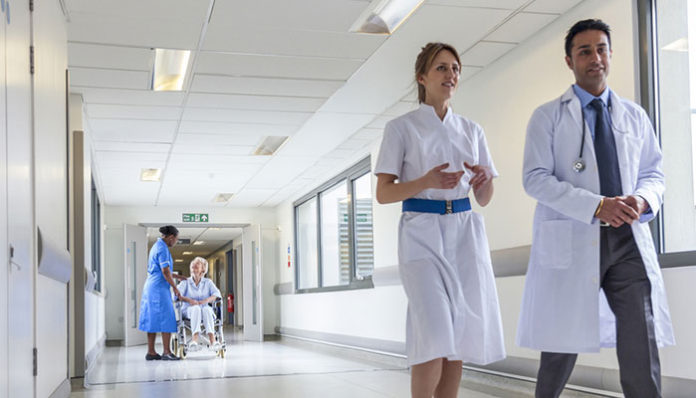 According to a report by MPs, the vast number of open positions in the NHS poses a major risk to patient safety. It was discovered that England currently lacks more than 50,000 nurses and midwives and 12,000 hospital doctors, making this the biggest workforce crisis in NHS history.
It warned that failing to swiftly rectify the personnel shortage could jeopardise efforts to clear the backlog of COVID treatments. According to the government, the workforce is expanding and NHS England is creating long-term plans to hire more personnel.
Fix the NHS staffing issue to reduce the backlog on the waiting list, say MPs.
Patient safety is put in danger by the nursing shortage.
New nurses and midwives are recruited mostly from abroad.
Addressing the shortage must be the future prime minister's "top priority" when they take office in September, according to former health secretary Jeremy Hunt, who heads the Commons health and social care select committee that created the study.
According to him, chronic staff shortages in the NHS pose a major risk to staff and patient safety, which is made worse by the government's lack of a long-term plan to address the issue. Although he might have made more money working in the commercial sector, psychologist Simon (not his real name) has spent his entire career working for the NHS.
However, he will be quitting the health care industry completely the following year and claims that this year's pay increase below inflation was the tipping point. He currently feels completely mistreated and undervalued. He might have made twice as much money in the commercial sector, but he spent his entire career working for the NHS.
He was very certain he was going, but the most recent rise isn't really an increase. Employers can't be held responsible because of national budget constraints. Indeed, a crisis has arisen. Economic downturns have occurred before, but none have been as catastrophic.
The cross-party committee found evidence indicating, based on current forecasts, roughly a million new positions in the health and social care sectors will be needed to be filled by the beginning of the next decade.As the population ages and healthcare grows more sophisticated and technologically advanced, more people will be needed to meet the demand.
The health systems in Wales, Scotland, and Northern Ireland have all experienced comparable personnel challenges. Related research revealed that the NHS had alarmingly high rates of abuse and harassment, with 28% of employees reporting at least one instance of intimidation in the previous year.
The committee also heard testimony from Sajid Javid, the former health secretary who quit earlier this month, who said that the government was falling short of its promise to add 6,000 more general practitioners to England. More than 500 midwives left the health sector between March 2021 and March 2022, raising concerns about maternity services.
The committee called the scenario, in which some senior doctors would be better off leaving or cutting back on their working hours due to NHS pension schemes, a national embarrassment and urged immediate action to amend the laws. It said that the situation in social care was regrettably worse, with 95% of providers having trouble attracting new employees and 75% having trouble keeping their current staff.
The report stated that social care will remain a job of limited appeal, even when it is critically required, in the absence of the development of meaningful professional growth structures and better contracts with greater remuneration and training. Concerns that 17,000 care workers were being paid less than the mandated minimum wage of £9.50 an hour led to a request for HM Revenue and Customs (HMRC) to be more aggressive in enforcing the law.
Hospitals, mental health trusts, and ambulance services are represented by NHS Providers, and deputy chief executive Miriam Deakin claimed that many staff members were dealing with untenable workloads due to ever-growing demand. The government must develop a properly funded, long-term staffing strategy for the NHS, she added, stressing that this is the obvious solution.
The Royal College of Nursing's England director, Patricia Marquis, stated that the threat posed by understaffing should startle ministers into action. The committee was pretty direct about salaries, stating that it was unacceptable for some NHS nurses to have difficulty providing for their families, paying their rent, and getting to work.
Wes Streeting, the shadow health minister for Labour, charged that the administration had utterly failed to handle the situation. According to a Department of Health and Social Care spokesman, more individuals are now working in the healthcare industry, and NHS England has been urged to create a long-term plan to attract and keep more employees.
In addition to undertaking a £95 million recruitment campaign for maternity services and allocating £500 million to the development of the valued social care workforce, he said, they are continuing to deliver on their goal to hire 50,000 more nurses by 2024.