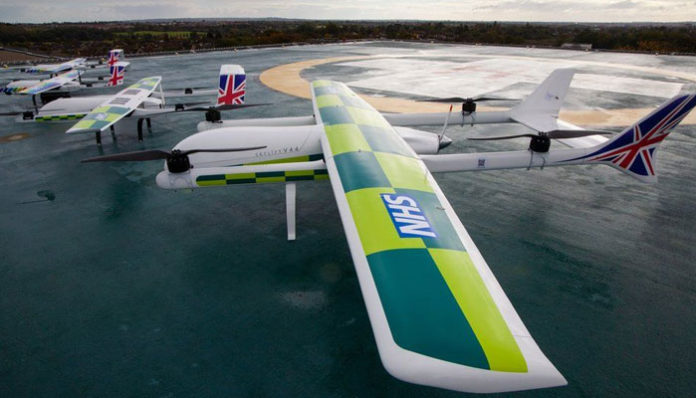 According to an announcement from NHS chief executive Amanda Pritchard on July 5, cancer patients in the NHS will be the first in the world to receive chemotherapy administered through a drone as part of a new trial. The life-saving medicine may be picked up and handed to patients on the same day thanks to the drones, which should take off for the first time in the weeks ahead.
On the 74th anniversary of the NHS, chief executive Amanda Pritchard announced the significant trial, calling the drone delivery merely the most recent "extraordinary" example in a year that has highlighted NHS creativity and cutting-edge technology. Chemo will be flown from the pharmacy at Portsmouth Hospitals University NHS Trust to St Mary's Medical in a first-of-its-kind trial that will begin on the Isle of Wight, where employees will collect it before distributing it to hospital teams and patients.
Because some chemotherapy dosages have a short shelf life and are difficult to transport, the NHS has worked with the tech company Apian to develop a novel method of delivering the medication to patients in a jiffy. Drones will reduce the typical delivery window from four hours to 30 minutes, conserving both money and fuel while greatly improving the convenience of cancer care for patients on the Isle of Wight who currently frequently must go to the mainland for treatment.
Each delivery made with a drone eliminates the need for at least two automobile trips; one trip on a hovercraft or ferry; and one trip on the ground, reducing carbon emissions and enhancing patient and community air quality. Additionally, it will assist the NHS in becoming the first carbon-neutral healthcare system in the world. The drone concept will be tested in Northumbria after the Isle of Wight and might enable doctors to place same-day orders for crucial medical supplies and other treatments.
Delivering chemo by drone is yet another exceptional advancement for cancer patients and demonstrates how the NHS will stop at nothing to make sure people get the care they need as quickly as possible while also slashing costs and carbon emissions, said Amanda Pritchard, chief executive officer of the NHS. It has been another incredible year of innovation in how the health service provides treatment and care, from a smartwatch to manage Parkinson's to ground-breaking prostatic therapies and making the most expensive medication in the world accessible to NHS patients.
As the NHS turns 74, it is evident that the speed of change and progress throughout the healthcare system is only quickening as the amazing workforce strives to take advantage of game-changing discoveries to better the lives of patients, as they committed to doing in the NHS Long Term Plan.
Sajid Javid, the secretary for health and social care, asserted that he wants England to become a global leader in cancer care, and employing the most up-to-date technology to administer chemotherapy by drone ensures patients will have speedier, more equitable access to care no matter where they dwell.
As the NHS turns 74, developments like these will enhance patients' access to life-saving care and ensure that the NHS is making the maximum use of the unprecedented funding they are investing to clear the COVID backlogs. The future 10-Year Cancer Plan will lay out a strategy for how they will accelerate diagnosis, provide ground-breaking new therapies, and transform cancer services nationwide.
The NHS Long Term Plan made a commitment to using cutting-edge technology while introducing fresh discoveries and therapies to patients all around the nation. In an innovative experiment to transform NHS care, the NHS revealed earlier this year that patients with Parkinson's disease would receive life-altering smartwatches that allow clinicians to remotely check their condition.
The health service also started using a revolutionary therapy to treat sickle cell patients after negotiating a deal for crizanlizumab, a treatment that will be made available to close to 5,000 patients in 3 years. Thanks to a historic agreement reached by NHS England to ensure that all patients can access it in accordance with MHRA guidance, the NHS has also been able to provide the ground-breaking cystic fibrosis treatment, Kaftrio, for the first time ever to hundreds of children between the ages of 5 and 12.
One of the first children under the age of 12 to begin receiving the drug this year was Kate Farrar, who is seven years old. The drug is innovative in that it starts treating the root cause of cystic fibrosis, giving Kate hope that she will realise her dream of competing in the Olympics as an Olympic gymnast.
After taking part in a Cytosponge project being implemented by NHS England, Pat Maunders, 64, from Rushden in Northamptonshire, was recently identified as having oesophageal cancer. To gather samples for examination, Cytosponge uses a tiny capsule-shaped device that is ingested and then removed via a string.
Kettering General Hospital, where Mrs. Maunders had her care, said that, on the whole, it was a very rapid process; there was no pain or suffering, and there was nothing to be scared of. She was pleased to have it instead of a gastroscopy tube camera inquiry under sedation and appreciates the NHS research because it is less invasive and quicker.
Swallowing was simple, but now you have to wait. The meticulous removal of the sponge is the sole momentary annoyance, which lasts for about three seconds.
This year, the NHS reached a number of agreements for patients with advanced and aggressive cancers, including Dostarlimab, a 30-minute treatment for advanced womb cancer, and daratumumab, a life-extending injection for blood cancer. Daratumumab can add an average of nine months to the lives of patients with multiple myeloma, a recurrent and untreatable cancer of the bone marrow cells.
Darren Cattell, Isle of Wight NHS Trust CEO, stated that the island has a rich reputation for innovation when discussing how the chemo drone will enhance services there. By utilising the newest technologies to meet their problems and give the patients the finest care possible, they are thrilled to carry on that tradition.
Although they are currently in an early stage, the idea of using drones to deliver medical supplies has radical and beneficial implications for the NHS, patients across the UK, and the Isle of Wight. Being a part of this groundbreaking endeavour is fantastic.
Alexander Trewby, CEO of Apian, stated his mother spent her entire life working for the NHS in Portsmouth before she died from cancer 3 years ago. This project marks a very important first step in the development of a system of drone corridors connecting hospitals, pathology labs, general practitioners' offices, care facilities, and pharmacies right across the country so that, in the future, everyone's mother will benefit from the delivery of faster, smarter, and greener healthcare.
Director for Innovation, Research, and Life Sciences at NHS England and Chief Executive of the Accelerated Access Collaborative, Matt Whitty said it's a delight to see an innovation that started as a concept from skilled NHS staff get to be a reality with such huge potential.