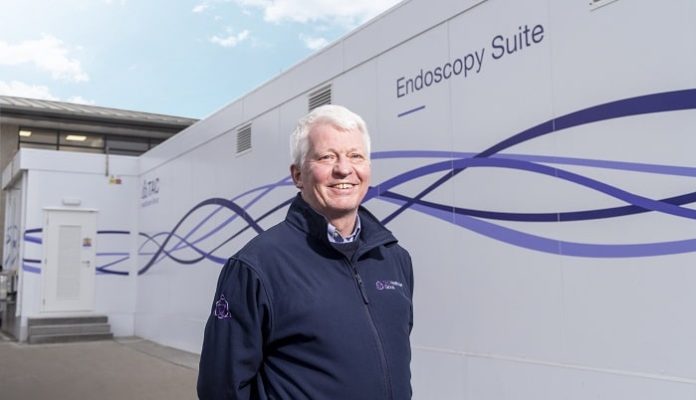 Aberdeen-based TAC Healthcare Group announces that it has opened a specialist diagnostic endoscopy suite located at its Dyce headquarters in Aberdeen. Following a significant seven-figure investment, the purpose-built suite located at Wellheads Crescent will be the first carbon neutral endoscopy facility in Scotland. The suite adds valuable additional capacity to endoscopy services in NE Scotland.
Endoscopy is essential for detecting diseases such as polyps, Crohn's Disease, ulcers and cancers but endoscopy services across the UK are under unprecedented pressure due to increased demand and also as a result, finding it difficult to provide these procedures during the COVID-19 pandemic. Currently around 34,500 patients in Scotland are waiting for an endoscopy test and over 2,500 patients have been waiting 39-52 weeks for this procedure*.
Speaking of the new endoscopy suite Ken Park, Clinical Director at TAC Healthcare Group, says, "The aim of our facility is to provide ease of access for patients requiring endoscopy, which is key to early diagnosis of a number of conditions in which early detection is the best way to ensure that treatment is effective. In other cases, this ease of access will also enable us to reassure others that there is no serious cause for the symptoms they have been worried about, which can ease anxiety and stress."
Ken continues, "TAC's approach to endoscopy is a departure from the traditional independent sector approach where endoscopy has been delivered along with a number of other procedures. Our endoscopy suite only undertakes endoscopy – we do this for both public and private patients and it means that we have specialist nurses and doctors undertaking large numbers of procedures. No one particularly looks forward to an endoscopy but having it done by a team that is doing it all the time is the best way to ensure the procedure is done well, quickly and with the minimum of upset. In addition, being a specialist unit, we have the most up to-date endoscopes and AI interpretation of images to support the clinicians performing the tests."
Ken concludes, "We are all very aware of the impact that new buildings and services have on our environment so that although my primary goal is to provide our patients with access to the best service available, I'm also very proud that this is a zero-carbon unit."
This is the second significant investment that the TAC Healthcare group has made following the announcement of a £2 million investment to equip and refurbish its state-of-the-art occupational health centre and expand its team in June 2021. Occupational health services are housed in a dedicated wing at the Dyce-headquartered building with access and infection control central to the design. This has enabled business continuity for the energy sector and other supported organisations throughout the pandemic.