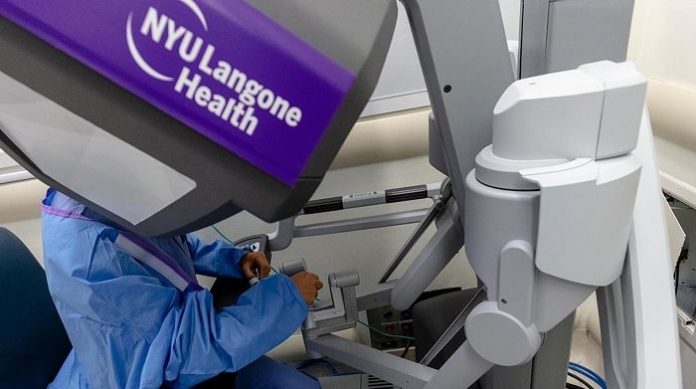 NYU Langone's multidisciplinary transgender program takes a personalized approach to care of patients with gender dysphoria, centered on the individual patient's objectives, life circumstances, and comorbidities. Highly trained faculty tailor gender-affirming procedures to meet the individual goals and expectations of each person.
Robotic surgery eases some of the technical challenges of gender-affirming surgery, allowing surgeons greater visibility and reach within the confines of the pelvic cavity. NYU Langone is one of few surgery programs in the country that uses a robotic platform for complex procedures such as vaginoplasty, or reconstruction of the vagina, in eligible transgender women.
Many transgender women are interested in vaginoplasty, and demand has risen in recent years, according to an article led by Rachel Bluebond-Langner, MD, the Laura and Isaac Perlmutter Associate Professor of Reconstructive Plastic Surgery in the Hansjörg Wyss Department of Plastic Surgery, and Lee C. Zhao, MD, assistant professor in the Department of Urology, published online July 2, 2020, in European Urology. Currently, the most commonly used procedure is penile inversion vaginoplasty, which encompasses neovaginal cavity creation, clitoroplasty, labiaplasty, corpora cavernosa reduction, orchiectomy, and urethroplasty.
However, advanced robotic platforms offer the potential to create full vaginal depth in shorter operating times while minimizing complications. Since 2017, NYU Langone surgeons have performed hundreds of robotic-assisted peritoneal flap gender-affirming vaginoplasties and recently adapted their technique for a state-of-the-art single-port system introduced in 2018.
Single-Port Platform Shortens Operating Time
Robotic surgery is a viable alternative to penile inversion in most vaginoplasty candidates, according to the study, and is especially advantageous for patients with limited genital skin. The robotic platform allows surgeons to create a well-vascularized neovaginal apex or vault.
Compared with the original multi-arm robot system, single port offers several other potential advantages, including shorter operating time, the authors say. In addition, surgeons report having better visualization using the newer platform and more room to operate as a team in a narrow space compared with using a multi-arm system, where the lateral arms tend to clash with the walls of the canal as dissection progresses.
Dr. Zhao and colleagues describe the single-port technique in detail and compare patient outcomes for single versus multi-arm procedures. Surgery time was shorter with single port (3.7 versus 4.2 hours) while both systems produced comparable vaginal depth (14.1 cm single port; 13.6 cm multi-arm) and width (3.7 cm), based on a retrospective review of 145 patients.
Surgeons reported that the single-port platform offered more freedom of movement during deep dissection and intracorporeal suturing, the authors say. In addition, an articulating camera provided better visualization for canal dissection.
"Despite the surgical learning curve one might expect with using a new system, we saw significantly shorter operating times with the single port," says Dr. Zhao. "That's important because we know that longer operating time is a risk factor for positioning-related complications, such as neuropathy, which did not occur in the cohort we studied."
More Long-Term Data Needed
The current study is the longest published follow-up of patients who have received robotic-assisted peritoneal flap gender-affirming vaginoplasty, the authors note. They stress that more research is needed on this relatively new procedure to assess longer-term outcomes, such as stabilization of vaginal depth over time.
"Ultimately, more data are needed to establish the complication rates and durability of this procedure," says Dr. Zhao. "However, this study establishes the single-port robotic system as a safe alternative to traditional penile inversion that allows for shorter operative time and excellent outcomes even in patients with limited genital tissue."