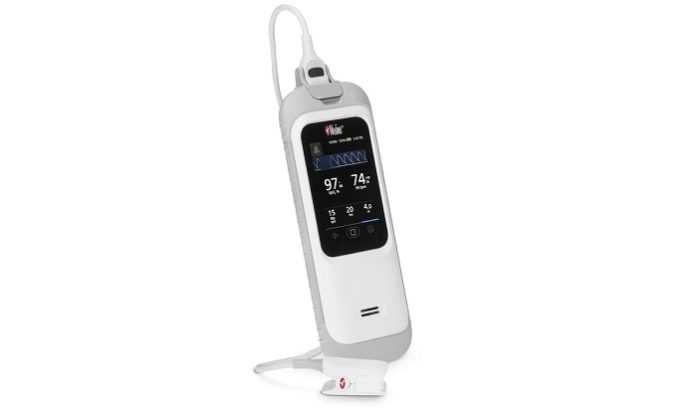 Medical device creator Masimo announced its latest 510(k) clearance from the U.S. Food and Drug Administration for the Rad-G pulse oximeter. The Rad-G is a handheld device that combines Masimo's signal extraction technology (SET) pulse oximetry and respiration rate from the pleth (RRp) that can be used to spot-check or continually monitor.
It's lightweight, handheld, and has a 24-hour battery life between charges and a rubber exterior. Masimo markets the Rad-G for a variety of clinical settings, including physicians' offices, long-term care facilities, wellness clinics, first-response scenarios and limited-resource environments.
Alongside the launch of the Rad-G device is the Rad-G sensor, which is intended to be used for both adult and pediatric patients. The new device is also compatible with the rest of Masimo's product portfolio.
WHY THIS MATTERS
Studies show that expanding the vital measurements that hospital staff take can lead to early identification of a deteriorating patient. It can in turn reduce the need for higher-acuity care, hospital lengths of stay, and admission costs and can even at times improve survival rates.
Oftentimes, hospitals only use measurements like blood pressure and temperature to monitor a patient's condition. Monitoring respiratory function and pulse oximetry can lead to early detection of patient deterioration, according to a report in the European Journal of Anaesthesiology.
The Rad-G measures a range of vitals, including oxygen saturation, pulse rate, perfusion index, pleth variability index and RRp. Measuring respiratory function is particularly important when treating patients with respiratory-related illnesses like pneumonia and COVID-19.
THE LARGER TREND
Masimo has had a busy summer in terms of product launches. Back in June, it released the Bridge, a wearable, single-patient-use percutaneous neurostimulator designed to be worn behind the ear to help with opioid withdrawal symptoms. Then in August, Masimo landed FDA clearance for its O3 Regional Oximeter, which monitors somatic tissue oxygenation saturation and can detect changes in a patient's hemoglobin, oxyhemoglobin and deoxyhemoglobin.
The company also entered into a partnership with the NBA this summer to supply players, coaches and staff with the MightySat fingertip pulse oximeter. The partnership is part of the league's health and safety protocols that require all league members to measure their oxygen saturation, pulse and respiration rate on a daily basis.
Also in the connected medical device space is Capsule Technologies, which received FDA 510(k) clearance for its Vitals Plus capnography-monitoring technology.
ON THE RECORD
"With the Rad-G Pulse Oximeter, we set out to create an accessible, high-quality care solution that clinicians can rely on in a multitude of care settings," said Joe Kiani, the founder and CEO of Masimo, in a statement.
"We are bringing our expertise in pulse oximetry to a smaller, more lightweight, rugged, and versatile handheld device – without sacrificing any of the advantages that help provide clinicians with critical insights into patient status. As the COVID-19 pandemic continues, it's more imperative than ever that caregivers have access to the most accurate and reliable pulse oximetry-monitoring technologies. We are proud to offer Rad-G among our suite of solutions powered by the breakthrough technology, SET pulse oximetry."