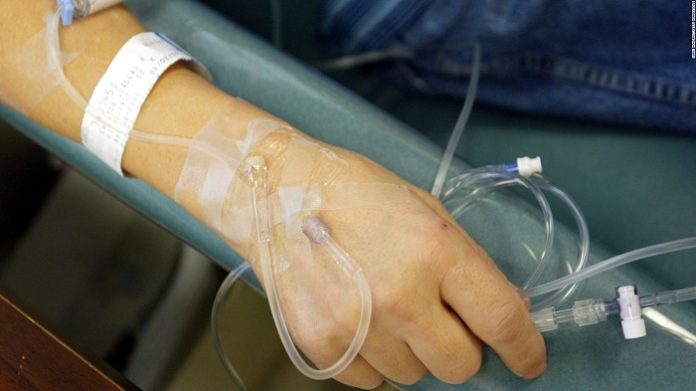 The NHS chief executive has revealed that a life-extending shot for a lethal form of blood cancer will be given to roughly 350 people per year in England.

After being made available for a short time through the Cancer Drugs Fund, the treatment, which can prolong patients' lives with a recurring and incurable cancer of the bone marrow cells known as multiple myeloma by an average of nine months, has now been given the green light for routine use by NICE. Multiple myeloma is a crippling cancer that affects the bone marrow across many parts of the body, such as the spine, skull, pelvis, and ribs, culminating in sluggish and distressing bones, unusual bleeding, fatigue, and weight loss, as well as a weakened immune system, which leads to recurrent infections. Myeloma cannot be cured, so treatment focuses on keeping the cancer distant for as long as necessary while minimising medication side effects.
This NHS medication, which will be accessible to individuals with recurrent multiple myeloma who have tried at least three different treatments, will enable multiple myeloma patients to live longer and better lives. It also increases patients' chances of receiving additional treatments that could help them live longer, better lives. Daratumumab happens to be a monoclonal antibody that is provided through a regular injection that takes only five minutes and has few side effects. It works by binding to a protein on cancer cells and alerting the defence system to kill the cancer.
According to Amanda Pritchard, NHS Chief Executive, this swift injection may have a genuine effect on the lives of patients and their families, so it is extremely exciting that it is now readily accessible on the NHS. Every year, the medicine will provide a ray of hope to hundreds of people who have had minimal success with conventional treatment for this deadly, advanced blood cancer. It's also the latest in a long line of cutting-edge, targeted cancer medicines that the NHS has routine access to thanks to the Cancer Drugs Fund, ensuring good value for money for taxpayers as well. She goes on to say that all throughout the pandemic, the NHS has emphasised cancer care, and she urges anyone with concerns to step forward and get checked.
Sajid Javid, Health & Social Care Secretary, says that it is indeed fantastic that the NHS will start regularly injecting daratumumab into patients with blood cancer. He goes on to say that this life-extending drug is yet another instance of an inventive diagnosis being rolled out on the NHS, representing a major step forward in their mission to make the country's cancer care the best in Europe. As part of the 10-Year Cancer Plan, the government is focusing a lot on research into the most suitable cancer treatments and care, as well as boosting timely detection so that care can be more productive. The NHS Long Term Plan commits to providing patients with the most cutting-edge treatments and therapies, and the Cancer Drugs Fund allows patients in England to get speedier access to promising cancer treatments.
Since 2011, Jimmie Archer, 72, of Luton, has been receiving treatment for myeloma. He has undergone a range of treatments, including a stem cell transplant and the beginning of daratumuab treatment shortly before the pandemic. He confirms that they've tried all sorts of therapies for me, and that's the only one that's worked. His numbers would start to creep up with some of the other therapies, but not with this one.
Jamie receives his therapy at the Macmillan Cancer Centre. It took six hours at first, since they had to gradually acclimate him to it. He no longer spends much time in the hospital. It's just a simple injection for him now. His response has been fantastic, and the numbers are now too small to estimate. This treatment makes things a lot easier. He adds that he is glad he reacted to the treatment. Now he is in a much more positive mindset. It's the most effective medication he has ever used, he opines.
Daratumumab is a first-in-class monoclonal antibody to treat various myeloma, accdording to Professor Kwee Yong, UCLH clinical and academic lead in multiple myeloma. They have been using daratumumab as part of the NHSE Cancer Drugs Fund to treat patients and have seen how effective it is. Daratumumab medication has few adverse effects, therefore enabling patients to resume their typical activities, including spending time with friends and family and even resuming work. He adds that they are thrilled that it will now be readily accessible, allowing patients to receive a medication that can help them live longer as caregivers work to find other treatments.
Each year, approximately 5,000 people in the United Kingdom are infected with multiple myeloma. It mainly affects men and individuals over the age of 60, and it is twice as likely to develop in Black or African ethnic communities as it is in white or Asian ethnic groups. Daratumumab was first made available in the NHS through the Cancer Drugs Fund in 2018, providing patients access to innovative treatments while more evidence on its clinical and cost effectiveness was collected, allowing NICE to make a final recommendation on its routine use in the NHS. Evidence to date suggests that the medicine is efficacious at a cost that is affordable to taxpayers, and it will be investigated further to see if it may be used early in a patient's treatment.
Program Director of the NICE Centre for Health Technology Evaluation, Helen Knight says that based on real-world information found from more than 2000 NHS patients while daratumumab was accessible via the Cancer Drugs Fund, coupled with further trial data, the independent appraisal committee concluded that daratumumab increased the length of time individuals with relapsed and refractory multiple myeloma ended up living compared to standard care. She adds that they were the first to recommend this drug through the Cancer Drugs Fund in December 2017, and they are pleased that the latest evidence means that this drug will now be accessible for regular use in individuals with this very serious form of cancer.
They are pleased that daratumumab monotherapy has indeed been consistently provided through the NHS in England, says Acting Direcor of Research & Patient Advocacy at Myeloma UK, Shelagh McKinlay. By using the Cancer Drugs Fund, the medication could be conditionally licenced and administered to patients faster while the requisite data is acquired. This clearly illustrates how the CDF may benefit the patient and may pave the way for other life-changing medications to be made available sooner to those that need them most. McKinlay further says that living with myeloma is a never-ending race to the finish, and treatment options become severely scarce with each recurrence. As a result, getting innovative medicines to patients as soon as possible makes a huge difference in their quality of life as well as their life expectancy. Patients are given it weekly for the first couple of months, then biweekly for the next two months, and ultimately monthly after six months. Daratumumab is by far the most recent in a series of commercial deals struck by the NHS since last year, obtaining innovative treatment for patients with spinal muscular atrophy, metachromatic leukodystrophy, and the blood disorder mastocytosis, as well as extending access to the "miracle" cystic fibrosis care known as rituximab.
The decision to propose daratumumab for normal procurement on the NHS is welcome news, according to Janssen-Cilag Ltd. Patiet Acess Director, Amanda Cunnington. This good FAD shows how, by working together, one can get better answers about pharmaceuticals from the UK system.